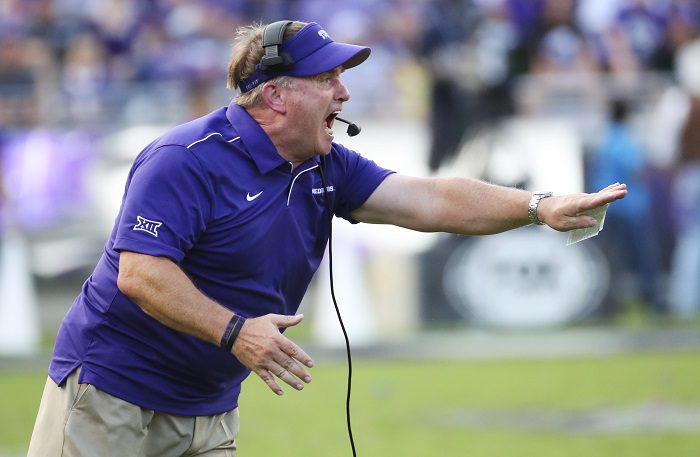 When it comes to statues, they aren't just built for anyone. They are built for those who will leave their legacies behind long after they are gone.
But to have a statue outside the stadium while you are still coaching is something few coaches have experienced.
That's not the case for Gary Patterson. How many coaches in the sport of college football last 20 years at one school? Right now, there are currently only two and Gary Patterson is one of them.
If one were to bring up TCU football it would be hard not to mention Gary Patterson. Why? Because Gary Patterson is TCU football. Before Gary made his way to Fort Worth, it was a long hard road for the football program there. From the 1960's all the way through the 1990's TCU's football program was irrelevant.
From 1960 to 1993, TCU had just a total of two bowl appearances during that time and it wasn't until the late 1990's where bowl games felt normal.
But that all changed when Gary Patterson came to TCU. Before he was the man in charge, he was the defensive coordinator back in 1998 and two years later, the program was his to lead. From his days as a coordinator back in 1998 to right now, TCU has made a total of 17 bowl games. He is without a doubt the best coach in the school's history.
As good as the rise of TCU football has been over the last two decades, the downfall can sometimes outweigh the climb up. Unfortunately, that is the case right now in Fort Worth.
Since making the Big 12 championship game back in the 2017 season, things have taken a turn for the worst. Since that very day, TCU has struggled mightily on the football field.
A Fall From Grace
From the start of the 2018 season until now, the Horned Frogs have not had an eight-win season and have a conference record of 13-18. Right now, TCU sits at 3-4 and with the way things are going, they are headed for a fourth straight year of mediocrity. In fact, one could argue they would fall below that considering that they could be going bowless for the second time in the last three seasons.
As bad as the last few years have been, one thing has remained a staple under Gary Patterson which is of course the defense. For years, TCU has had one of the best defenses not just in the Big 12 but in the entire country. That just isn't the case this season. Take a look at these defensive stats so far this year.
| | | |
| --- | --- | --- |
| Category | Big 12 Rank | Number |
| Rush Defense | 9th | 212.7 |
| Pass Defense | 8th | 238.4 |
| Opp. Third Down % | 7th | 41.9% |
| Opp. PPG | 9th | 31.6 |
This is not the TCU team we are all accustomed to. Normally it is the offense that holds the team back from reaching their goals and it has completely flip flopped in 2021.
While the offense may be better this year than in the previous three years, it still by no means is perfect. They have their issues but while they have improved their downfall on defense has completely negated their progress as a team.
Still, there are no excuses why the offense has been where it has over the last few years. Gary Patterson gave the reins to Doug Meecham and Sonny Cumbie offensively, and it took off like a rocket immediately with the emergence of guys like Trevone Boykin and Josh Docston. For two years (2014 and 2015), TCU had one of the best offenses in the nation.
After the 2016 season, co-offensive coordinator Doug Meacham left for Kansas, and it was left to Sonny. However, that famous air raid attack we all loved went away in favor of a more conservative style of offense. Once Cumbie left last year, instead of brining in a in a new creative mind, Patterson chose to welcome back Doug Meacham.
Coach Patterson's Comfort Zone
Now while things are looking up my point is that Gary is not one to hire from his comfort zone. But when you stare in the face of mediocrity for the last few years, sometimes being comfortable is part of the problem.
Gary Patterson is the tenth highest paid coach in all of college football as he will earn 6.1 million dollars this year. As great as that is for Gary's pocket, that does nothing to change the product on the field. However, it should put a little bit of pressure on him because at what other school could a coach not win eight games in four years and still have a job? Not many.
Part of the problem is that nobody is challenging Gary or his decisions over the years. Whenever you have won at level like he has for a lengthy period of time, you sometimes get looked at in a different light. One that doesn't question your methods or decisions due to the fact that winning can cure anything. But when you start losing, those methods and decisions start to become questionable in the public eye.
To be fair, there have been plenty of questionable things at TCU over the last three years. From the KaVonate Turpin assault charges in 2018 to last year's racial slur in front of a player, there has been a lot to take in. But not all of the news happens from off the field incidents. Take the SMU game for example. After the Mustangs beat the Horned Frogs in Fort Worth this season, SMU players planted a flag at midfield and then a scuffle happened. During the mix of bodies, TCU assistant coach and longtime friend of Gary Patterson, Jerry Kill was knocked over. Patterson claimed that an SMU player hit him yet there was this video evidence that it was one of his own players that knocked Kill over.
Afterwards, TCU Athletic Director Jeremiah Donati told SMU Athletic Director Rick Hart that Patterson would walk back his comments. Instead, Patterson doubled down on them and never looked back.
I could go on and on and don't even get me started on Gary's take on the whole NIL thing because it seems like TCU is stuck in the 1990's when it comes to that aspect of college football. He has been critical of the new NIL rules to the point where he was worried that other programs would be trying to poach away players from his own roster. Gary even went as far as hinting that TCU boosters need to start dropping the bag so players wouldn't leave. Plus, he was never a fan of the transfer portal either yet has had no issue taking players from the portal.
Coach Patterson Has to Own
At some point all this finger pointing needs stop. If you want to know why this TCU program is struggling, point your finger at Gary Patterson and nobody else. Not the players but the man in charge of them.
My biggest question for now is how far does this boat have to sink before someone's waist high in water? You can only patch up a boat so many times before the whole think sinks down. Right now, the boosters should feel water up to their knees and at some point, TCU Athletic Director Jeremiah Donati is going to have to make a career decision. Donati has already had to deal with two important things by keeping TCU head basketball coach Jamie Dixon a few years ago and replacing former longtime head baseball coach Jim Schlossnagle who left for Texas A&M this year. It turns out he didn't have to look around much as he extended Dixon's contract and promoted assistant baseball coach Kirk Sarloos to head coach.
While those two decisions were big, they are small potatoes when it comes to making a football hire because that's where all the money is. A football coaching hire can make or break an athletic program and when you pick the right one, you're set for a long time. But if you pick the wrong one, your seat can become warm very quickly.
Gary Patterson's contract runs through the 2024 season. After this year, Gary is going to have an issue because those kids he is recruiting right now are going to be on campus when that contract runs out. So, will Donati give him an extension after the year or will he wait it out? For TCU's sake Jeremiah Donati better get it right because that decision appears to be looming around the corner.