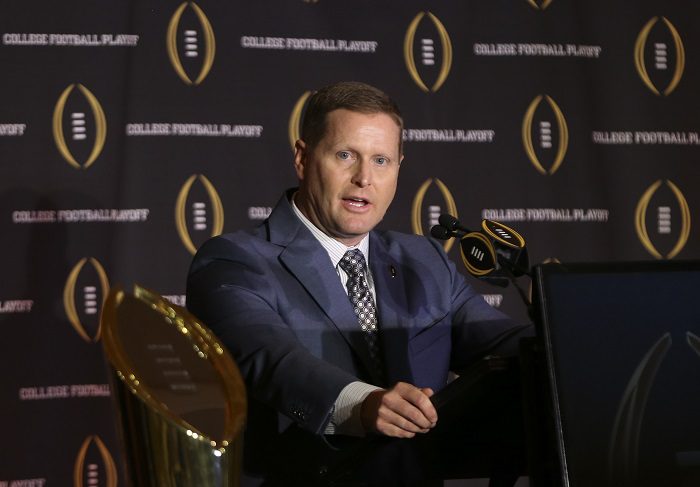 Kirby Hocutt has hired two football coaches at Texas Tech. He's about to hire his third. He must get this hire right, or else Texas Tech may be hiring a new athletic director.
Our Derek Duke pointed out in his Big 12 mailbag just how hot Hocutt's seat should be after firing Wells. And I couldn't agree more. Hocutt's next hire won't just define Texas Tech football. It will define his future employment in Lubbock.
The Kliff Kingsbury Era
Hocutt's first hire at Texas Tech, Kliff Kingsbury, should have been the 'perfect' hire. Former Tech quarterback. Played for Mike Leach. A well-decorated assistant under Kevin Sumlin. Great offensive mind. Basically loved by Red Raider nation.
It just didn't quite work. Six seasons. A high-water mark of eight wins in his first season, 2013. Three bowl games. A 35-40 record. Hocutt had to cut bait because, even though Kingsbury's offense made a star out of Patrick Mahomes, his defenses were atrocious. The unit never ranked better than 87th in scoring defense. They spent three straight seasons at No. 126, No. 125 and No. 128.
Now, of course, there's buyer's remorse because of what Kingsbury has done with the Arizona Cardinals, who won their first seven games. Not only are the Cardinals a high-flying offense, they are No. 1 in the NFL in scoring defense and No. 4 in total defense. I'm just going to leave that there.
Matt Wells Comes In
Then, Hocutt hired Matt Wells, a respected coach who did good work at Utah State. But, for a team that needed to improve its defense, Wells, an offensive coach his entire career, was a strange hire. But his teams at Utah State did have a track record for good defense. In six seasons as head coach, his defenses were in the Top 12 in scoring defense twice and in the Top 40 in scoring defense another time.
I actually saw Wells and his Aggies play against Michigan State in a road opener a few years back. They were well coached and gave the Spartans everything they had. Wells was 44-34 at Utah State. I liked the hire when Tech made it.
But, after 30 games and a 13-17 record, Hocutt had apparently seen enough, even though the Red Raiders were off to a 5-3 start. For the record, Tech ranks No. 100 in scoring defense right now. So Wells and his staff didn't solve that problem.
Hocutt has now hired just one head coach who finished his career with a winning record — Al Golden, his hire at Miami (FL) in 2011, just before he left for Texas Tech. Golden finished 32-25 in five seasons, and never took Miami back to the 'U' days of old.
Our Pete Mundo posited that the final straw might not have been the Red Raiders' one-point loss to Kansas State, but rather his stammering answer to his favorite thing about Lubbock. One of Hocutt's answers at Monday's press conference may have cut to the heart of where he felt things were going, an answer conveyed by the Lubbock Avalanche-Journal's Don Williams.
Hocutt also said he felt Wells' firing was "inevitable."
So Hocutt had already checked out, even if Wells had not.
So, Hocutt has hired a coach that everyone loved, and hired a coach that he called a "great man who has done good things."
So, now what?
Texas Tech's Next Hire
Hocutt says he wants a new head coach with Texas ties, with relationships with Texas high school coaches and knows how to work the transfer portal. Those are all good qualities to shoot for if you're managing a college football program in Texas. And there are obvious candidates.
But, ask yourself this:
What if THIS hire doesn't work?
What would be three straight failures by Hocutt to hire a football coach that could return Texas Tech back to that "elite" level he touted before hiring Wells.
Sure, Hocutt has made some savvy hires in other sports. Hiring Chris Beard elevated the men's basketball program. Elevating Tim Tadlock to head baseball coach was a smart move for that program.
But, as I'll remind you, THIS is Texas. In Texas, you'd better get the head football coach hiring right. Failing in hiring one quality football coach is like failing to hire five quality basketball coaches in a row. Athletic directors in Texas don't get fired for failing to hire a quality head basketball coach five times.
But they can if they fail to hire the right football coach three times.
His search committee includes Dustin Womble, who just donated $20 million to the athletic department to build a new football training facility. It's the largest athletic donation in the school's history. It follows the money the Womble family poured into the Womble Center, the basketball practice facility that recently opened.
The athletic department's biggest donor will watch Hocutt go through the process of making his next hire. And if Womble doesn't like where it leads, well …
Athletic directors have been fired for less.
That's the prospect Hocutt faces now.
Get this right, or else.
You can find Matthew Postins on Twitter @PostinsPostcard.
**Want to win a $20 gift card? Go sign up here and join our conversation! The best poster each week wins a gift card to your favorite establishment!**