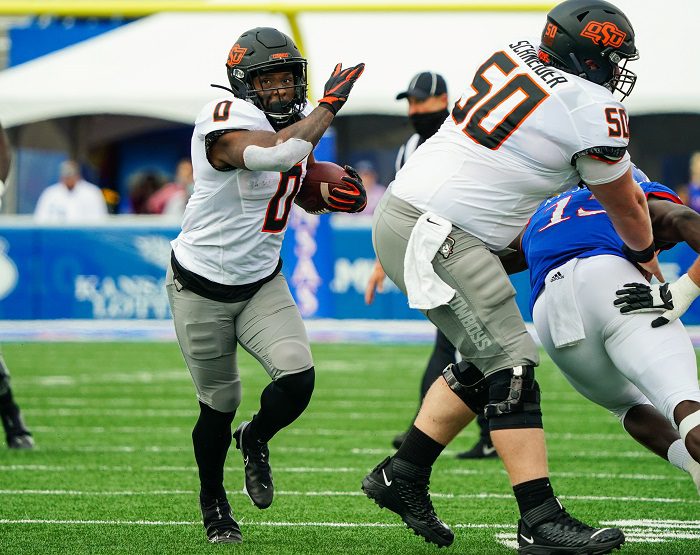 Here is everything you need to know about the Kansas Jayhawks and the Oklahoma State Cowboys in our Kansas vs. Oklahoma State preview.
Game Info
6 p.m. Central Time, Saturday, Oct. 30th, 2021, Boone Pickens Stadium, Stillwater, Oklahoma
TV: FS1
Radio: Jayhawk Radio Network; Cowboys Radio Network
Records: Kansas 1-6 (0-4 Big 12); Oklahoma State 6-1 (3-1 Big 12)
Ranking: Kansas:None; Oklahoma State: No.15 (AP)
Last Week: Kansas lost to Oklahoma 35-23; Oklahoma State lost to Iowa State 24-21
Spread: Oklahoma State (-30.5)
Fun Fact: Oklahoma State has won eleven straight meetings against Kanas. The last time the Jayhawks beat the Cowboys was all the way back in 2007 where they won 43-28 in Stillwater.
Key Players
Kansas
QB Jason Bean
Jason is not a pocket passer by any means nor is he accurate with the football. However, he is capable of moving around outside the pocket and is a threat to take off at any moment. For the first time all season, Jason played a clean game against Oklahoma and was very efficient with his throws. He made good decisions throughout that game and if he can play like he did against the Sooners and move the chains, then the Jayhawks can keep this game respectable.
The Entire Defensive Line
It's hard for me to single out one player because I know what is going to happen on Saturday. Oklahoma State is going to try and run the football. Why? Because Kansas has the worst run defense in the entire conference. This defensive line better buckle up those chin straps on Saturday because it's coming right at them.
Oklahoma State
RB Jaylen Warren
I am expecting a healthy dose of the run game against a bad Kansas defense which means the focus will all be on Jaylen Warren. Jaylen has been phenomenal this year for Oklahoma State, and nobody saw this man coming. He is quick, shifty and can break through tackles with ease. He has been the bell cow back this offense has needed, and the Cowboys will need him to produce once again on Saturday.
LB Malcolm Rodriguez
Who else should I put here? Malcolm is the leader of this fantastic Oklahoma State defense, and he leads the entire Big 12 Conference in tackles. Wherever the football is Malcolm is somewhere close by ready to blow up the play at any moment. He is a sure tackler, and few people are able to escape him once he gets his hands on you.
Key Storylines
Kansas
At this point, this season is already lost for the Jayhawks. They have nothing to lose going into this game so why not go out there and break out the bag of tricks for Halloween weekend. They have gotten beat up throughout the Big 12 slate until last weekend where they somehow played with the Oklahoma Sooners. Can they bring that same energy and fight they had last weekend to Stillwater? For their sake, I hope they can.
Oklahoma State
The key here for the Cowboys is not overlooking this Kansas team. As bad as they are, keep in mind what happened to Oklahoma last weekend in Lawrence. You don't want to let the Jayhawks hang around at all. Oklahoma State needs to keep their foot on the gas pedal because they still control their own destiny in the Big 12 title race. Plus, they could use a bounce back win after the Iowa State loss.
Prediction: Oklahoma State 38, Kansas 13
Kansas was a great story last weekend in the Big 12 but I just don't see them having that same level of success on the road in Stillwater. Oklahoma State has one of the best defenses in the entire country and I doubt Kansas will be able to move the ball much on them. Also, the Jayhawks are dead last in the conference when it comes to stopping the run as they are giving up a whopping 245.7 yards per game. I highly doubt they will stop Jaylen Warren on Saturday.