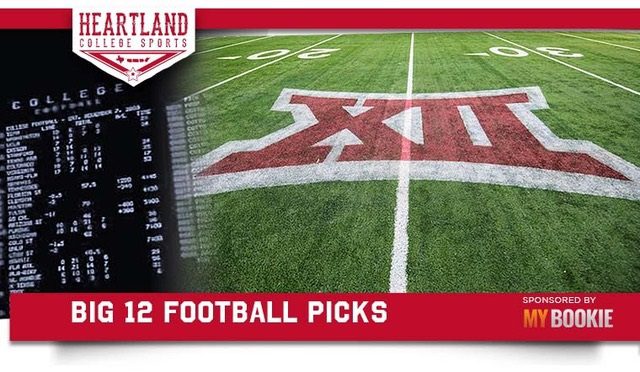 Well it's a new season of college football and that means a fresh slate for my Big 12 football picks against the spread. As they have been for several years running, our friends at MyBookie.com are the sponsors of the picks, and with our promo code "BIG12" you get to DOUBLE your first deposit, no questions asked! Support them to support us at Heartland College Sports and get your picks in.
Our Week 8 picks went 2-2, so we are 20-11-1 on the season, and now it's on to Week 9 with five games to pick.
Baylor vs. Texas
The Baylor Bears have been a covering machine so far this season, especially at home where they are 4-0. But something has to give and start balancing out, and I think that happens this week. Baylor's strength of schedule is 75th in the nation, Texas' is 11th. And the Longhorns haven't had a problem against tough teams like Oklahoma and Oklahoma State, they just haven't finished the games. After a bye week, my bet is Steve Sarkisian can fix that trend. Also, while Baylor has been really good defensively, they're 6th in the Big 12 in rush defense, and now they have Bijan Robinson coming to town. I'll take the underdog.
The Pick: Texas +3
West Virginia vs. Iowa State
The West Virginia offense had some life last week against TCU, but the Horned Frogs have been flat out bad defensively. Now, the WVU offense that still ranks last in the Big 12 in rush offense and is 8th in passing efficiency takes on a Top 2 defense in the Big 12 in Iowa State. Plus, the Cyclones are clearly starting to hit their stride (it is October after all… sorry that's Brocktober), and they're 16-3 against the spread in their last 19 October games under Matt Campbell. I thought that Vegas was too generous to ISU last week, when I picked Oklahoma State to cover the seven points, but this week, they're not giving Iowa State enough.
The Pick: Iowa State -7
Kansas State vs. TCU
The Kansas State Wildcats got in the win column in conference play last week, which was much needed after starting off 0-3. Now they're back home to take on a TCU team that is struggling mightily, losing to the Mountaineers last week. TCU is 1-5 against the spread in their last six games this season. Vegas has given Gary Patterson too much credit. K-State is 6-2-1 in their last nine October games. Also, TCU is a sloppy team and isn't good in the red zone. That's a bad combination, especially on the road. TCU is 9th in the Big 12 in penalty yards and 8th in red zone offense.
The Pick: Kansas State -3 (buy 1/2 point)
Oklahoma vs. Texas Tech
When you're days removed from firing a head coach, you throw the numbers out the window and go with your gut. My guy says OU has a lot of work to do, especially on defense, while Tech isn't a great team, they may play with some extra focus and fire this week. Plus, Sonny Cumbie becomes part of the conversation to be the head coach IF he wins this weekend. I'm not prediction that, but it's a big spread.
The Pick: Texas Tech +20 (buy 1/2 point)
Oklahoma State vs. Kansas
The Jayhawks showed me something last week against OU. And the fact that Lance Leipold has been vehemently saying there are no moral victories is even more impressive. KU is one of the most disciplined teams in the Big 12 (second in the league in fewest penalties per game behind Iowa State), which will continue to pay off for them. And this spread is big, but Oklahoma State is all about running the ball, grinding you down and playing solid defense. With how KU looked, I will take my chances with more than four scores.
The Pick: Kansas +31 (buy 1/2 point)