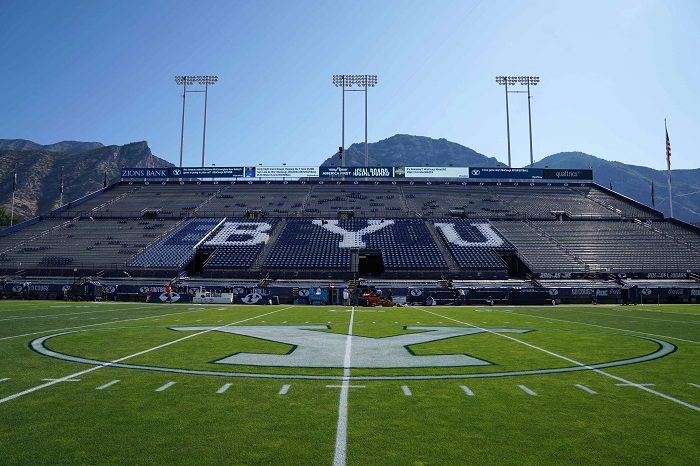 Here is everything you need to know about the Power Five matchup featuring future Big 12 member BYU and ACC member Virginia.
GAME INFO
9:15 p.m. CDT/8:15 p.m. MDT, Saturday, Oct. 30, 2021, LaVell Edwards Stadium, Provo, Utah
TV: ESPN2 (Beth Mowins, Kirk Morrison, Dawn Davenport)
Away Radio: Virginia Sports Radio Network (John Freeman, Tony Covington, Jay James)
Home Radio: BYU Sports Network, Sirius XM 143, BYU Radio, BYUCougars App, KSL 1160 AM in Provo (Greg Wrubell, Riley Nelson, Mitchell Juergens)
Virginia Head Coach: Bronco Mendenhall (Other than 2020 in 5 seasons, 31-29, 130-72 in 16 seasons overall)
BYU Head Coach: Kalani Sitake (Other than 2020, 33-27 in 5 seasons, same overall)
Series History: Virginia leads the series 3-2. The most recent outcome saw Bronco Mendenhall lead BYU to a 41-33 victory over Virginia.
Opening Line: BYU -2
Over/Under: 66
Moneyline: BYU -135/Virginia +115
Fun Facts: This will be the first time Bronco Mendenhall returns to LaVell Edwards Stadium since he was head coach at BYU from 2005-2015. Alongside Mendenhall will be 10 assistants who also have a connection to BYU, and are making their return.
KEY PLAYERS
BYU (6-2, W 21-19 AT WASHINGTON STATE)
RB Tyler Allgeier
When Allgeier is having a good day, so is BYU. When Allgeier is having a rough day, so is BYU. BYU has some great players in its pass game. This is very much a balanced offense. However, there is a discrepancy in the stat lines for Allgeier that coincide with the results. Allgeier has racked up at least 100 yards in every BYU victory. On occasion, he will rack up 200 yards in those victories. However, Allgeier has a total of 106 yards in the two losses. This includes a game in which Baylor held the sophomore running back to just 33 rushing yards. He is the ignition to the engine.
DL Uriah Leiataua
It's all about who can get to the quarterback this week. Who has the most sacks for BYU this season? Uriah Leiataua. The 6-foot-4, 225 pound senior from Compton, Calif. has 2.5 sacks this season and 4 tackles for loss. Virginia's leading rusher is its quarterback, and that's not because Virginia runs a lot. The Cavaliers like to air it out. If the front seven can get into the backfield and cause some happy feet, BYU should get the victory.
VIRGINIA (6-2, W 48-40 VS. GEORGIA TECH)
QB Brennan Armstrong
Armstrong is the offense. He leads the nation in passing yardage with 3,220 yards. He's thrown for 23 touchdowns and six interceptions. He also leads the team in rushing yards gained with 348 yards. He's also managed to lose 171 yards on the ground. Thus, his net rushing yards stands in third for the team at 177. He also leads the team with five rushing touchdowns. If Armstrong has a bad day, Virginia's offense has a bad day.
LB Noah Taylor
Taylor is everywhere. If he's not sacking the quarterback on a pass play, then he's likely breaking the play up. The 6-foot-5, 235 pound senior from Maryland has 3.5 sacks and two quarterback hits. Additionally, he has three pass break-ups. He's a menace in the backfield with 6.5 tackles for loss. Not to mention, he's blocked a kick. Watch out for Taylor on the blitz. He's coming.
KEY STORYLINES
BYU
The Cougars are 4-1 against Power Five schools. There is a discrepancy though. BYU is 4-0 against the Pac-12 and 0-1 against all other Power Five conferences. This is their final chance to snatch a Power Five win against a non-Pac-12 school. It's also an opportunity to clinch a winning season. BYU secured its sixth victory last week. Finally, a win over Virginia provides BYU with an excellent opportunity to win 10 games in the regular season. After Virginia, BYU plays an FCS school and a Group of Five school before traveling to the Los Angeles Coliseum for a date with USC.
VIRGINIA
Aside from the homecoming of Bronco Mendenhall and many assistants, Virginia is looking for its fifth straight victory and some respect. BYU is ranked in the AP Poll. Virginia is just on the outside looking in. A win in Provo will certainly place Virginia into the top 25 rankings. Additionally, the ACC is pretty desperate to pick up some marquee non-conference victories. Virginia has two chances coming up. After BYU and a bye week, the Cavaliers host Notre Dame.
Prediction: BYU 38 Virginia 35
Virginia is 113th in rush defense, giving up over 198 yards per game and over 5 yards per carry. BYU isn't the greatest team in pass defense, but they can make a stop. This is going to be one of the more high scoring affairs on BYU's schedule. Remember, BYU is 6-0 when Allgeier has 100 yards or more. If Virginia doesn't stop him, the amount of passing yards Armstrong throws for won't matter.