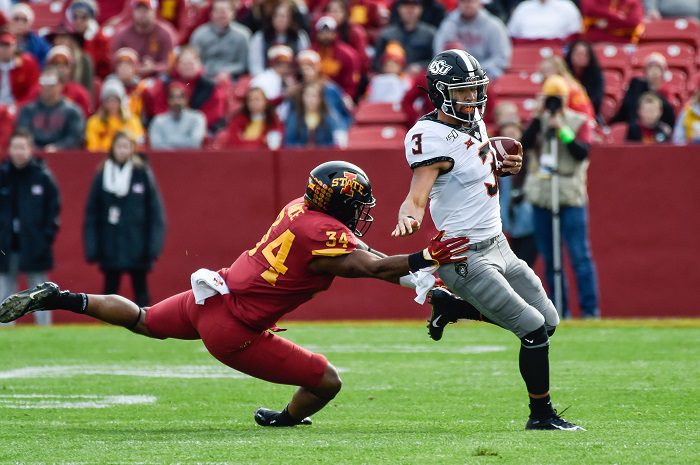 At the start of the year I wrote a piece for HCS titled "Five Iowa State Cyclones Getting Overlooked in 2021". Now that we are more than halfway through the schedule & four games into Big 12 conference play, let's take a look at how those five players are doing. Admittedly, at this point in the year, most of these guys have been very productive for Iowa State, but not necessarily in the way I expected at the start of the year. 
Tarique Milton
So far this season Tarique has had a pretty quiet year. Given he is fully healthy (so we are told) he is only 4th on the team in receiving yards. Through seven games Milton has 12 catches for 146 yards and one touchdown. That lone touchdown came in garbage time touchdown in the 4th quarter against Iowa. It also came from Hunter Dekkers, not Brock Purdy. While he hasn't carved out a huge role in the offense yet this year, he is still averaging over 12 yards/catch. Against Oklahoma State last weekend he had two catches for 39 yards. That included a 33 yard catch and run late in the 4th on what ended up being the game-winning drive. 
Chase Allen
Allen has caught 10 passes for 124 yards and no touchdowns this season. At the other tight end spot, Charlie Kolar's production over the last three weeks has started to pick up more. But overall, it seems as if ISU's heralded tight end room hasn't been as impactful as they were a year ago. With that said, while he was struggling at the start of the season, Allen has been doing all of the things the average fan doesn't always see. Most notably his blocking in the run game has been incredible the last few weeks. 
Jirehl Brock
So far the redshirt sophomore hasn't exactly had the same workload that I expected him to have at the start of the year. Brock has ran for 84 yards on 17 carries and he's even caught 3 passes for 16 yards and a touchdown. That touchdown came in the 59-7 beatdown against Kansas in early October- excuse me, early Brocktober. Most notably that touchdown for Brock was the first touchdown of his career. Brock has had to share some carries in garbage time with freshman running backs Deon Silas, and Eli Sanders. 
Anthony Johnson Jr.
Johnson Jr. has put together a solid campaign together for the Cyclones to this point in the year. His numbers aren't exactly eye popping up, but when it comes to the cornerback position, that's a good thing. The senior corner is 6th on the team in tackles with 25. He also has broken up one pass and forced a fumble. The less you hear this guy's name, the better. That is, unless he's picking off more passes, of course. 
O'rien Vance
Finally we have senior linebacker O'rien Vance to wrap things up Unfortunately, for Vance, he has been battling some injuries this year. He's been dealing with some lower body ailments throughout the first half of the season. Although, last Saturday against Oklahoma State he started to look like his usual and healthy self again. Right now, Vance has 15 tackles and a sack. It appears his snap count is starting to trend up. Look for those numbers to improve.