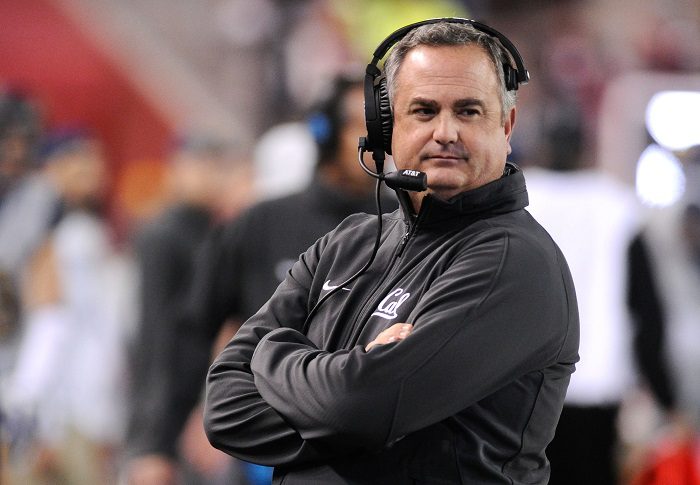 With Sonny Dykes being named as a potential candidate for the Texas Tech job, here are three reasons why Dykes would make a good fit for the Red Raiders.
1. The Family Connection
If you're looking for 'comfort food' for the Red Raider faithful, then look no further than this West Texas legacy.
Sonny Dykes, for those that don't know, is the son of the late Red Raiders head coach Spike Dykes, who for a certain generation of West Texas football fans WAS Texas Tech. Spike went 82-67-1 for the Red Raiders, leading them to a pair of nine-win seasons and seven bowl games. He retired in 1999, making way for Mike Leach.
Spike was born in Lubbock and spent most of his adult life in West Texas. Sonny was born in Big Spring, went to Lubbock Coronado High School and played first base for the Texas Tech baseball team.
Sonny will have no problem telling people in Lubbock what he likes most about Lubbock. Plus, it's not like he bailed on Lubbock for good after graduating. He spent seven years as a Red Raiders assistant, which brings us to …
He's Part of the Mike Leach Coaching Tree (and you like Mike Leach)
We must assume that Spike passed on some of his coaching acumen to his son. But Sonny had another mentor — Leach, who took over for the elder Dykes in 2000. Leach is one of the coaches that pushed the 'Air Raid' offense to incredible heights (Leach learned the offense from the father of the Air Raid, Hal Mumme). While Leach was at Tech, he hired Sonny Dykes to coach the wide receivers from 2000-04. Then, in 2005, Dykes was promoted to co-offensive coordinator (he shared those duties with current Houston head coach Dana Holgorsen). Dykes was one of the key pieces in helping the Red Raiders take their offense to dizzying heights under Leach.
No, Leach isn't coming back to Lubbock, as much as some Red Raiders fans might want. But Dykes — a member of Leach's coaching tree — would be the next best thing.
Sonny Dykes Knows QBs
Once Dykes started assuming the offensive coordinator duties at Arizona he an impact on the quarterbacks he coached. That included Willie Tuitama and Nick Foles. At Louisiana Tech, he guided Colby Cameron to the 2012 Sammy Baugh Trophy. At California, he helped prepare Jared Goff for the NFL and took in a previous Red Raider passer in Davis Webb to replace him (Webb threw for more than 4,000 yards in his one season at Cal). At SMU, Dykes has made great use of two Big 12 transfers the past three years — former Texas quarterback Shane Buechele and former Oklahoma quarterback Tanner Mordecai. The latter is having one of the best seasons of any quarterback in FBS in 2021.
At Texas Tech, you have to get the most of your quarterback, and Dykes has consistently proven he can do that at every stop he's made since he left Lubbock.
Perhaps it's time to bring him back.
You can find Matthew Postins on Twitter @PostinsPostcard.
**Want to win a $20 gift card? Go sign up here and join our conversation! The best poster each week wins a gift card to your favorite establishment!**