Big 12 News
2021 Season Could be Gary Patterson's Last at TCU: Report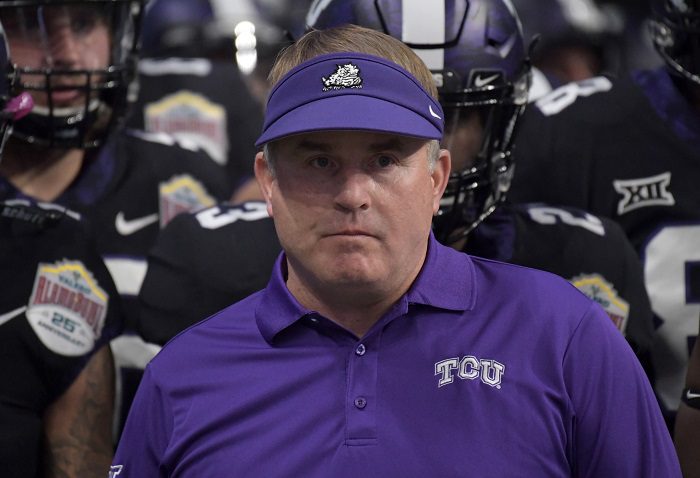 The TCU Horned Frogs are heading towards a fourth-straight mediocre season. TCU lost to Kansas State on Saturday 31-12, falling to 3-5 on the season and 1-4 in the Big 12. But prior to the game kicking off, an interesting report came down from The Athletic's Bruce Feldman, who is also a contribution on FOX Sports' Big Noon Kickoff.
Feldman was asked about the Texas Tech head coaching opening following the firing of Matt Wells. The two names he mentioned were UTSA's Jeff Traylor and Sonny Dykes, who have both been considered the front runners for the job since the announcement of Wells' firing came down.
But then came this interesting tidbit from Feldman, when talking about Sonny Dykes in particular, who said, "One other job that could potentially come open in Dykes' native state of Texas. I was told this week by some sources close to the situation at TCU, that this could be Gary Patterson's last year as the head coach of the Horned Frogs."
Here's the video.
Gary Patterson is 21-22 since the start of the 2018 season, including a 13-19 record in the Big 12 over that same span.
Our own Derek Duke wrote about Patterson's woes this past week, discussing how the head coach needs to look in the mirror if the Horned Frogs are going to return back to their winning ways in the Big 12.
Patterson did respond to the report from Feldman in a semi-sarcastic way after the game, saying in part, "Did it look like I was not trying to coach?"
From 2014 to 2017, Patterson went 12-1, 11-2, 6-7 and 11-3. However, it's been downhill since then, as the Frogs have bounced around through mediocrity.
As for this season, it's not looking good, as the Horned Frogs still have three ranked teams left on the schedule in No. 16 Baylor, No. 15 Oklahoma State and No. 22 Iowa State, with Kansas mixed in as well.