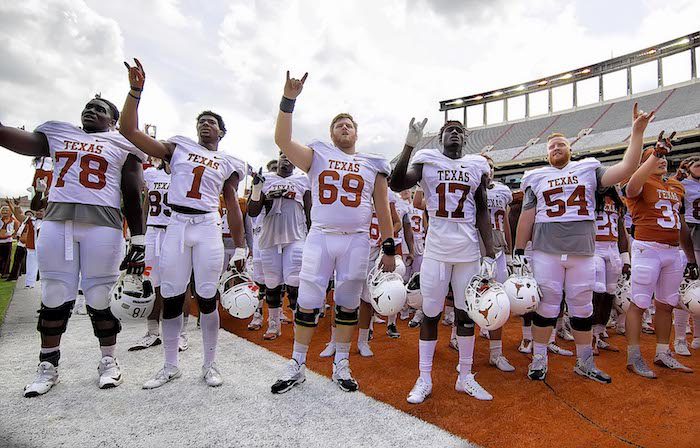 The Texas Longhorns blew a double-digit lead for a third-straight game on Saturday, losing to the Baylor Bears 31-24. Understandably, players are frustrated and upset. But regardless, one thing all Texas players are expected to do it honor the University after games by standing with their teammates during "The Eyes of Texas".
However, after the loss, a couple of players tried to bail on "The Eyes". Here's what Danny Davis from the Austin American-Statesman shared after the game on social media.
Does it mean anything? Probably not. Or we hope not for Texas' sake. It's not something the program needs to be dealing with right now. But of course there's been plenty of drama around "The Eyes of Texas" over the past 18 months. Former players have alleged threats over their handles of the song. Donors were reportedly going to hold back donations over how the University handled the future of the song, which was eventually determined to have "no racist intent".
In summary, the 59-page report released in March, which was put together by a 24-person committee concluded, "These historical facts add complexity and richness to the story of a song that debuted in a racist setting, exceedingly common for the time, but, as the preponderance of research showed, had no racist intent."
Regardless, this is the last thing Steve Sarkisian needs right now his first year as Texas head coach, as the Longhorns fell to 4-4 on the season and 2-3 in the Big 12 after Saturday's loss in Waco. And given the way in which Texas has lost each of these past three games makes it that much more painful.
And things don't get any easier next week for Texas, as the Longhorns hit the road to take on the Iowa State Cyclones.