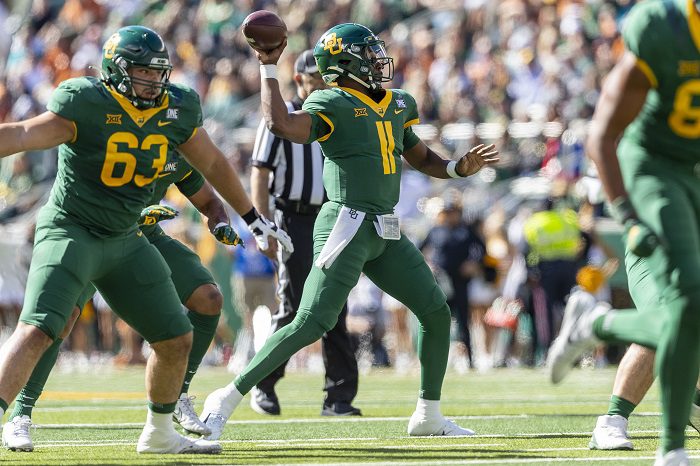 Baylor vs. Texas was the biggest game in the Big 12 Conference in Week 9. Both teams came into this one with aspirations of reaching the Big 12 Championship Game in Arlington, Texas. But when all was said and done, it was the Baylor Bears who kept those hopes alive with a 31-24 win over the Longhorns. For Texas, that drops them to 4-4, and 1-3 in the Big 12, especially putting an end to any Big 12 Championship goals.
So with that being said, here are three thoughts coming out of the game.
1. Texas collapsed… again
While this collapse was not as bad as the 21-point blown lead against Oklahoma, or the double-digit blown lead to Oklahoma State, it was still a blown lead, as Texas led 14-10 at halftime and then 21-10 in the third quarter before Baylor scored 21 unanswered points and won the game 31-24. There were two defining moments, one that will get overlooked and one that won't. The first is at the end of the first half, when Texas had a shot at the end zone and Casey Thompson's pass was dropped. He was then picked off a play later in field goal range, which means Texas went from being up 21-10 or 17-10 to only leading 14-10 at the half. Then, later in the game, with Texas down 24-21 at midfield on fourth down, kicker Cameron Dicker tried to run for a first down on 4th and 11, and he didn't come close. Baylor had all the momentum from there and ended up scoring the touchdown that would be the difference in this game.
Somehow, ESPN/ABC analyst Greg McElroy ended the game saying, "Texas is close". Close to what exactly? Blowing another game? These three-straight collapses are indictments on this coaching staff, which suddenly finds itself in a position that Texas has been in far too often over the past decade: Fighting for bowl eligibility.
2. Baylor's Run Defense
The Baylor run defense deserves an award for MVP of this game. The Bears held Heisman contender Bijan Robinson to just 43 rushing yards on 17 carries. Robinson did score a touchdown to make it 10-straight games with a score, but he was mostly kept in check all afternoon by Baylor's defense. Robinson didn't even have a rush longer than nine yards. For the day, Baylor held Texas to 102 rushing yards and only 3.5 yards per carry. Considering Texas came in averaging nearly 230 rushing yards per game and 5.6 yards per carry, it makes it all that more impressive what the Bears accomplished.
3. The Big 12 Race Clears Up
The Baylor Bears are now 4-1 in conference play, while Texas falls to 2-3 and is essentially out of the Big 12 race. As of this writing, Baylor is trailing just Oklahoma in the Big 12 (5-0), but is a half game ahead of Oklahoma State (3-1) and Iowa State (3-1). The Bears have the tie breaker over Iowa State, but lose the tie breaker to Oklahoma State. Given what Dave Aranda has done to help turn around this team from 2-7 last season to a 4-1 Big 12 record thus far, and 7-1 overall, Aranda deserves to be the front-runner for Big 12 Coach of the Year.