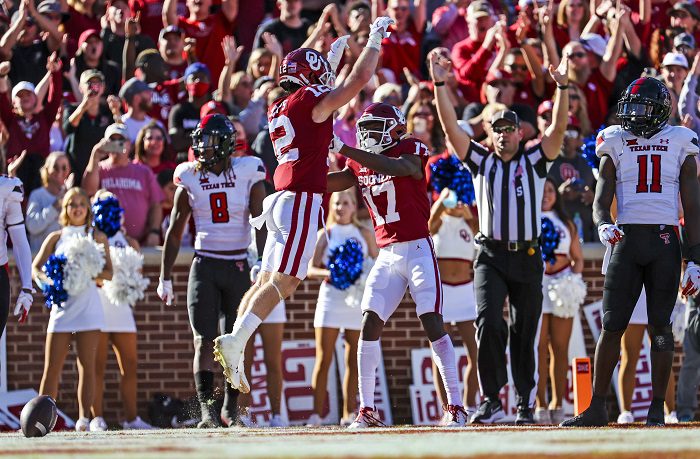 Oklahoma steamrolled Texas Tech 52-21. That score is actually quite misleading. The Sooners had a 38-7 lead before Tech scored again. The Sooners offense was hitting on all cylinders, and Oklahoma has defeated three straight opponents by double digits. The offense needed some momentum heading into its final three games as a tough Iowa State team is sandwiched between Baylor and rival Oklahoma State. The Sooners remain undefeated, but this will be the toughest stretch of the schedule. Meanwhile, Sonny Cumbie's first audition couldn't have been more of a disaster. This brings us to our three thoughts below.
1. Lincoln Riley loves beating up his alma mater
Prior to the arrival of Lincoln Riley on the campus of Oklahoma, the Sooners struggled against Texas Tech. At one point, the then No.1 Sooners even lost to a Tommy Tuberville team who failed to become bowl eligible. Since Riley's arrival in 2014, Tech has yet to come within 20 points in Norman. Only twice have the Red Raiders stayed within single digits, both games coming in Lubbock. One of them was started by Patrick Mahomes, in a 66-59 defense optional shootout. Riley has always performed with a chip on his shoulder. After Mike Leach cut him from the Tech football team to offer Riley a job on his staff, Riley initially declined and stormed out of Leach's office. The offer stood, and Riley started his coaching career after taking a day to cool off. Riley was let go from Texas Tech's staff after Leach was fired in December 2009. I don't know this for certain, but it seems Riley gets extra motivated to play, and beat, his alma mater.
2. The game was over when Matt Wells was fired, maybe even before that
Texas Tech never had a chance in this one. Oklahoma only needed eight rushing yards in the first quarter to score twice. The Sooners finished with 72 total rushing yards. If you had told me that Oklahoma had just 72 rushing yards in almost any game, I would have believed they lost. Oklahoma quarterback Caleb Williams finished 23-of-30 for 402 yards and six touchdowns. After a rough game against Kansas last week, Williams had his mojo back and entered exclusive territory.
He did not play the entire game. Spencer Rattler came into the game with 7:41 remaining and added another passing touchdown. Tech's defense simply had no answer.
3. It's a good thing Kirby Hocutt has more grace than Simon Cowell
Admittedly, I'm assuming here. If Simon Cowell were the Texas Tech athletic director, I think he'd tell Sonny that he's seen enough. Granted, Kirby does have to have someone coaching the team. This was a rough first game in Cumbie's audition process. Yes, this is an audition for Cumbie to become the head coach. During Hocutt's press conference, someone asked if Cumbie could become the head coach. Hocutt's reply was "Wouldn't that be great?". That tells me, Hocutt doesn't believe Cumbie will win the job. However, Hocutt would love to be proven wrong and see Cumbie lead this team to some pretty nice victories down the stretch. If Cumbie is going to win this job, he's going to have win out. After this disaster, I'm not certain two victories in the final three games will be enough to convince Hocutt that he's the guy. Remember, this is Hocutt's final chance too.