Baylor Bears
Five Biggest Takeaways From Week 9 of the Big 12 Football Season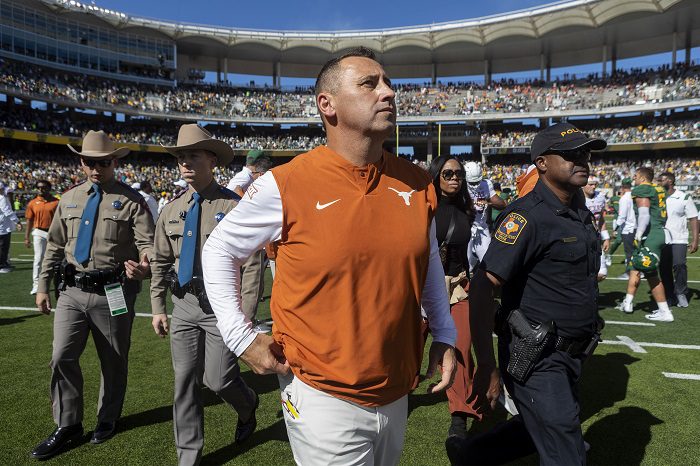 Week 9 of the Big 12 Football season is in the books, and there are more storylines than meet the eye after looking at the box scores. Baylor and Oklahoma State have separated themselves as the teams best suited to beat Oklahoma for a Big 12 Title. Iowa State had itself a huge letdown game, while West Virginia does seem to be rapidly improving. Oh, and after playing OU tough last week, Kansas got smoked in Stillwater.
So while there's plenty to recap after Saturday's action, here are my top five takeaways from Week 9 in the Big 12 Conference.
1. Baylor Impresses … Again
It's not just what they did in coming back from 11 points down against Texas to win the game 31-24, it's how they did it.  The Bears held Heisman contender Bijan Robinson to just 43 rushing yards on 17 carries. Robinson did score a touchdown to make it 10-straight games with a score, but he was mostly kept in check all afternoon by Baylor's defense. Robinson didn't even have a rush longer than nine yards. For the day, Baylor held Texas to 102 rushing yards and only 3.5 yards per carry.
Then on the other side, Abram Smith ripped off 20 carries for over 100 yards, and Gerry Bohanon didn't let the interceptions get to him, especially the first one early in the game, and still led Baylor to a comeback victory.
I admit I have continued to doubt the Bears, and maybe I've finally learned my lesson. But no promises.
2. TCU Has Become the Biggest Disappointment in the Big 12
The Horned Frogs were a team I thought could be a dark horse in the 2021 Big 12 race. And in fairness, I wasn't alone in thinking that. But after losing to Kansas State 31-12 on Saturday, the Horned Frogs are only ahead of Kansas in the Big 12 standings, sitting at 1-4 in league play. I am absolutely stunned at how bad this team looks. And it's not just that they're losing games, it's how they're losing these games. Once again on Saturday, TCU lost the turnover battle and had more penalties than their opponents. It's sloppy football. And it's certainly not a winning formula.
Throw in this report from Bruce Feldman that this may be Patterson's last year on the job, and suddenly these next four games just got a lot more interesting in Fort Worth.
3. West Virgina's Turnaround
If you asked me two weeks ago where WVU would be in the Big 12 standings after starting off 0-3 and taking on TCU and Iowa State, I would've guessed 0-5, and I would've been dead wrong. The Mountaineers beat TCU on the road, but then got a much more impressive win by handling Iowa State at home on Saturday. Yes, we can certainly spend time on the officiating that is going to cause many to lose a night's (or more) sleep in Ames, but let's focus on what the Mountaineers are doing.
It all starts with an offensive line that is beginning to gel, which is allowing WVU to look respectable on offense, with even Jarret Doege looking like a competent Power 5 quarterback. Doege played a great game, going 30/46 for 370 yards with three touchdowns to two interceptions. On the ground, WVU piled up 122 rushing yards and two scores, well above their season average of 90, which was dead-last in the Big 12.
With this side of the ball improving, West Virginia has turned its season around and should be able to become bowl eligible down the stretch.
4. Sonny Cumbie Can't Get the Texas Tech Job
There was some chatter that Sonny Cumbie, the interim head coach at Texas Tech, might be able to become the new head coach if he closes strong in his interim role. In fact, there are reportedly some "really influential people" who want Cumbie to get the job.
However, in his first opportunity, Cumbie and the Red Raiders went to Norman, Oklahoma and got smoked by the Sooners 52-21. Cumbie and Lincoln Riley know each other well from their days in Lubbock together, but it was clear Riley had no intentions of trying to take it easy on Cumbie to possibily help get his old friend the job. At one point, OU led this game 38-7. Tech couldn't stop Caleb Williams and the Oklahoma passing attack.
It always felt like a longshot that Cumbie had a chance to become the next head coach at Texas Tech, but it sure feels like Saturday sealed that fate.
5. Texas Does Something It Hasn't Done in Five Years
The Longhorns did something they haven't done since 2016: Lose three-straight Big 12 games. Tom Herman never did that. Steve Sarkisian has in his first season. And it's happened in epic fashion, with UT blowing double-digit leads in each game against Oklahoma, Oklahoma State and then Baylor on Saturday.
Amazingly, we are still getting the, "Texas is close" nonsense from ESPN employees, because that's what they're paid to do, I guess.
Come on. Even if you're a Texas fan you should be ticked off by how these three games have gone. One game you can chalk up to a one-off. Two in a row? Problematic. Three in a row? Ridiculous. And when you lose three games in this fashion, that's a combination of guys getting too lackadaisical and the coaching staff not making the proper adjustments. Like usual, it's not a talent issue. It falls at the feet of Sarkisian. And now they have to make the road trip to Ames against an Iowa State team coming off a loss. Good luck.