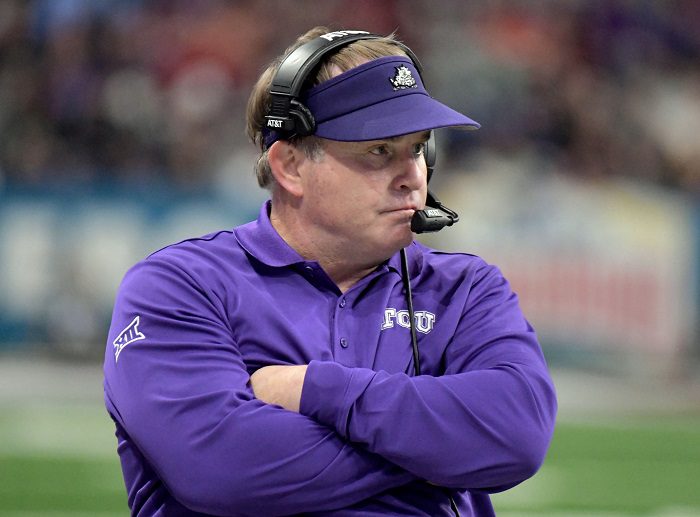 Gary Patterson's departure from TCU football sent shock waves through college football. Here are five takeaways from the move as the Horned Frogs begin their coaching search.
1. This is not Jerry Kill's job to 'win'
Jerry Kill is the interim head coach. Kill, a long-time friend of Patterson's, has a 152-99 record as a head coach at multiple levels, including with FBS programs Northern Illinois and Minnesota. Health problems led Kill to leave the Golden Gophers midway through the 2015 season. Patterson brought him to Fort Worth to be a special assistant coach. But I don't believe Patterson's long-term plan was to eventually make Kill his successor. Kill has enormous respect within college football. But it's unlikely he ends up with the job in 2022.
2. Welcome to the show, Jeremiah Donati
Donati took over as athletic director when Chris Del Conte left for Texas in 2017. He inherited a stable coaching situation in most of his sports. This summer, he elevated Kirk Saarloos to head coach after Jim Schlossnagle left for Texas A&M. That was easy. This will be a much different situation for Donati, who is a proven fundraiser but has never hired a head football coach as an athletic director. Patterson's staff doesn't feature a natural, long-term candidate. So this figures to be a national search. He will likely address what he's looking for this coming week. Hiring a football coach can define you as an athletic director. It's even more perilous when it's your first head-coaching search.
3. Protecting recruiting and barring the portal
In the time between now and the hire, Donati and the current Horned Frogs staff has two jobs — do whatever they can to protect the current recruiting class and do whatever they can to keep their current players from beating a path to the transfer portal. That won't be easy. Recently, Patterson was reportedly leaning on boosters to help his players get name, image and likeness deals. Donati's statement noted that "Coach Patterson will assist TCU in the transition to take place." One has to wonder if that 'transition' might include recruit hand-holding?
4. Was it simply time?
Patterson was college football's second longest-tenured head coach behind Iowa's Kirk Ferentz. It takes a special kind of coach to stay at the same place for 20 or more years, and Patterson is one of those coaches. He's always coached with a chip on his shoulder and it has served him and his program well for a long time. But, as the years go on, coaches have to change with the times. Patterson did that, famously, about a decade ago, as he jettisoned his run-based offense and let his coordinators install more of a player-friendly offense. And it worked .. for a while. But it's not working now. In fact, there is a lot that isn't working now (our Derek Duke pointed that out in his mailbag last week). It's led to a .500 record since 2018. We'll likely hear more from Patterson in the coming days, but one has to wonder if he realized that it's just 'his time,' and if the university felt the same way. The game has changed. At some point, coaches are just done changing with it. And Patterson has more than proven himself one of the game's best coaches.
5. What about early candidates?
We're going to roundtable this in the next day or so, but this is an intriguing job with no obvious, lead-pipe lock candidate. You have access to Texas recruits, you have a Top 10 media market and you have a solid fan base. There's a booster pool that has helped TCU keep up with facility needs. This is a job that should draw current and former head coaches. Unlike Texas Tech, this could be more of a national search. And that opens the playing field. You'll hear Jeff Traylor and Sonny Dykes come up because both are Texas-based, and the latter would allow the Horned Frogs to stick it to their rivals across the Metroplex. Don't expect to hear anyone with the last name 'Briles' come up. As noted earlier, Donati has never hired a head football coach. So impossible to know tendencies right now. That's part of what makes the opening so intriguing.
You can find Matthew Postins on Twitter @PostinsPostcard.
**Want to win a $20 gift card? Go sign up here and join our conversation! The best poster each week wins a gift card to your favorite establishment!**