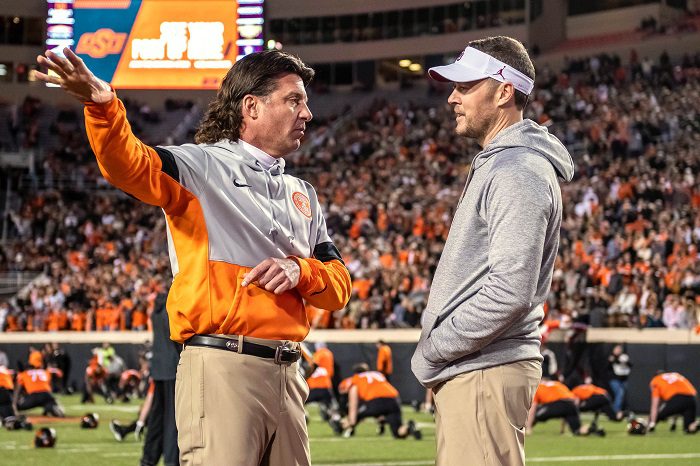 Week 8 of the Big 12 football season is in the books, and there is movement in our Big 12 Power Rankings. Week 8 saw Iowa State jump back into the Top 25 after beating Oklahoma State, OU struggled against Kansas, West Virginia stomped TCU and Kansas State came back against Texas Tech. Anyway, here is your weekly reminder that these rankings can fluctuate greatly on a week-by-week basis, based on how teams have performed in their most recent games and who they've beaten, not what we predict the final Big 12 standings to be and not what the preseason rankings were.
So with all that being said, here's a look at our Big 12 Football Power Rankings heading into Week 9 of the season.
1. Oklahoma State Cowboys (Last Week: 2)
Well the Oklahoma State Cowboys slide back into the No. 1 spot this week after smoking the Kansas Jayhawks 55-3. It was a toss up between OSU and Baylor for No. 1, but I gave the edge to the Pokes thanks to their head-to-head victory over Baylor a few weeks ago. Spencer Sanders is continuing to get more steady by the week, which means that if the Pokes can continue this defensive play and getting a great running game from Jaylen Warren, the Cowboys have the best chance to win the Big 12 that they've had in 10 years.
2. Baylor Bears (Last Week: 3)
The Baylor Bears improved to 7-1 after their comeback win over the Texas Longhorns on Saturday. The Baylor run defense deserves an award for MVP of this game. The Bears held Heisman contender Bijan Robinson to just 43 rushing yards on 17 carries. For the day, Baylor held Texas to 102 rushing yards and only 3.5 yards per carry. Considering Texas came in averaging nearly 230 rushing yards per game and 5.6 yards per carry, it makes it all that more impressive what the Bears accomplished. Combine their run defense with Abram Smith continuing to carry the backfield, and Baylor is poised to make a serious Big 12 title run.
3. Oklahoma Sooners (Last Week: 4)
The Sooners got back on track one week after they nearly lost to the Kansas Jayhawks. Oklahoma ripped Texas Tech 52-21 in a game that saw them jump out to a 38-7 lead. Caleb Williams had his best game yet, as the true freshman quarterback 23-of-30 for 402 yards and six touchdowns. After a rough game against Kansas last week, Williams joined exclusive company, joining Baker Mayfield and Kyler Murray as the only Oklahoma quarterbacks to throw six touchdowns with zero interceptions in a single game.
4. West Virginia (Last Week: 6)
The West Virginia Mountaineers continue to surge up these rankings after beating Iowa State on Saturday 38-31. WVU's offensive line play keeps getting better, which is a welcomed sight for Mountaineers fans. It's helping Leddie Brown in the running game, while Jarret Doege gets stronger in the passing attack. The defense remains solid, which will make the Mountaineers a hard out down the stretch of the 2021 Big 12 football season.
5. Iowa State (Last Week: 1)
The Cyclones got screwed by the refs, no doubt about it. But they still lost the game to the Mountaineers. The team did look a bit hungover on Saturday following their big win over Oklahoma State the week prior. Iowa State is now 3-2 in Big 12 play, one game behind Baylor and Oklahoma State (4-1) for second place in the Big 12. They hold a tie-breaker over OSU, but don't against Baylor. That could play a role come the end of the season. But the loss at West Virginia was a huge setback for their 2021 Big 12 Championship aspirations.
6. Texas Longhorns (Last Week: 5)
For a third-straight game, the Longhorns blew a double-digit lead on Saturday against Baylor. While this collapse was not as bad as the 21-point blown lead against Oklahoma, or the double-digit blown lead to Oklahoma State, it was still a blown lead, as Texas led 14-10 at halftime and then 21-10 in the third quarter before Baylor scored 21 unanswered points and won the game 31-24. Steve Sarkisian has now achieved something that Tom Herman never did: He has lost three Big 12 games in a row. The last time that has happened for the Longhorns was back in 2016.
7. Kansas State Wildcats (Last Week: 7)
The Wildcats looked really good against TCU, but it was TCU. They're getting healthy and are getting into the easier part of the 2021 schedule. It's amazing what eight solid quarters of football can do for a fan base. Kansas State defensive end Felix Anudike-Uzomah was a beast with four sacks, while Deuce Vaughn continues to do this thing, giving Kansas State continued optimism for the rest of this season and, since both players are only sophomores, into the 2022 campaign.
8. Texas Tech (Last Week: 8)
The Red Raiders played their first game since the firing of Matt Wells and it did not go well for interim head coach Sonny Cumbie, as Texas Tech lost to Oklahoma 52-21. Not much is going right for the Red Raiders and after a bye week, they have to take on Iowa State, Oklahoma State and Baylor. One win gets Tech bowl eligible, but they will be heavy underdogs in each of their next three games.
9. TCU (Last Week: 9)
If not for the way Kansas is playing, TCU would probably be in the No. 10 spot right now. That's how bad it's been for a TCU team that lost to Kansas State on Saturday by 19 and then about 24 hours later decided to move on from Gary Patterson as the team's head coach. This is certainly not how anyone wanted Patterson's career to end with the Horned Frogs, but such is the cut-throat world of big-time college football coaching.
10. Kansas (Last Week: 10)
After playing Oklahoma down to the wire, clearly Kansas was deflated seven days later as they were rolled by Oklahoma State on Saturday. The next step for Kansas is to play more consistently, start competing in more of their games and then a win or two will pile up.