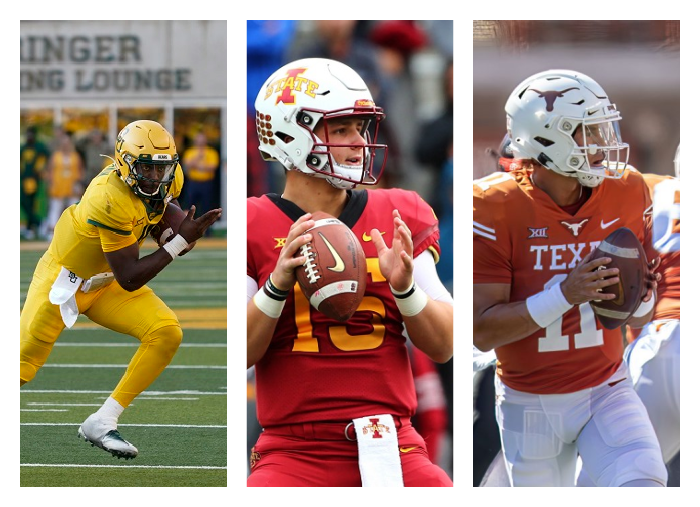 There is no position in all of sports that is more important than the quarterback. A good quarterback can help hide other areas of weakness on a team while bad ones can bring down even the best of teams. Either way, having good quarterback play is crucial for any team that hopes to make it all the way. Just like with team power rankings, I wanted to do a weekly quarterback power ranking after every weekend. Here you will find out who is trending up or down depending on their play on the field. 
1.    Oklahoma QB Caleb Williams (Last Week: #5)
There was not letdown this week for the freshman Caleb Williams. In fact, he looked like superman out there against the Red Raiders on Saturday. Caleb went 23/30 for 402 yards and 6 touchdown passes against the Red Raiders. He was flawless and Texas Tech had no answer for his game. While this is only his third career start, Caleb belongs in the Heisman conversation.  
2.    Oklahoma State QB Spencer Sanders (Last Week: #2)
For the first time this season, Spencer has made the top five two weeks in a row. He didn't have to do much against a bad Kansas team, but he did go 12/19 for 2 scores in just one half of football. Spencer also rushed for 53 yards and a score as well but most importantly, he didn't turn the football over.  
3.    West Virginia QB Jarret Doege (Last Week: #7)
I know he threw two interceptions against Iowa State, but I was really impressed with the way he battled back in their big win. Doege wasn't perfect, but he kept attacking Iowa State's secondary and it paid off. He threw for 370 yards and tossed 3 touchdown passes. I have been a little hard on Jarret over the weeks but in his last two games, he has played well in my book.  
4.    Kansas State QB Skylar Thompson (Last Week: #3)
Kansas State dominated TCU and while the defenses deserves a ton of credit, so does Skylar Thompson. He played well throwing for 242 yards and a touchdown. Plus, he added a rushing score as well. Skylar made just one mistake but other than that, I thought he managed the offense enough for a big win.
5.    Iowa State QB Brock Purdy (Last Week: #1) 
Iowa State lost the game, but I don't think it was Brock Purdy's fault necessarily. Sure, he deserves some blame however I thought he was a gamer in Morgantown. His offensive line struggled in pass protection, and he ran around making some nice plays with his legs. He didn't complete a ton of his passes, but he threw for a touchdown and didn't throw an interception.  
6.    Texas QB Casey Thompson (Last Week: #8)
This list is going to start to get a little rocky because six through ten is a bit of a mess. The Longhorns offense wasn't great, and Casey Thompson wasn't terrible, finishing 23/38 for 280 yards for two touchdowns and one interception. The main reason I gave him the nod at No. 6 is because those below him clearly played worse on Saturday.
7.    TCU QB Max Duggan and Chandler Morris (Max Duggan Last Week: #9)
Neither quarterback played great, but neither quarterback really did anything worthy of praise. The good news is that they didn't turn the football over however they were absolutely crushed by the Kansas State defense.  
8. Texas Tech QB Donovan Smith (Last Week: Not Ranked)
Smith got the bulk of the snaps on Saturday and while he wasn't all that bad, his team was already down big when he took over. Donovan went 17/22 for 192 yards and a touchdown along with an interception.  
9. Baylor QB Gerry Bohanon (Last Week: #4)
This may be the first time I have a winning quarterback ranked this far down the list. But it needed to work out like this because Gerry did not play well on Saturday against Texas. He had two turnovers and struggled (18/31 for 222 yards) to get into any sort of rhythm. It was the ground game that won this game for the Baylor Bears. 
10. Kansas QB Jason Bean (Last Week: #6)
I don't really need to go into why Jason is last here because Kansas scored three points against Oklahoma State and failed to convert a single third down. Plus, Miles Kendrick got plenty of playing time for KU.