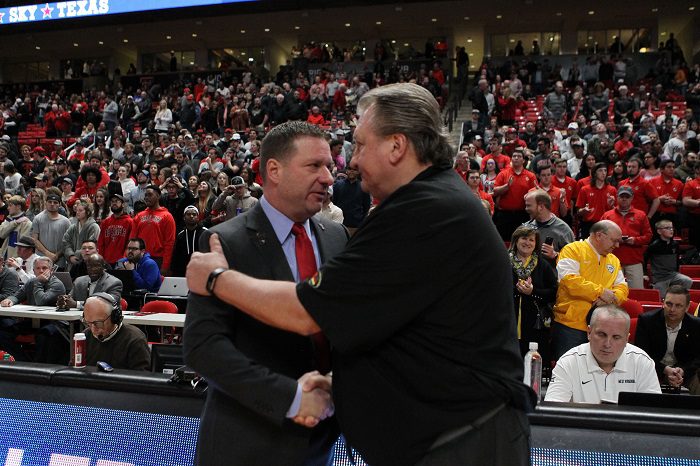 Every Big 12 team has to fill out its non-conference schedule with several teams that qualify as mid-major teams. But not every mid-major is created equal. Below is each Big 12 team's 'Mid-Major Danger' game for the 2021-22 season.
Nicholls State at Baylor, Nov. 15
It's a hard sell to see the Colonels beating the Bears, but Nicholls is the best mid-major the Bears will face. Nicholls won 18 games and won the Southland Conference regular-season title last season.
Jackson State at Iowa State, Dec. 12
The Cyclones, coming off a two-win season, put together a soft non-conference schedule for a reason. But, among the mid-majors, Jackson State is the Cyclones' most dangerous game. It comes on a Sunday close to that time of year when players start thinking about the holiday break. The Tigers won 12 games last year, including a perfect 11-0 in Southwestern Athletic Conference play.
Stephen F. Austin at Kansas, Dec. 18
Pitfalls abound for the Jayhawks. SFA won 16 games last season and has been to the NCAA Tournament five times in the last decade. The Lumberjacks are catching Kansas at the end of the semester. SFA head coach Kyle Keller worked for Kansas head coach Bill Self for three seasons. And, SFA beat Duke two seasons ago. Yes, THAT Duke.
Morgan State at Kansas State, Dec. 29
Kansas State's mid-major schedule isn't particularly salty. But, the Wildcats host the Bears during the holiday break and the Bears won 14 games a year ago. This also assumes we can all get on board with the idea that Wichita State, which hosts Kansas State on Dec. 5, isn't a mid-major program anymore.
UTSA at Oklahoma, Nov. 12
It will be early in the season, the Sooners will be working through player rotation issues, and the Roadrunners are coming off a 15-win season. That's a recipe for leaving a bad taste in the mouths of the Sooners at night's end.
Oklahoma State at Oral Robertson, Nov. 26
One of the rare 'Mid-Major Danger' games that isn't hard to pick out of a lineup. The Cowboys, of course are coming off a trip to the second round of the NCAA Tournament. Oral Roberts did Oklahoma State one better, reaching the Sweet 16. Making this especially dangerous is that the game is at ORU on Thanksgiving weekend. Seriously? Who scheduled this?
TCU vs. Santa Clara, Nov. 22; TCU vs. Pepperdine, Nov. 24
Full disclosure — the Horned Frogs are playing two teams that have already appeared on this list — Nicholls State and Oral Roberts. But, for the sake of variety, the Horned Frogs' trip to the SoCal Challenge looks potentially dangerous. The Horned Frogs, who are basically putting a new team together, will face Santa Clara and Pepperdine in three nights, and both had winning records last season. Plus, these games will be at Jserra Catholic High School in San Juan Capistrano, California. Yep. They're playing at a high school.
Sam Houston at Texas, Nov. 29
It's the Monday after Thanksgiving. The Bearkats won 19 games last season. And the game isn't even at the Erwin Center. The Longhorns will host the game at their program's first home, Gregory Gymnasium, in a game that only students can attend. Sounds fun. And 'Mid-Major Dangerous.'
Yes, I know Texas plays Gonzaga and, yes, Gonzaga technically plays in a mid-major conference. But, c'mon.
Prairie View A&M at Texas Tech, Nov. 15
This will be Tech's third game of the season, and its third in seven days to open the season. Prairie View A&M is coming off a fine season. The Panthers won 16 games and went undefeated in the Southwestern Athletic Conference. PVAMU was also 5-3 on the road. And, yes, Gonzaga is also playing Texas Tech. See above. C'mon.
West Virginia at UAB, Dec. 18
First, West Virginia has THREE potential Mid-Major Danger games. It's possible the Mountaineers could face preseason Top 25 St. Bonaventure at the Charleston Classic. The Mountaineers host Eastern Kentucky on Nov. 26, and the Colonels won 22 games last season. But I'll take the road game against a traditional-rich Blazers team that comes a week before Christmas. The Blazers won 22 games last year, too.
You can find Matthew Postins on Twitter @PostinsPostcard.
**Want to win a $20 gift card? Go sign up here and join our conversation! The best poster each week wins a gift card to your favorite establishment!**