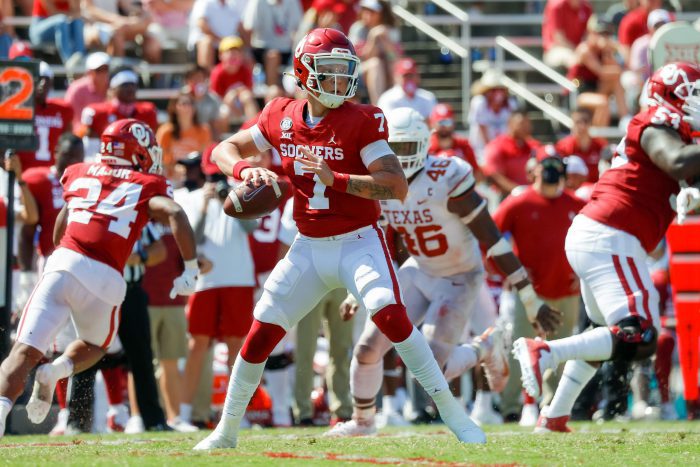 The Oklahoma Sooners are all set at quarterback with true freshman Caleb Williams, who has taken over the offense and taken the unit to new heights this season.
While Spencer Rattler, the preseason Heisman Trophy favorite, got some playing time this past weekend against Texas Tech, it's clear that Rattler is not going to be the OU starter this season, unless Williams is marred by an injury.
So for Rattler, the former five-star prospect, many are wondering where he might end up playing in the 2022 season. Since he is in his third year at OU, he could declare for the NFL Draft, but it would be risky since in his second season as the starter he lost his job. But might he do it anyway?
Well here it was the oddsmakers at BetOnline.ag believe on what's next for Spencer Rattler.
Where does Spencer Rattler play in 2022?
| | |
| --- | --- |
| NFL | 1/1 |
| Arizona State | 8/5 |
| Ole Miss | 4/1 |
| Georgia | 5/1 |
The fact that the NFL is receiving the top odds is shocking, but then again, maybe it shouldn't be, given some of the comments from Rattler's dad in recent weeks.
Rattler's father was interviewed by OU Daily, and Mike Rattler said, "For right now, he's focused on working for this team, and we'll see what happens after Jan. 10. Hopefully he'll be playing in the national championship on Jan. 10, and then after that we'll evaluate where he is as far as if any teams are interested in him in the NFL, we'll consider that.
If we think, 'Hey, you know what, we may ought to do another year or something at Oklahoma, wherever'… we're leaving our options open whereas that is concerned, but for the most part, right now, we don't even talk about it, because he's got a task at hand to deal with."
Rattler is an Arizona native, so that is not shocking. Then, of course, two SEC teams find themselves getting odds.
It's also telling that Oklahoma is not even on the odds list, which should not be all that surprising, because barring something unforeseen, Spencer Rattler is not going to sit at OU as Caleb Williams back up for the 2022 season.