Big 12 News
Sonny Dykes is TCU's 'Primary Target' to Replace Gary Patterson: Report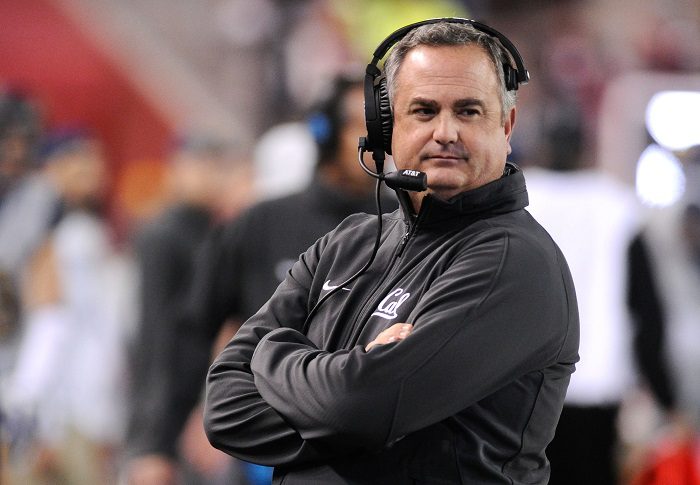 The TCU Horned Frogs are now in the market for a head football coach after mutually parting ways with Gary Patterson on Sunday night.
The question is now: Who will be the next TCU head coach? Well according to CBS Sports' Dennis Dodd, the Horned Frogs are targeting SMU head coach Sonny Dykes. Dodd calls Dykes TCU's "primary target". Dodd added, "With Texas Tech having fired coach Matt Wells last week, TCU saw an opportunity to open its position and "compete" with its in-state Big 12 rival for candidates."
Sonny Dykes has also been connected to the Texas Tech job, where he has deeper ties given his father's career at Tech, and Dykes himself spent time on the Red Raiders staff as well earlier in this career.
Dykes has had a very impressive tenure thus far at SMU. He has built SMU into a conference championship contender in the American Athletic Conference, compiling a 24-7 record over the past three seasons and reaching 10 wins on the Hilltop for the first time since 1983. SMU lost its first game of the season on Saturday to Houston, but the Mustangs remain ranked in the Top 25 this week.
But now, the services of Sonny Dykes could come down to a battle between two Big 12 teams in Texas Tech and TCU.
UTSA's Jeff Traylor was expected to be on Texas Tech's short list, but Traylor signed a new deal with the Roadrunners over the weekend. That doesn't mean that the former Texas high school coaching legend is off the table for Tech, but it certainly makes it harder as he now has a $7.5 million buyout.
But now we play the wait-and-see game as we are in the middle of the season of a fun Big 12 season, while also getting to follow two coaching searches in the conference.