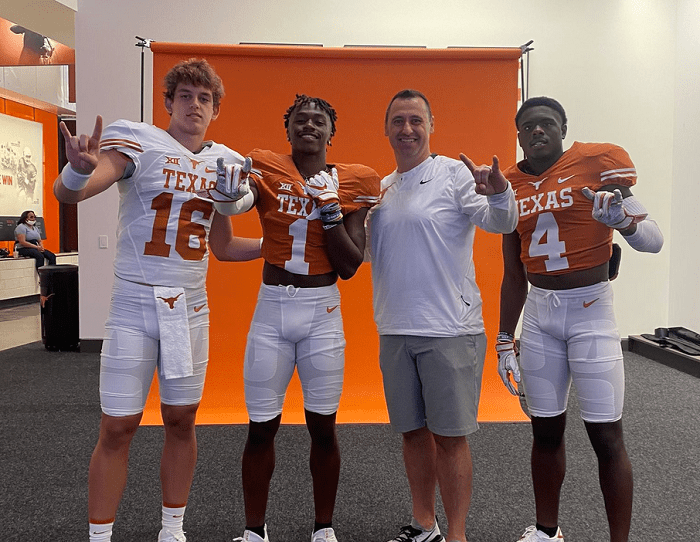 One of the biggest recruitments in recent memory is that of Arch Manning, the nephew of Super Bowl winning quarterbacks Peyton and Eli Manning.
According to the 247Sports composite, Manning is the No. 1 player in the nation in the 2023 recruiting class, and has suitors from all over the country.
But according to recent odds put out by BetOnline.ag, it's the Texas Longhorns who are the favorites to land the services of Manning.
Here are the odds.
Where will Arch Manning verbally commit?
| | |
| --- | --- |
| Texas | 3/1 |
| Georgia | 7/2 |
| Alabama | 4/1 |
| Ole Miss | 9/2 |
| LSU | 5/1 |
| Clemson | 11/2 |
| SMU | 12/1 |
Arch Manning is 6'4", 215 pounds and a report from a few weeks ago said he's down to Texas and Georgia as his final two schools. But since then, Manning has paid visits to Alabama and Ole Miss. Since then, reports have made Alabama a "frontrunner" for his services.
Needless to say, no one has a great idea on what Arch Manning is going to do, and as a 2023 recruit, he certainly has plenty of time to make a decision.
It's not clear how much Texas' struggles on the field might hurt their chances at landing Arch, but the Longhorns lost their third-straight Big 12 game on Saturday, something the program has not done since 2016. Texas hits the road this weekend to take on the Iowa State Cyclones.