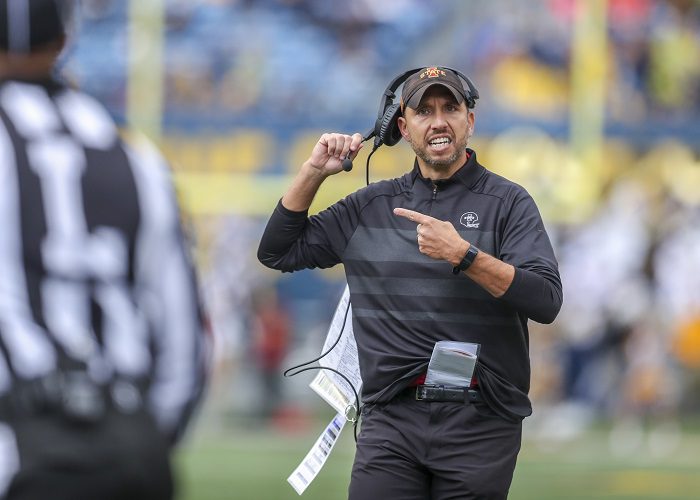 Welcome to the HCS Big 12 mailbag! This mailbag is for all you football junkies out there who root for a Big 12 school who not only have questions about your team, but other teams in the conference as well. So, join me, grab your favorite drink, and relax as I answer all your Big 12 questions. For those interested, I will send out a tweet (@Derekduke25) every Monday until 8 PM CT for you to send in your questions to be answered every Tuesday right here at Heartland College Sports. 
I want to thank each one of you who submitted a question this week and for those reading, I am glad you could join me. I am doing this on a Monday night and of course it would not be a proper mailbag without a drink next to me. Tonight's drink is Evan Williams Bottled in Bond. Cheers!
Now before I begin, I would like to warn you that there are some angry Iowa State fans this week so most of the questions are about their recent trip to Morgantown.
@KyleGAdema asks: Why am I so loyal to a conference when they don't have any loyalty back? Cyclone Nation is sick from Saturday. The last thing I want to ever do is complain about the refs but this…this was bad.
Duke: I totally understand the frustrations from Saturday's game between Iowa State and West Virginia. In fact, I tweeted during the game it may have been the worst officiating I have ever seen in a Big 12 game since I started covering the conference back in 2016. There's no doubt it was bad but keep in mind that every single fan base in the Big 12 has had their bad days with Big 12 officiating. Unfortunately for Iowa State, it was Saturday although I know they have had issues in the past. It is totally fair to criticize the refs in that game but also, Iowa State didn't play their best game either.
@cfowlerwvu asks: How many Iowa State fans have complained about officiating from Saturday's game? Can we all just say hey you took a 3-4 team too lightly and didn't think coming to Morgantown would be too daunting? Did the officiating suck? Yes, it sucked for both teams.
Duke: A lot of Iowa State fans have complained but they have every right to complain from what I saw. I do my best to call it fair and Saturday's game in Morgantown was bad all around. Heck, even West Virginia had some calls go against them that were highly questionable especially that phantom pass interference call late in the game.
But you bring up an interesting point talking about Iowa State taking West Virginia a little too lightly. Iowa State didn't look like they had a ton of juice on Saturday and looked a little sluggish at times. Defensively, it was their worst game all season long and the secondary got torched by Jarret Doege and the Mountaineer wide receivers. Iowa State didn't play well however a lot of credit should go to West Virginia for finding a way to win. Maybe that TCU game was the turning point of their season and they followed it up with a big win at home against the Cyclones.
@Mike_pIowa asks: Why is it week after week the Big 12 Refs HOSE Iowa State with bad calls? Is it RIGGED? They cost the Cyclones a Big 12 Championship yesterday and we all know it.
Duke: Mike, do me a favor and take a deep breath. I know the loss hurt and I know that the officiating in that game was bad, but let's not get to the point where we think the refs are purposely trying to harm Iowa State. The Cyclones didn't play their best game on Saturday and in a close game, anything can happen. Unfortunately, the refs happened but Iowa State should have never been in that position to begin with. Iowa State should have played better, and the officials should have been better as well.  
@DBSportsYT asks: Where does ISU go from here? The most anticipated season in… a long while… and it seems to have turned belly-up with OU still on the schedule. Has there been a ceiling hit?
Duke: I had the Cyclones penciled in to make a second Big 12 title appearance this year and it looks like that isn't going to happen after Saturday's loss. Despite the loss to Iowa earlier in the year, this team still had hopes of winning a conference championship, but they have stumbled twice already before their showdown with the Sooners. In both of their losses, Iowa State played a team close and lost. In the Baylor game, special teams cost them and in the West Virginia game, they played bad defense and had some calls go against them.
If those two losses are replayed, I would say Iowa State wins both games, but you can't take back what already happened. The good news is that there still is a chance for the Cyclones to get back to Jerry World, but they will need some help along with beating Oklahoma. As far as a ceiling hit goes, maybe they hit a wall. If there was a year for this program to win ten games in the regular season, it was this one.
@RPTexan asks: It's time to discuss Art & Kendall Briles. Many say Art was scapegoated. Others say he should be in jail. Prior to the Baylor scandal, he was exemplary in life and coaching. Should Art (and Kendall to an extent) be allowed redemption?
Duke: Kendall is still coaching, in fact, he is the offensive coordinator at Arkansas. He has gotten another chance, but his father hasn't, and I wouldn't be one in favor to hire him. If a school hires Art Briles, they may as well say we don't care about anything or anyone but winning football games. That's hard to explain to some people. As much as I love the game of college football, there are more important things going outside of it. What Art Briles did was sickening to say the least and I don't think he should get to wear a headset again in college football, or any level for that matter. As for Kendall, he got his shot at redemption and that is enough from that family.