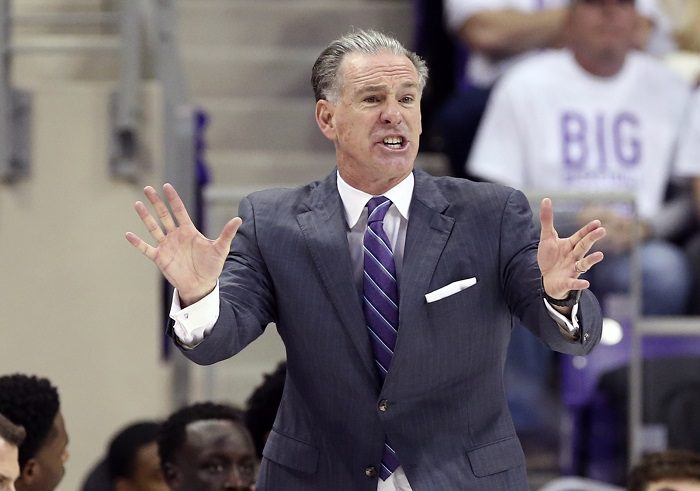 The TCU Horned Frogs are preparing to open the 2021-22 men's basketball season against McNeese State on Nov. 11. Here are some key points to consider as the season begins.
The growth of Mike Miles
Amidst all the turnover from last season, at least the Horned Frogs can say they didn't lose guard Mike Miles. He was named All-Big 12 Honorable Mention and Big 12 All-Freshman after wrapping up his freshman season averaging 13.6 points, 3.5 rebounds and 3.1 assists. Most seasons that would have earned you Freshman or Newcomer of the Year honors. But, Cade Cunningham kind of sucked up that oxygen.
TCU head coach Jamie Dixon expects big things from Miles in 2021-22, and he got a sneak peek this summer, as he coached Miles and a bunch of other tremendous players in Team USA's win in the Under-19 World Cup.
"I saw the growth there," Dixon said. "He's really taken on the things that we've asked him or told him that he needs to improve on to get to the next level."
Among those pieces to improve on is his defense, something Dixon expects Miles to take to another level this season.
Miles admitted he just soaked everything in during that tournament.
"The experience over there I feel like it's really gonna help me," Miles said. "You know, I learned how to be tough or play through contact over there. I'm glad I did."
Yes, the transferring stinks, but there's a trade-off
Perhaps no team in the Big 12 was hit harder by the transfer portal than Dixon and the Horned Frogs. He and his staff had to work overtime to replenish the roster and the wave of players left the program after the season. Dixon foreshadowed it in his post-game remarks at the Big 12 Tournament in March and said this is "college basketball's new era" at Big 12 Media Day.
But, there are SOME potential positives. Dixon pointed to those in October. Among them? The players transferring are already experienced, usually older and physically more mature than the players that left.
But the biggest positive is the NCAA's changes in how much Dixon and his staff can work with players. Those changes now put his staff in a position to work with players nearly year-around. That actually allowed him and his staff to start installing offensive and defensive schemes in the summer instead of in the fall.
"The reality is we can work with our guys almost 49 weeks of the year now," Dixon said. "I mean, that's really our schedule, every schedule, within the rules."
Emanuel and Micah and Interchangeability
Micah Peavy, a Duncanville, Texas, product, came back to the Metroplex after one season at Texas Tech. Emanuel Miller transferred to TCU after two seasons at Texas A&M. Both are 6-foot-7 forwards, and one would assume that might create a problem when it comes to playing time.
Dixon doesn't think that's the case.
"They give us a nice combination," he said. "We're kind of playing them as interchangeable forwards, if you will. Both can handle the ball. Both can shoot the ball. Both can defend and rebound."
It sounds like Peavy is serious about taking his game to another level. Dixon said he finds Peavy in the gym at 6 a.m. working on his jumper.
The Return of Francisco
A lot went wrong with TCU last season, but probably nothing more difficult than the loss of point guard Francisco Farabello. The Argentinian native only played nine games last season due to COVID-19 protocols and averaged 5.3 points and 2.7 assists. Dixon clearly missed having him on the floor and is happy that Farabello looks ready to play full-time this season. Two things about his game stand out. First, he's a true point and his presence gives the Horned Frogs two quality ball handlers, along with Miles. Farabello's presence takes some of the pressure off of Miles. Second is the fact that even in nine games Farabello was TCU's best 3-point shooter by percentage (44.8). He may finally have the chance to make an impact in his third season.
The Transfer to Watch
The Horned Frogs need a few of their transfers to cash in this season, and no transfer stands a better chance of doing that than guard Shahada Wells. He played at UT Arlington, which is a 20-minute drive from TCU (assuming no traffic). The All-Sun Belt Second-Team selection averaged 16.8 points, 3.4 rebounds and 3.8 assists per game last season. He should start the season as the Horned Frogs' third guard, one that could start or come off the bench as needed. He has the chance to prove he can play at a high-major level, and he's never averaged fewer than 16 points per game in three seasons of college basketball. He played two seasons at Tyler Junior College in Tyler Texas, where he was a NJCAA Division I First Team All-American his sophomore year.
Heartland College Sports Big 12 Basketball Preview
Roster Analysis: Baylor | Iowa State | Kansas | Kansas State | Oklahoma | Oklahoma State | TCU | Texas | Texas Tech | West Virginia
Team Previews: Iowa State
Impact Players: Freshmen | Transfers | Breakthrough Players
Top 25 Returning Players: No. 25 Jonathan Tchamwa Tchatchoua| No. 24 Christian Braun | No. 23 Rondel Walker | No. 22 Umoja Gibson | No. 21 Matthew Alexander-Moncrieffe | No. 20 Nijel Pack | No. 19: Marcus Santos-Silva | No. 18 Mike McGuirl| No. 17 Jalen Bridges | No. 16 Kalib Boone | No. 15 Kevin McCullar | No. 14 Isaac Likekele | No. 13 Adam Flagler | No. 12 Jalen Coleman-Lands | No. 11 Sean McNeil | No. 10 Taz Sherman | No. 9 Matthew Mayer | No. 8 Jalen Wilson | No. 7 Courtney Ramey | No. 6 Mike Miles | No. 5 Avery Anderson III | No. 4 David McCormack | No. 3 Terrence Shannon Jr. | No. 2 Ochai Agbaji | No. 1 Andrew Jones
Watch Lists: Bob Cousy | Jerry West | Julius Erving | Karl Malone | Kareem Abdul-Jabbar
Women's Watch Lists: Nancy Lieberman | Ann Meyers Drysdale | Cheryl Miller | Katrina McClain
Challenge Series: Big 12-Big East Battle
Coaching: Hiring Grades | Coaches by Category
You can find Matthew Postins on Twitter @PostinsPostcard.
2021-22 TCU Schedule
(all times central)
Nov. 11 McNeese State, 7 p.m.
Nov. 15 Southern Miss, 7 p.m.
Nov. 18 Nicholls State, 7 p.m.
Nov. 22 vs. Santa Clara, [email protected]
Nov. 24 vs. Pepperdine, [email protected]
Nov. 29 Austin Peay, 7 p.m.
Dec. 2 Oral Roberts, 7 p.m.
Dec. 8 vs. Utah, TBA-#
Dec. 11 vs. Texas A&M, 5:30 p.m.-$
Dec. 18 at Georgetown, 1 p.m.-%
Dec. 21 Grambling State, 7 p.m.
Dec. 29 Texas Southern, 7 p.m.
Jan. 1 at Kansas*, 4 p.m.
Jan. 3 West Virginia*, 6 p.m.
Jan. 8 Baylor*, 4 p.m.
Jan. 12 at Kansas State*, 8 p.m.
Jan. 15 Oklahoma*, 6 p.m.
Jan. 19 at Oklahoma State*, 7 p.m.
Jan. 22 at Iowa State*, 3 p.m.
Jan. 25 Texas*, 8 p.m.
Jan. 29 at LSU, 11 a.m.-&
Jan. 31 at Oklahoma*, 8 p.m.
Feb. 5 Kansas State*, 7 p.m.
Feb. 8 Oklahoma State*, 6 p.m.
Feb. 12 at Texas Tech*, 3 p.m.
Feb. 15 Iowa State*, 8 p.m.
Feb. 19 at Baylor*, 1 p.m.
Feb. 23 at Texas*, 8 p.m.
Feb. 26 Texas Tech*, 5 p.m.
March 1 Kansas*, 7 p.m.
March 5 at West Virginia*, 1 p.m.
March 9-12 Big 12 Tournament, Kansas City, Missouri
@-SoCal Challenge, San Juan Capistrano, California; #-Simmons Bank Showdown, Dickies Arena, Fort Worth, Texas; $-The Battleground 2K21, Houston, Texas; %-Big East/Big 12 Challenge; &-Big 12/SEC Challenge; *-Big 12 games.