Big 12 News
TCU Will Look for Offensive-Minded Head Football Coach to Replace Gary Patterson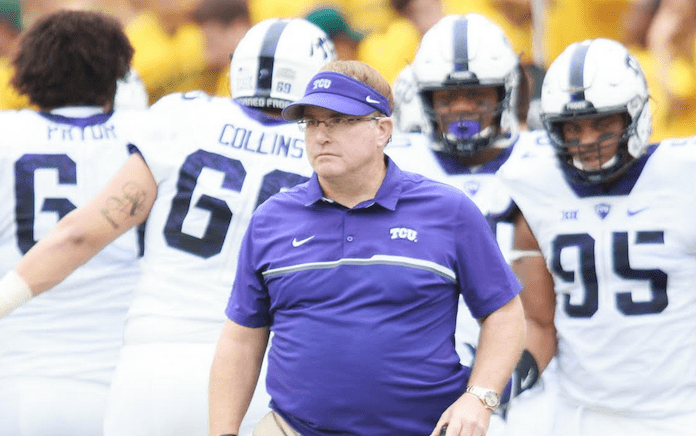 TCU is on the search for a head football coach for the first time in two decade after the program parted ways with Gary Patterson on Sunday. The Horned Frogs were coming off a loss to Kansas State and are on track for a fourth-straight mediocre season.
Patterson remade the Horned Frogs football program during his 20 seasons in Fort Worth and he did it with his defensive mind leading the way.
So as TCU begins its search, athletic director Jeremiah Donati admitted that while they won't rule out a coach with a defensive background, Patterson's success on that side of the ball makes it "feels a little more natural to go the other way," he said in a news conference on Tuesday.
"It would be very difficult to bring in a coach who's very defensive-minded given Gary's legacy," Donati said. "That doesn't mean that we're not looking at defensive candidates, but just to be fair to the coach, when you have an iconic, Hall of Fame, legendary coach who is one of the best defensive minds that's ever coached in college, it's going to be very difficult for that person to fill their shoes."
One of the obvious names which has come up in early reports is SMU head coach Sonny Dykes.
TCU did offer Patterson the chance to finish the season and stay in a different role, but Patterson declined and wants to explore other options. He went 181-79, making him the winningest coach in TCU history. His team's high-water mark came in 2010, in which the Horned Frogs went 13-0 and won the Rose Bowl.
Patterson's stellar work with the football program, in large part, made the Horned Frogs a viable candidate to join the Big 12 when the conference lost membership a decade ago. TCU joined the Big 12 before the 2012 season, along with West Virginia.
TCU wants to have a coach in place before the early signing period for recruits, which begins Dec. 15.