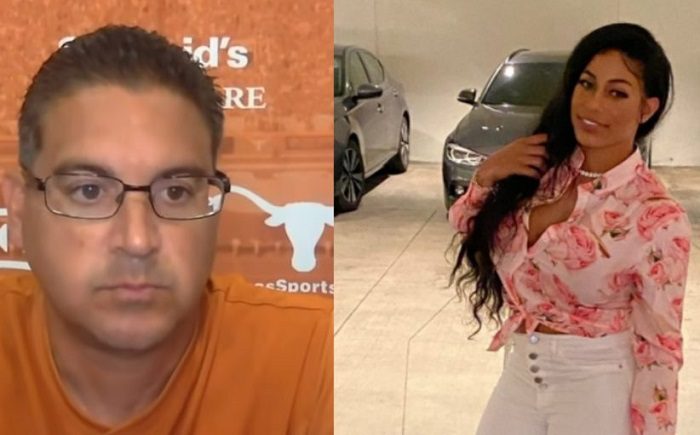 Texas Longhorns special teams coach Jeff Banks found himself at the center of a rumor on Monday after local photographer Tom Campbell tweeted that the pet monkey belonging to Banks' wife attacked a Trick-or-Treater on Halloween.
Banks comes from Alabama where he was with Sarkisian, which was preceded by a few seasons at Texas A&M from 2013-2017. He is considered one of the best recruiters in the sport.
Anyway, back to the story. So after going back through Banks' wife, Dani's, Twitter, it does appear like she had a Halloween event for kids in the neighborhood.
Now that we know she was having people at her home for a haunted house, the idea of a monkey attack is not crazy, since we know she has a history with monkeys (more on that later in the article).
Here are some deleted tweets from Banks that clearly shows something did happen.
Dani appeared to confirm the story, but denied responsibility. Instead, she blamed the child for not following the house rules.
"I had a haunted house on one side gated off/ he had no permission to go pass (sic) the gate i had no idea he went in my back yard. neither did i know anything about a bite ! Until a doctor of neighborhood told me the treat a small bite. No parent have contacted me about it !" she wrote.
"People lie so much it's ridiculous !" she wrote. "Stop believing everything u (sic) hear ! And more of what u (sic) see ! SMH!"
She responded to a question on Twitter about the allegation.
"No one was viciously attack this a lie , a whole lie ! She was not apart of any haunted house , the kid did not have permission to be on the other side of my property !"
Then there were these tweets uncovered by Larry Brown Sports that show more commentary from Dani Banks.
She wrote, "A 11 /12 year old child should know better then (sic) to enter someone yard without permission and old enough to also follow the rules . The rules were when u get to the gate turn around and come back out for candy every other parent and child did so !"
In one of the tweets, Dani said the monkey belonged to her and not Jeff.
At the least, this is just a ridiculous distraction for a Texas team that has lost three Big 12 games in a row for the first time in five years. At the worst, it's real legal trouble for the Banks and gets followed more closely by the media.
Then, there are these other rumors and stories floating around that Jeff Banks left his wife and three children to be with Dani and that she was a stripper who went by the name "Pole Assassin." She even appeared on Jerry Springer in 2017 as "Pole Assassin" and performed on the show.
And what would she do during some of her shows: she would USE a monkey!
Here is a look to look at just that on Instagram.
And now here we here are. This is all the last thing Steve Sarkisian needs in his first year as head coach at Texas when he has lost three games in a row.