Big 12 News
Oklahoma State Basketball Banned From 2022 NCAA Tournament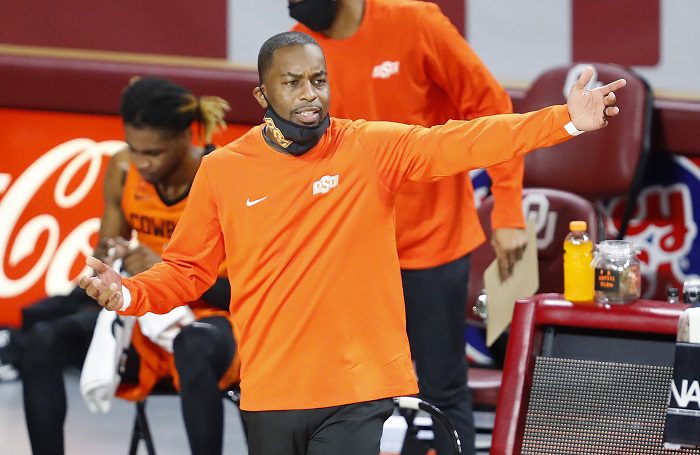 After 17 months, Oklahoma State's appeal of NCAA sanctions was denied.
This decision steams back to former assistant coach Lamont Evans' involvement in a bribery scandal, where he would link top players to managers and financial advisers in exchange for bribes. In June of 2020, the Cowboys were his with sanctions.
Evidence obtained by the federal government caught Evans willingly participating in recruiting players to schools he was employed by: Oklahoma State and before that South Carolina. Evans accepted at least $18,150 in bribes — all of it money unknowingly provided by the federal government during its sting operation. Evans was working with Christian Dawkins, a former runner for a sports agency, who was trying to build out his own business for future basketball clients. Evans was convicted in May 2019. 
OSU was handed a one-year postseason ban, had to forfeit three scholarships per year until the 2022-23 season, pay a $10,000 fine plus 1% of the basketball program's budget. All of those punishments were also upheld by the NCAA.
The Cowboys appealed the decision last year, stating the school did not benefit from Evans' actions and cooperated throughout the NCAA's investigation. But the NCAA determined otherwise.
Evans did not cooperate with the NCAA, which according to CBS Sports, was also a factor in the NCAA's decision to deny Oklahoma State's appeal.
Oklahoma State was one of four schools, with Auburn, USC and Arizona, that had an assistant arrested by the FBI in late September 2017. 
In all of this, the NCAA's only piece of evidence in its investigation of any rule-breaking by OSU was proof of Evans being involved in a $300 payment to former Oklahoma State senior Jeffrey Carroll, who later paid back the money and served a three-game suspension three seasons ago.