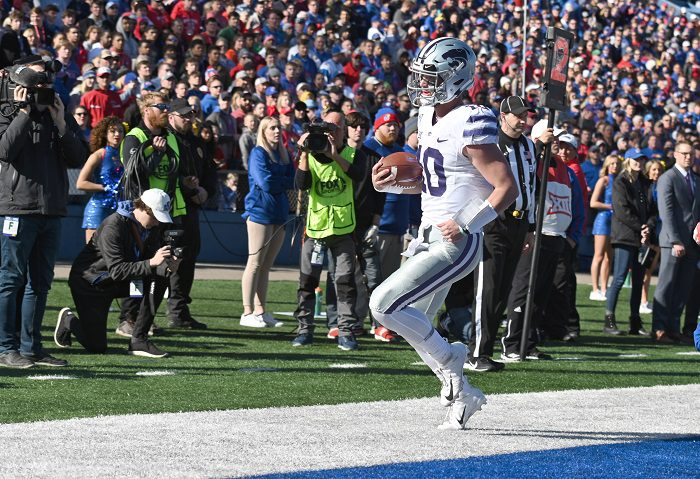 Before I get to the Sunflower Showdown on Saturday, I first have to note that K-State fans were very fortunate to witness one of the all-time great defensive performances of a K-State player by Felix Aniduke-Uzomah on Saturday. He had four sacks, eight tackles, and two forced fumbles. He also chased down the quarterback on a couple of plays where he was tackled just beyond the line of scrimmage. If the forced fumbles were counted as sacks and a couple of those tackles were made behind the line of scrimmage, he was close to having eight sacks on the day. What an amazing effort.
Now onto the Sunflower Showdown. Since Bill Snyder was hired as Kansas State head coach in 1989, there have been 32 games between the two teams; K-State has won 25, and Kansas has won seven. K-State has had two separate winning streaks of 11 and 12 games, and the Wildcats have won by an average of 28.04 points per game. In KU's victories, they have won by an average of 13 points per game.
I thought I would do something a little different this week. In the spirit of David Letterman's famous "Top 10 lists," today, I present the "Top 10 K-State victories against Kansas since 1989."
1. 1991: K-State 16, Kansas 12
Bill Snyder started his career 0-2 against Kansas and the 1991 game in Manhattan was his first victory against the Jayhawks. Kansas was well on their way to three victories a row against K-State in the fourth quarter, holding a 12-3 lead with 10:01 left in the game. 1991 was my freshman year at K-State, and I attended this game. I remember this being an awful football game on a very hot day. When KU kicked a field goal to go ahead 12-3, I headed back to the dorm. K-State hadn't done anything on offense all day and I didn't think they would start now. So I left and walked back to the dorm. When I walked in the door, I noticed a few different groups of people huddled around their radios listening to the game. I wondered why they were listening to such a crappy game, so I asked someone what was going on. K-State had scored a touchdown to cut the lead to 12-10 and had the ball back. I couldn't believe it. I joined one of the groups huddled around a small radio just in time to hear Mitch Holthus' call of Paul Watson's 35-yard touchdown pass to Andre Coleman to win it for K-State. Everyone jumped around and high-fived and yelled and screamed in jubilation. It was a HUGE deal to beat Kansas, the school's number one rival, back then. The goalposts were torn down after the game and carried to Aggieville. As they made their way past the dorm, I joined in to help carry them. They were eventually dropped off on the patio at Last Chance in Aggieville.
2. 1993: K-State 10, Kansas 9
Kansas beat K-State 31-7 in 1992. Before the 1993 game, everyone was wondering if the 1991 victory by the Wildcats was a fluke or if they would be able to get some revenge for the beat down in 1992. Hotshot quarterback Chad May led K-State to a one-point victory over the Jayhawks. Why is this game important? It was the beginning of an eleven-game win streak against Kansas.
3. 1994: K-State 21, Kansas 13
The 1994 game was a Thursday night game broadcast on ESPN. It was also dollar Corona night at one of the bars in Aggieville where some buddies and I watched the game. K-State fans outnumbered KU fans in Lawrence and, after the game, they stormed the field and tore down the KU goalpost. If you are ever in a bad mood, I suggest you look up the video on YouTube and watch the goalpost coming down.
4. 1998: K-State 54, Kansas 6
Bill Snyder's best team at K-State had little trouble against the Jayhawks in Lawrence as Michael Bishop led the Wildcats to a 54-6 victory.
5. 2002: K-State 64, Kansas 0
After this game, Bill Snyder said, "I think our football team played well." That may be the only time he has ever said that. At the time, this was the third-worst loss in Jayhawk history, and it is still the largest margin of victory in the history of the series. K-State led 43-0 at halftime and, even though Snyder called off the dogs in the second half, the Wildcats were able to shut out Kansas.
6. 2009: K-State 17, Kansas 10
Kansas won three in a row against Ron Prince's Wildcats from 2006 to 2008. K-State fans were happy that Bill Snyder was back in 2009 and the game was in Manhattan. The margin of victory was only seven points, but K-State showed once again who had the best football program in the state. After the clock ran out, Willie Wildcat ran to midfield and led the "K-S-U" cheer. It might have been the loudest one I have ever heard. This game was the first of 12 victories in a row against the Jayhawks. KU has not beaten K-State since facing Ron Prince in 2008.
7. 2010: K-State 59, Kansas 7
K-State did not have a great team in 2010. They weren't ranked all season and were coming off a 48-13 loss to Nebraska the week before the trip to Lawrence. Carson Coffman had two passing touchdowns and three rushing touchdowns to lead K-State to a huge victory.
8. 2011 K-State 59, Kansas 21
Collin Klien had 195 yards passing and a touchdown and added four touchdowns on the ground. Tyler Lockett had 110 yards receiving and a touchdown and had a kickoff return touchdown as well.
9. 2012 K-State 56, Kansas 16
Klien and Lockett had another great game against Kansas in 2012. Klien had two passing touchdowns and two rushing touchdowns and Lockett had a receiving touchdown. John Hubert had four rushing touchdowns for K-State.
10. 2019 K-State 38, Kansas 10
Would Chris Klieman be able to carry on Bill Snyder's dominance against Kansas? Yep. Skylar Thompson had three rushing touchdowns and K-State outgained Kansas 467-208 in total yardage and had no trouble beating the Jayhawks.
So what do I think is going to happen on Saturday? #CatsBy90