Big 12 News
Gary Patterson Makes First Public Comments Since Parting Ways With TCU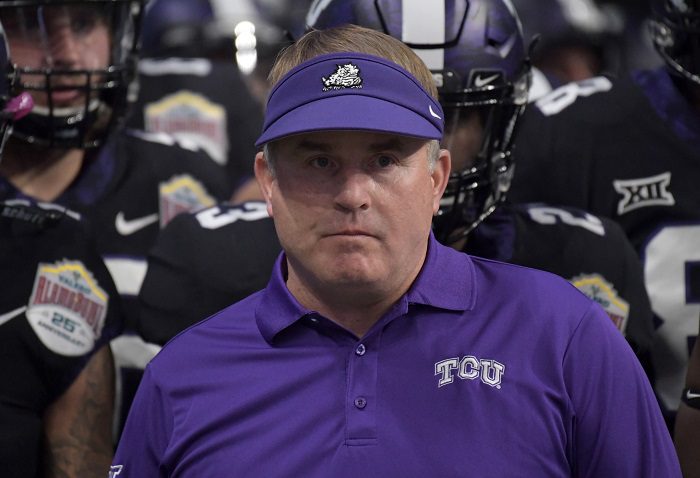 In one of the more stunning news items of the college football season, TCU and Gary Patterson parted ways after two decades together.
TCU lost to Kansas State, 31-12, on Saturday and the Horned Frogs have lost three straight games and five of their last six. Since the parting of ways, Patterson had not spoken publicly, until Thursday.
Patterson spoke briefly with Drew Davidson from the Fort Worth Star-Telegram and said part of the reason he left was because he wanted to "stop the noise" with so much negativity surrounding the program with three straight losses and lots of questions surrounding what exactly Patterson's future was going to be with the program.
When it comes to his future, Patterson said,: "I have all options open. I don't know which direction I will go. Right now I want to help my coaches and players the best I can to have a good finish to the season."
Patterson said he considered appearing on College Gameday this weekend, but decided against it until all the legal and contract issues were fully resolved. The former head coach is also remaining active in helping his team finish out the rest of the season.
Patterson has come to the office this week to help his assistants get ready for the Baylor Bears on Saturday in Waco. Jerry Kill has taken over as the interim head coach for the Horned Frogs.
Patterson leaves TCU with an all-time record of 181-79. The Horned Frogs won six conference championships in three different leagues under his leadership.
Patterson's stellar work with the football program, in large part, made the Horned Frogs a viable candidate to join the Big 12 when the conference lost membership a decade ago. TCU joined the Big 12 before the 2012 season, along with West Virginia.
After a rough start, Patterson led the Horned Frogs to three double-digit win seasons in four seasons from 2014-17. In 2014, the Horned Frogs won 12 games and shared the Big 12 title. They were left out of the College Football Playoff, but finished the season ranked No. 3 in both national polls.
Since 2017, the Horned Frogs are 21-20.