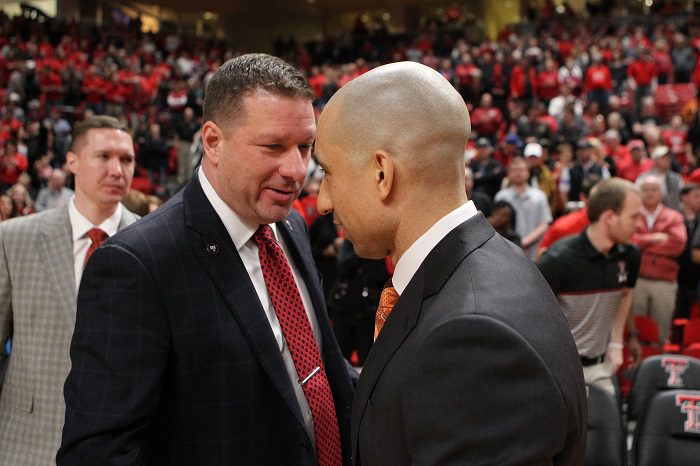 The Texas Longhorns are preparing to open the 2021-22 men's basketball season against Houston Baptist on Nov. 9. Here are some key points to consider as the season begins.
High expectations, indeed
Texas had a very good season last year under Shaka Smart. The Longhorns won their first Big 12 Tournament title since the conference formed and had a high seed in the NCAA Tournament. Of course, Abilene Christian ended the feel-good story and the Longhorns traded in Smart — who wisely found a new job at Marquette — and hired Chris Beard away from Texas Tech.
Beard's reputation as an expert chemist when it comes to the transfer portal was on full display in the offseason, including a wealth of transfers in the frontcourt, where the Longhorns sorely needed help. Texas lost their Top 3 frontcourt players to the NBA in Kai Jones, Greg Brown and Jericho Sims.
All of that has fed into one Texas' best preseason rankings in years, as the AP Top 25 has Texas at No. 5. Beard doesn't mind high expectations, but this is a program that hasn't had THESE kinds of expectations since the Rick Barnes era. It should be fun to see how it all plays out.
The Experienced/Inexperience factor
At Big 12 Media Days, Beard characterized his team as having "experienced-inexperience," which was his way of saying that he had a wealth of players with college basketball experience, but they didn't have experience playing with each other.
Guard Marcus Carr is one of those players, and he thinks that the Longhorns might be further along than Beard believes.
"Honestly, it's been amazing," Carr said. "I know people probably think no chemistry is an issue for us, but honestly what happens in practice is coach has to get on us to shoot the ball. You're gonna find a lot of guys making extra passes and passing shots that we all would have taken a year ago to try and get a great shot for another guy. It's been really fun just playing with this group of guys … that kind of established themselves in other places and really we're just all coming together for one goal."
It's gonna get hostile
Texas announced in July that it was leaving the Big 12 for the Southeastern Conference in 2025. Beating Texas has always carried a certain cachet for the rest of the Big 12, but it takes on more significance now — or did you miss the 'S-E-C' chants by Baylor after beating Texas in football a week ago?
The Longhorns have to make a trip to each of the Big 12's basketball arenas this season, and Beard knows they're going to hear about it. And he's telling his players the truth about it.
"We've already begun talking to our players about how difficult it's going to be to do the things that we'd like to do," Beard said. "But it's really no different than anywhere else I've ever coached. If you're going to try to be in the fight, then you have to understand you're going to have to overcome a lot of adversity. I think this year there will be some adversity on the road, no doubt."
Going all-in on defense
Beard developed a reputation for a commitment to defense when he was at Texas Tech. Now, sure, his assistant coach — and now new Texas Tech head coach Mark Adams — had a big part in that. But one shouldn't construe Adams' lack of presence on Beard's staff as a lack of commitment to playing great defense at Texas.
"You can ask Marcus (Carr) and Timmy (Allen) today," Beard said. "We were talking about our non-negotiables. The first conversation in recruiting, some of those things included we're going to defend.
"The reality of it in our sport, college basketball, you have to defend to win. You can win some games, you might win a tournament trophy here and there, but to play for the real deal you're going to have to have a defense."
Beard sees defense as the 'backbone' if the Longhorns are to make any sort of deep run in the NCAA Tournament.
"It's really, really easy to talk about, but extremely difficult to get there," Beard said.
The 4-8-3 model
Beard inherited a Longhorns team that saw the majority of its roster either transfer away or move on to the NBA. Well, Beard, sees his team as a 'model,' one that features three tiers of experience.
"This year's first Texas team is a 4-8-3 model," Beard said. "Make sure I have my math right. Four returners, guys I would have recruited if they were in the portal, high school or anywhere else. A lot of respect for Shaka and the job he did in Austin. So we really benefit from these four players having played for Shaka and played at Texas. The 8 are the eight transfers. A lot of those guys have a lot of experience. We're looking forward to those guys being a part of it. Then we have three freshmen this year, including one walk-on."
How many will play and how much? Beard says that's up to them.
"In our program, just like any other program, especially in this league, we don't sit around and give out anything," Beard said. "You get what you earn."
Heartland College Sports Big 12 Basketball Preview
Roster Analysis: Baylor | Iowa State | Kansas | Kansas State | Oklahoma | Oklahoma State | TCU | Texas | Texas Tech | West Virginia
Team Previews: Iowa State | Kansas State | TCU | Texas Tech | Oklahoma |
Impact Players: Freshmen | Transfers | Breakthrough Players
Top 25 Returning Players: No. 25 Jonathan Tchamwa Tchatchoua| No. 24 Christian Braun | No. 23 Rondel Walker | No. 22 Umoja Gibson | No. 21 Matthew Alexander-Moncrieffe | No. 20 Nijel Pack | No. 19: Marcus Santos-Silva | No. 18 Mike McGuirl| No. 17 Jalen Bridges | No. 16 Kalib Boone | No. 15 Kevin McCullar | No. 14 Isaac Likekele | No. 13 Adam Flagler | No. 12 Jalen Coleman-Lands | No. 11 Sean McNeil | No. 10 Taz Sherman | No. 9 Matthew Mayer | No. 8 Jalen Wilson | No. 7 Courtney Ramey | No. 6 Mike Miles | No. 5 Avery Anderson III | No. 4 David McCormack | No. 3 Terrence Shannon Jr. | No. 2 Ochai Agbaji | No. 1 Andrew Jones
Watch Lists: Bob Cousy | Jerry West | Julius Erving | Karl Malone | Kareem Abdul-Jabbar
Women's Watch Lists: Nancy Lieberman | Ann Meyers Drysdale | Cheryl Miller | Katrina McClain
Challenge Series: Big 12-Big East Battle | Mid-Major Danger Games |
Coaching: Hiring Grades | Coaches by Category
You can find Matthew Postins on Twitter @PostinsPostcard.
2021-22 Texas Schedule
(all times central)
Nov. 9 Houston Baptist, 8 p.m.
Nov. 13 at Gonzaga, 9:30 p.m.
Nov. 17 Northern Colorado, 7:30 [email protected]
Nov. 20 San Jose State, [email protected]
Nov. 24 Cal Baptist, 7:30 [email protected]
Nov. 29 Sam Houston, 7:30 p.m.**
Dec. 3 UT-Rio Grande Valley, 7:30 p.m.
Dec. 9 at Seton Hall, 5:30 p.m.-#
Dec. 14 Arkansas-Pine Bluff, 8 p.m.
Dec. 19 vs. Stanford, 2 p.m.-$
Dec. 22 Rice, 1 p.m.
Dec. 28 Incarnate Word, 7:30 p.m.
Jan. 1 West Virginia*, 11 a.m.
Jan. 4 at Kansas State*, 7 p.m.
Jan. 8 at Oklahoma State*, 1 p.m.
Jan. 11 Oklahoma*, 7:30 p.m.
Jan. 15 at Iowa State*, 1 p.m.
Jan. 18 Kansas State*, 7:30 p.m.
Jan. 22 Oklahoma State*, 1 p.m.
Jan. 25 at TCU*, 8 p.m.
Jan. 29 Tennessee, 7 p.m.-&
Feb. 1 at Texas Tech*, 8 p.m.
Feb. 5 Iowa State*, 1 p.m.
Feb. 7 Kansas*, 8 p.m.
Feb. 12 at Baylor*, 11 a.m.
Feb. 15 at Oklahoma*, 6 p.m.
Feb. 19 Texas Tech*, 11:30 a.m.
Feb. 23 TCU*, 6 p.m.
Feb. 26 at West Virginia*, TBA
Feb. 28 Baylor*, 8 p.m.
March 5 at Kansas*, 3 p.m.
March 9-12 Big 12 Tournament, Kansas City, Missouri
@-Abe Lemons Classic, multiple site, Texas games in Austin, Texas; #-Big East/Big 12 Battle; $-Pac-12 Coast-To-Coast Challenge, Las Vegas, Nevada; &-Big 12/SEC Challenge; *-Big 12 games; **-game to be played at Gregory Gymnasium, Texas' former on-campus basketball arena.