Trending Now
West Virginia Basketball: 2021-22 Season Preview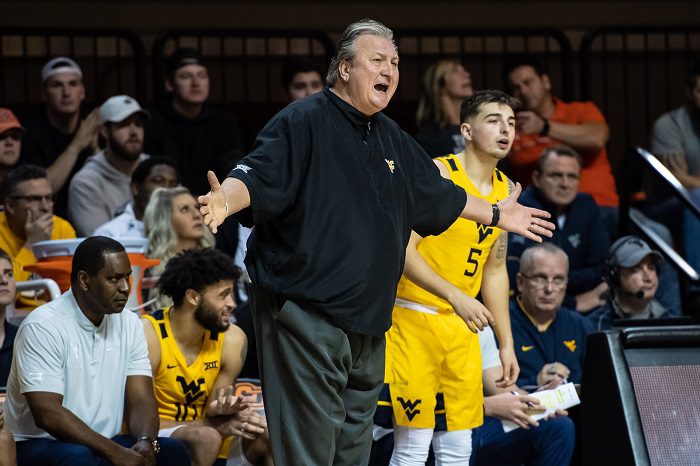 The West Virginia Mountaineers are preparing to open the 2021-22 men's basketball season against Houston Baptist on Nov. 9. Here are some key points to consider as the season begins.
Expect a lot of shots from distance
West Virginia lost guard Miles McBride to the NBA, but head coach Bob Huggins doesn't sound too worried about where the offense is going to come from on the perimeter. After all, he has Sean McNeil and Taz Sherman back from last season's starting lineup. Jalen Bridges did some improving in that area this offseason, and transfer Malik Curry was a solid shooter last season for Old Dominion.
"We've got three or four guys that can surround the line and shoot it extremely well," Huggins said. "We'll go from there. I've done this 40-some years, so I've been through it a time or two."
The Big 12 calls fouls, apparently
Plenty of Big 12 basketball fans spent plenty of time criticizing Big 12 officials. Heck, there's a Twitter account called Big 12 Refs.
But, hey, at least they call fouls right? That's the way that Huggins looks at it. Huggins was asked a few questions about his old school, Cincinnati, which is joining the Big 12, but at one point played in the Big East. Plus, when Huggins started at WVU, the Mountaineers were in the Big East.
"Well, we came from the Big East where they didn't call any fouls," Huggins said. "When they started blowing the whistle calling fouls (in the Big 12), we were all wondering what was going on. They didn't call any in the Big East. I think probably Jamie (TCU head coach Dixon) went through the same thing. It was more basketball and less roller derby."
The players want (it all) for Huggs
Huggins has 900 career wins. In a season, he will be the second-winningest active coach in college basketball. He's a future hall-of-famer (and it's high time the Basketball Hall of Fame voters took care of that so Huggins can truly enjoy the honor).
Sherman declared for the NBA Draft this summer, but he chose to come back for one more season, thanks in part of the extra year of eligibility afforded to him due to COVID-19.
But Huggins had something to do with it, too. A national championship is the only thing Huggins doesn't have on its resume and Sherman wants to make it happen for him.
"There's a sense of greatness. You just walk into the gym and you know that," Sherman said. "He's a legendary coach, there's nothing but respect and you know, he's gonna be in the Hall of Fame one day. It's years overdue but he's gonna be there."
Sherm and Sean
Sherman and McNeil have more in common than just a good outside shot. Both took a hard road to get to West Virginia.
Sherman spent two seasons with Collin College in Plano, Texas, where in his sophomore season he scored 25.9 points per game, finishing fourth in NJCAA Division I.
McNeil played at Sinclair Community College in Dayton, Ohio, where he led the nation in scoring, averaging 29.7 points per contest.
Now the pair should be the leading scorers, and locker-room leaders, for a Mountaineers team seeking to win a Big 12 title. And Sherman believes their path can help.
"Both of us coming from Juco, we know what it takes, and we've play for Huggs for two years," Sherman said. "You can't leave any of us, it's going to create driving lanes for everyone on our team. I feel like our ability is going to create opportunities for everyone else. I feel like that's what's going to be so special about it."
Getting physical inside
The departure of Derek Culver left a hole in the middle for the Mountaineers. But, even before his departure, Huggins knew he had to beef up the interior, especially when it came to his defense.
That started with the return of Gabe Osabuohein, who, like Sherman, took advantage of his additional year of eligibility. The All-Big 12 Defensive selection a year ago averaged 4.4 rebounds and had 41 steals, 171 deflections and 23 charges taken.
The rest of it will come from transfers, most notably Pauly Paulicap, formerly of DePaul, and Dimon Carrigan, formerly of Florida Atlantic.
Paulicap has consistently averaged about 10 points and six rebounds per game throughout his college career. Carrigan had 6.8 points and 6.1 rebounds last season, with 60 blocked shots, second-best in Conference USA.
The trio gives Huggins and his staff a good foundation to start from as they integrate Isaiah Cottrell, who missed all of Big 12 play with an injury. He should be a part of the rotation this season, too.
Heartland College Sports Big 12 Basketball Preview
Roster Analysis: Baylor | Iowa State | Kansas | Kansas State | Oklahoma | Oklahoma State | TCU | Texas | Texas Tech | West Virginia
Team Previews: Iowa State | Kansas State | TCU | Texas Tech | Oklahoma | Oklahoma State |
Impact Players: Freshmen | Transfers | Breakthrough Players
Top 25 Returning Players: No. 25 Jonathan Tchamwa Tchatchoua| No. 24 Christian Braun | No. 23 Rondel Walker | No. 22 Umoja Gibson | No. 21 Matthew Alexander-Moncrieffe | No. 20 Nijel Pack | No. 19: Marcus Santos-Silva | No. 18 Mike McGuirl| No. 17 Jalen Bridges | No. 16 Kalib Boone | No. 15 Kevin McCullar | No. 14 Isaac Likekele | No. 13 Adam Flagler | No. 12 Jalen Coleman-Lands | No. 11 Sean McNeil | No. 10 Taz Sherman | No. 9 Matthew Mayer | No. 8 Jalen Wilson | No. 7 Courtney Ramey | No. 6 Mike Miles | No. 5 Avery Anderson III | No. 4 David McCormack | No. 3 Terrence Shannon Jr. | No. 2 Ochai Agbaji | No. 1 Andrew Jones
Watch Lists: Bob Cousy | Jerry West | Julius Erving | Karl Malone | Kareem Abdul-Jabbar
Women's Watch Lists: Nancy Lieberman | Ann Meyers Drysdale | Cheryl Miller | Katrina McClain
Challenge Series: Big 12-Big East Battle | Mid-Major Danger Games |
Coaching: Hiring Grades | Coaches by Category
You can find Matthew Postins on Twitter @PostinsPostcard.
2021-22 West Virginia Schedule
(all times eastern)
Nov. 9 Oakland, 7 p.m.
Nov. 12 Pitt, 8:30 p.m.
Nov. 18 vs. Elon, 9 [email protected]
Nov. 19 vs. Ole Miss or Marquette, 7/9 [email protected]
Nov. 21 vs. St. Bonaventure, Temple, Boise State or Clemson, [email protected]
Nov. 26 Eastern Kentucky, 7 p.m.
Nov. 30 Bellarmine, 7 p.m.
Dec. 4 Radford, 4 p.m.
Dec. 8 UConn, 7 p.m.-#
Dec. 12 Kent State, 4 p.m.
Dec. 18 at UAB, 5 p.m.
Dec. 22 Youngstown State, 6 p.m.
Jan. 1 at Texas*, noon
Jan. 3 at TCU*, 7 p.m.
Jan. 8 Kansas State*, 2 p.m.
Jan. 11 Oklahoma State*, 9 p.m.
Jan. 15 at Kansas*, 1:30 or 2 p.m.
Jan. 18 Baylor*, 7 p.m.
Jan. 22 at Texas Tech*, 12 p.m.
Jan. 26 Oklahoma*, 8 p.m.
Jan. 29 at Arkansas, 7 p.m.-&
Jan. 31 at Baylor*, 9 p.m.
Feb. 5 Texas Tech*, 12 or 2 p.m.
Feb. 8 Iowa State*, 7 p.m.
Feb. 12 at Oklahoma State*, 2 p.m.
Feb. 14 at Kansas State*, 7 p.m.
Feb. 19 Kansas*, 8 p.m.
Feb. 23 at Iowa State*, 7 p.m.
Feb. 26 Texas*, 12, 2 or 4 p.m.
March 1 at Oklahoma*, 7 p.m.
March 5 TCU*, 2 p.m.
March 9-12 Big 12 Tournament, Kansas City, Missouri
@-Shriners Children's Charleston Classic, Charleston, South Carolina; #-Big East/Big 12 Battle; &-Big 12/SEC Challenge; *-Big 12 games.