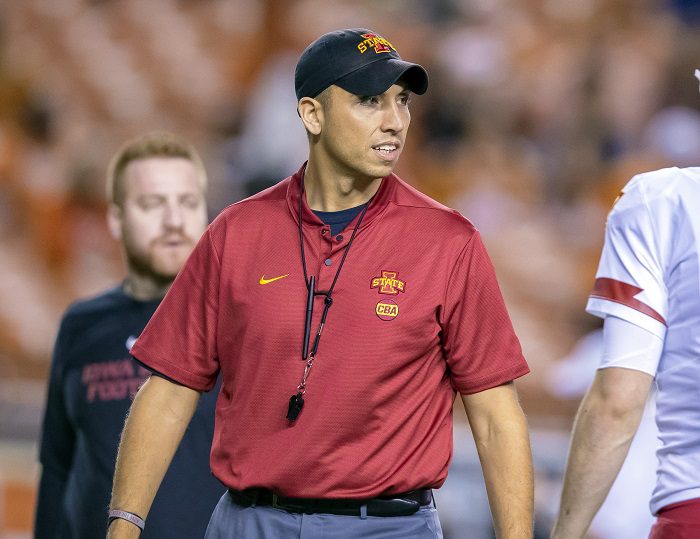 Welcome to Fact or Fiction Friday. Each Friday I give you the opportunity to ask the most intriguing questions in the Big 12 Conference and I will tell you whether they come true or if they are set to fail. Let's crack it open and see what we have in store this week.
Has Iowa State fallen off the rails?
Fiction: It was not that long ago that Iowa State was a Big 12 cellar dweller. Before Matt Campbell arrived making a bowl game was a big deal. Now that is expected at Iowa State and anything less than that is considered a failure. Campbell has built that program from the ground up and has raised the bar along with expectations there. He has done things that none other coach has been able to do which is build a winning program. Since 2017, Iowa State has been one of the top football programs in the Big 12. Yes, this year has been a bit of a letdown considering what was expected but you should look at the big picture here.
Do schools get too trigger happy with firing coaches?
Fiction: A few years ago, I may have had a different answer but with the early signing period, athletic directors are in tougher spots than they were five years ago. With the early signing period in December now, if you expect to keep some of those players you better have a head coach before then. If an AD believes he doesn't have the right guy it is always best to cut bait with someone early rather than hang on to them for too long. We live in a win now world because that is what everyone wants now. They don't want to hear about rebuilds or getting better after a loss, they want to win games as soon as possible no matter what it takes. If that means shelling out substantial amounts of money than people will find a way to make it happen.
Do you think West Virginia will be in the Big 12 in five years?
Fact: Back in the summer I would have had a tough time answering this question, but when the Big 12 was able to add four new teams, I feel confident that everyone stays put moving forward. I understand West Virginia is still the outsider of the conference but the Big 12 was able to add UCF who is in the same time zone. Plus, the conference also added BYU who is way out west on their own. With all that, it is hard to tell how happy the Mountaineer faithful are about being in the Big 12 but I don't see them going anywhere right now or in the next five years.
Will the Big 12 poach Pac-12 teams?
Fact: It won't happen now but eventually I do believe that the Arizona schools will find their way into the Big 12. There has been information out there that those two schools have been unhappy for quite some time and maybe a change of scenery is needed. If the Big 12 decides to expand Boise State and Memphis would be the first calls but the conference may also have some interest bringing in more schools out west.
Does Tom Herman Return to the Big 12?
Fiction: Who exactly would hire Tom Herman in the Big 12 right now? TCU and Texas Tech wouldn't touch him with a ten-foot pole as a head coach. I don't see him being even a coordinator in the conference either. After his time at Texas, I would say that he is done in the Big 12.