Big 12 News
SMU Offers Sonny Dykes Big Raise to be one of Highest-Paid Group of 5 Coaches: Report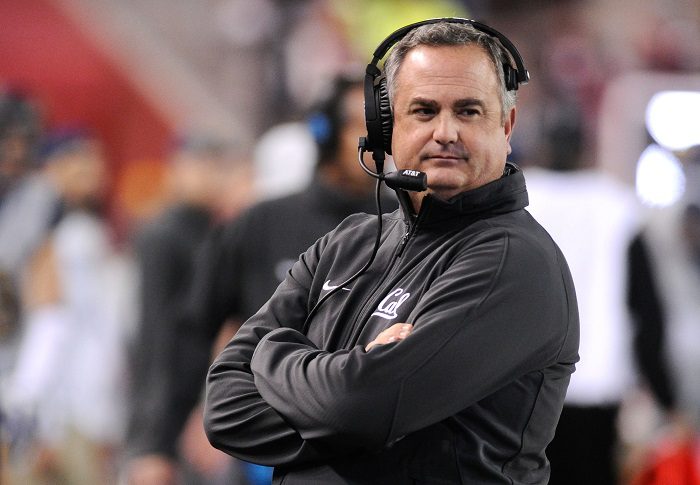 With Sonny Dykes becoming one of the hottest names in the college football coaching carousel, the SMU Mustangs are trying to put their money where there mouth is. According to SI.com, Dykes has been offered a contract extension that would make him one of the highest paid Group of Five coaches in college football.
Dykes currently makes just over $1.3 million annually, according to the USA Coaches Salary Database, but it's believed that the number is actually much higher. Since SMU is a private school, it does not need to report salaries for coaches. And if he were to sign this deal, according to SI.com, it would put him in the range of Houston's Dana Holgorsen ($4 million) and Cincinnati's Luke Fickell ($3.4 million), the two highest-paid Group of 5 coaches.
Around the Group of 5, Gus Malzahn (UCF), Ken Niumatalolo (Navy) and Jeff Scott (USF) all make over $2 million.
Dykes has SMU off to a 7-1 start this season, and has gone an 24-7 over the last three seasons with the program, making him an attractive name for some of the open jobs, including both in the Big 12. Dykes is a natural fit at Texas Tech, as his father, Spike, was a legendary coach for the Red Raiders. But it's also been reported that Dykes is being targeted by the TCU Horned Frogs.
The Texas Tech Red Raiders fired head football coach Matt Wells last week, while the TCU Horned Frogs parted ways with head coach Gary Patterson on Sunday. Both programs have been mired in mediocrity in recent seasons and are looking for the right person to turn around the program.
And now that SMU is serious about keeping Dykes, it could be a good old fashioned Southwest Conference bidding war for his services.