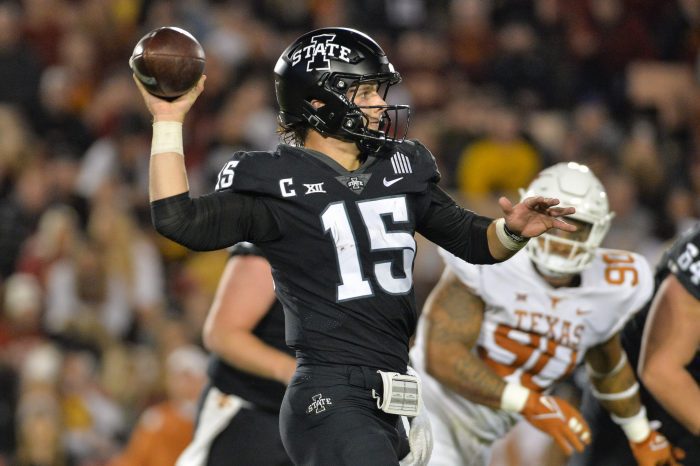 Night games at Jack Trice Stadium can be a little whacky but when the Texas Longhorns come to town, it's a whole different level of whacky.
Saturday night the Iowa State Cyclones hosted the Texas Longhorns. The weather was nice, the crowd was rocking, and Iowa State was wearing their all-black uniforms. The last time that combination happened, Iowa State won on a last second field goal as time expired.
On this particular night, it was not necessary as the Cyclones put a beatdown on the Longhorns. With Texas off to the SEC sooner rather than later, this may have been the last time the Longhorns go to Ames, Iowa and I am sure they won't forget it anytime soon. Here are my four thoughts on Iowa State's big win.  
1. Breece Hall Took Over
A few weeks ago, Texas running back Bijan Robinson had quite the hype behind him when it came to the Heisman Trophy. Over the last few weeks that chatter died down but even coming into this game, few people nationally were talking about Breece Hall. After a slow first half, Breece took over the third quarter and put the offense on his back.
In the first drive of the second half, Breece went 47-yards for a touchdown and then later in the third quarter, he had another rushing score. The Cyclones used their rushing attack to beat up on the Longhorns and it worked well as they outscored Texas 21-0 in the third quarter. No disrespect to Bijan but Breece Hall was the Heisman running back on Saturday night.
2. Iowa State Bounced Back on Defense
Iowa State got torched against West Virginia in Morgantown last weekend. They gave up 38 points and a ton of yards. Against Texas, they went back to playing good defense. The Cyclones shut down the Texas offense throughout the game and held them to just 207 yards of offense which is the fewest Texas has had against them since 2015.
The defensive line applied pressure all night to both Texas quarterbacks and in the process crowned a new all-time sack leader in Will McDonald. Defensive coordinator Jon Heacock deserves some credit because nobody has held Texas to under twenty points this season and his defense only gave up seven.
3. Iowa State is Still in the Big 12 Title Race
Despite losing two conference games already this season, the Cyclones are still in the Big 12 title race after this weekend. Of course, Iowa State needs to win out and get some help, but they got some help today. Baylor lost to TCU on Saturday, and they play Oklahoma next weekend. If the Bears lose against the Sooners, that will give Baylor their third conference loss. And if Iowa State wins out, they would have the edge of Baylor. They also need Oklahoma State to drop a game as well which is possible because they still have to play Oklahoma. Iowa State needs to take care of business but don't count out these Cyclones just yet.
4. Texas is a Bad Football Team
What else can I say about this team right now? Both Casey Thompson and Hudson Card looked bad, and the run game could never get going for Bijan Robinson. Texas got beat up front and never got in any sort of rhythm on offense. Once again Texas had a lead at halftime and by the end of the third quarter, they were down by seventeen points. The second half collapses continue to happen as they got outscored 27-0 and now the Longhorns have lost their fourth straight game for the first time since 2010. Texas needs to win two out of their next three games to reach a bowl and I have a tough time seeing this team get to six wins. It's gong to be one long offseason in Austin if they finish the year at 5-7.