Trending Now
Here are Three Thoughts On BYU's 59-14 Win Over Idaho State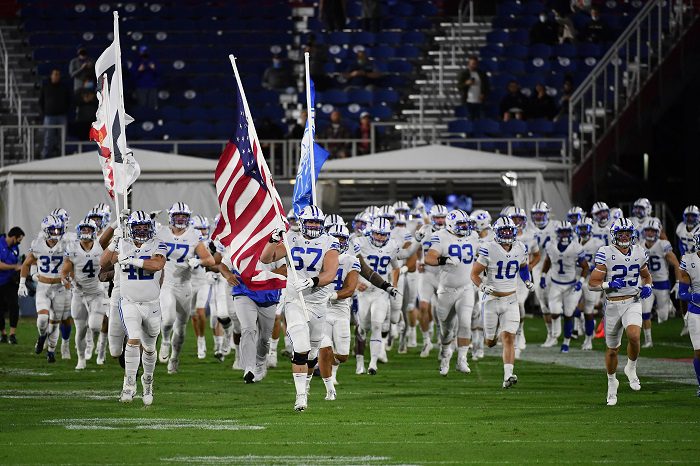 Idaho State was no match for No.17 BYU Saturday as the Cougars won 59-14. The FCS school entered the game 1-7, and BYU made them look like a 1-7 team. The Cougars went up 21-0 in the first quarter and had a 42-7 lead at halftime. BYU quarterback Jaren Hall finished 20-of-25 for 298 yards and four touchdown passes. Baylor Romney added another passing touchdown plus 89 yards while going 5-of-12. Running back Tyler Allgeier was benched at halftime for positive reasons, a well earned half off. Allgeier carried the ball just six times, but managed 5.8 yards per carry and one touchdown. Puka Nacua hauled in six receptions for 120 yards and one touchdown. BYU will take a week off before finishing the season on the road. They'll start off at Georgia Southern before a finale at Southern California (USC). Below are three thoughts from the taming of the Bengals.
1. Too many points
During the third quarter, the sideline reporter for BYU.tv provided some solid information. It takes a top-notch reporter to think "I wonder how this game is affecting the ROTC." Sure enough, we found out. BYU scored 66 points, prompting over 360 push-ups during the Virginia game. By the time this report came live, BYU had 42 points. The ROTC at BYU decided this is too much scoring. Instead of everyone doing push-ups every score, they decided to rotate in shifts. When ROTC starts curtailing their push-ups, you know your team is doing well.
2. Take a rest, Allgeier
At halftime, head coach Kalani Sitake was asked during the live interview if Allgeier would play anymore. "None. Tyler Allgeier is done for the day," Sitake replied. The score was 42-7. During a year when FCS teams have knocked off Power Five schools including Washington, Arizona and Vanderbilt, it's got to be a nice feeling to sit your star player for a full half. Speaking of, the BYU.tv broadcast crew said this may be Allgeier's final game in Provo and that he might go to the NFL after the season. Allgeier is just a sophomore, and that would be a massive loss for BYU. Allgeier could play in BYU's first year as a Big 12 Conference member. 
3. For once, BYU wasn't outscored following a 21-0 lead
Sure, it was against Idaho State. At last, BYU went up 21-0 in the first quarter and did not allow the opponent to outscored them in a future quarter. BYU allowed South Florida back into the game after taking a 21-0 lead in the first quarter during a 35-27 victory Sept. 26. The Bulls outscored BYU 14-7 in the third quarter and 21-7 in the second half altogether. One week ago, Virginia scored 35 points in the second quarter after BYU jumped out to a 21-0 lead with 8:04 remaining in the first quarter. BYU's biggest weakness this year is letting a team up after the Cougars started out with their boot on the opponent's throat. Compassion is great practice in life, but not in trying to win football games.