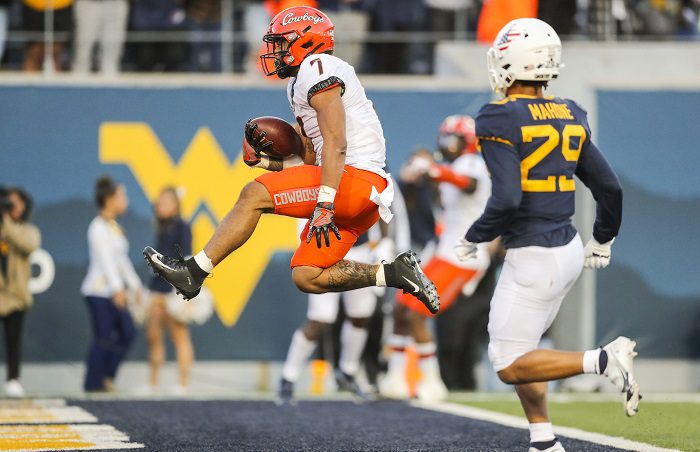 It was another wild weekend in the Big 12 from the off-field news to the on-field play. There was plenty of excitement on Saturday and I will break it all down here for you as I share the good, bad, and ugly from Week 10 in the Big 12. 
The Good
Kansas State (Beat Kansas 35-10)
The Wildcats had no trouble against Kansas on Saturday. Skylar Thompson was excellent throwing for 244 yards and a score while Deuce Vaughn had a big day on the ground with 162 rushing yards and three touchdowns. Kansas State controlled the game from start to finish on offense and paired that with an outstanding defensive effort. They did an excellent job stopping the run and were able to get some good hits on the Jayhawks quarterbacks. With the win, Kansas State has now won thirteen straight against Kansas.
TCU (Beat Baylor 30-28)
If there was a team of the week award it would go to the TCU Horned Frogs. After parting ways with Gary Patterson, I didn't think this team would have a chance in this game, but they proved me wrong. Chandler Morris got the start and he put on a show to remember as he had over 500 yards on the day and had the fourth most passing yards (461) in a game in TCU history. He torched the Baylor defense that was barely giving up over 200 yards passing and made it look easy out there.
Wide receiver Quentin Johnston had a big day as well with 142 yards and a score as well. Overall, TCU didn't play a clean game between penalties and the defense but thanks to the Heisman like effort of Chandler Morris, they didn't need to. I am still in awe about what happened in Fort Worth on Saturday.
Oklahoma State (Beat West Virginia 24-3)
There was no letdown this weekend from Oklahoma State as they came into Morgantown and took care of business. The Cowboys didn't have to do much on offense because of what this defense was able to do. They sacked Jarret Doege eight times and absolutely dominated the West Virginia offense. Oklahoma State shut down the passing game and the run game as they gave up just 17 yards on the ground and 133 on the day. First down, second down or even third down, it didn't matter because this defense was ready on every single snap. With this game and the Kansas game, it was the first time since 1948 and 1949 that Oklahoma State held consecutive conference opponents without a touchdown. Also, in their last two games they have held opponents to go just 2/27 on third down. Jim Knowles is a Jedi Master of defense and needs a raise. Pay up Oklahoma State because he deserves every penny.
Iowa State (Beat Texas 30-7)
It was a slow first half but then after two quarters, it was all Cyclones. Iowa State outscored Texas 21-0 in the third quarter in large part to Breece Hall who had a magical 47-yard touchdown run before adding another later in the quarter. In the second half, Iowa State outgained Texas 295 to 79 and outscored them 27-0. Brock Purdy played well along with Xavier Hutchinson and Charlie Kolar, but Breece Hall was the man of the night with a Heisman like performance. After Hall's great night, it marked 21 straight games with a rushing touchdown which is third most in NCAA FBS history. It also would be foolish of me to not mention the defense because they shut down the Texas offense for four quarters and really stuck it to them in the second half. Also, I think it is safe to say that Iowa State fans won't miss Texas when they head to the SEC.
The Bad
Baylor (Lost 30-28 to TCU)
I know Gerry Bohanon had two interceptions on the day, but one was not his fault, and I am not going to even point fingers at the offense. They scored 28 points and ran the football well with Abram Smith. Plus, Tyquan Thornton had another monster day with 121 yards and two touchdown grabs. But this defense had a complete meltdown that I have not seen this season. TCU quarterback Chandler Morris but on a highlight reel against a Baylor defense that was giving up just 209 passing yards per game and allowed 461 yards through the air. The Bears had no answer for Morris whether it was through the air or on the ground. This was supposed to be an easy win for Baylor and with Oklahoma coming to town next weekend, their hopes of getting to a Big 12 title game could be gone quickly.
The Ugly
Kansas (Lost 35-10 to Kansas State)
I don't have any expert analysis here because Kansas State simply was the better football team. The Jayhawks couldn't stop the run before this game and the Wildcats exploited that and took the game over on the ground. Due to injuries, Kansas had to use three quarterbacks on Saturday and the only positive thing to say about this team was that they didn't turn the ball over. Other than that, there's not much else to say, but a Kansas player did have an Oscar-worthy performance here.
West Virginia (Lost 24-3 to Oklahoma State)
With the way the Mountaineers played against TCU and Iowa State, I thought they had a shot to knock off the Cowboys at home and that wasn't the case. The offense was pathetic as they had just three points and 133 yards against Oklahoma State. They couldn't run the ball or throw it because Jarret Doege got sacked eight times. Sure, Doege missed some throws and opportunities but when the line plays that poorly, there isn't much you can do offensively. I didn't think the defense played bad at all but at some point, they were going to break because they were getting zero help from the offense.
Texas (Lost 30-7 to Iowa State)
Another week means another embarrassing loss for Texas as they now have lost four-straight games for the first time since 2010. Once again, Texas had a lead at halftime and then got outscored 27-0 in the second half. The Longhorns made a quarterback change from Casey Thompson to Hudson Card, but it did nothing as the offense never got in any sort of rhythm. Texas had a total of fifteen offensive drives and only one of those drives resulted in points. The offense is broken, and the defense wore down by the end of the game. There isn't much else I can say besides this is a bad football team and I am not sure if this team will make a bowl game this year. Texas boosters may as well just start throwing money into a fire because it is the same thing as throwing money into this football program that isn't winning games. Take a look at this and tell me if there is a difference right now.