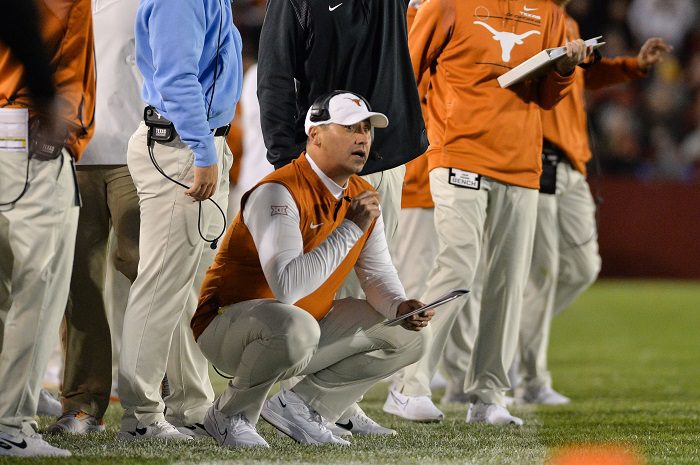 Week 10 of the Big 12 Football season is in the books, and there are more storylines than meet the eye after looking at the box scores. Yes, there were three blowouts, as Kansas State rolled Kansas, Oklahoma State stomped West Virginia and Iowa State manhandled Texas, but each of these games has multiple storylines that should not be overlooked as we get ready for the home stretch of the regular season.
So while there's plenty to recap after Saturday's action, here are my top five takeaways from Week 10 in the Big 12 Conference.
1. The Big 12 Race Tightened Up
With TCU upsetting Baylor, and Iowa State rolling Texas, the Big 12 race went from a three-team battle to a four-team battle as we head into the final three weeks of the regular season. Oklahoma is sitting at 6-0 in conference play, Oklahoma State is 5-1, while Iowa State and Baylor are both 4-2. And what makes its all the more fun is how the tie breakers are currently set up. Oklahoma State holds the tiebreaker over Baylor, but Baylor holds the tiebreaker over Iowa State. And when you look at what's still to come in the Big 12, Oklahoma still has to play Baylor, Oklahoma State and Iowa State. This is going to be a fun next three weeks for this conference, with still 40% of the league thinking it can make, and win, the conference championship. What other Power 5 league can say that? None.
2. Where have you been Chandler Morris?
TCU parted ways with Gary Patterson this week, and apparently that meant the end of the Max Duggan tenure at quarterback as well for the Horned Frogs. Oklahoma transfer Chandler Morris came in and lit up the Baylor Bears as TCU pulled off an upset at home with their 30-28 victory. The details by the move remain mostly unclear, but if this was something Gary Patterson was against, and Jerry Kill was in favor of, or maybe it was no way connected to the coaching move, regardless, it was a great call. Morris was the offense for the Frogs, completing 29 of 41 passes for 461 yards, with two touchdowns and zero interceptions. He also had 11 rushes for 70 yards and a score. Max Duggan fit all the cliches you want in a quarterback, "grinder", "game manager", etc., but there was an extra spark with Morris under center on Saturday. And as we look ahead to 2022, TCU fans should be excited to see what he's capable of down the stretch of the season.
3. The Deuce is Loose
If Deuce Vaughn was playing at Texas or Oklahoma, or in the SEC, he would be getting so much more love across the college football landscape than he currently gets. Deuce went off on Saturday against the Kansas Jayhawks, finishing with 11 carries for 162 yards and three touchdowns, plus five catches for 60 yards in K-State's 35-10 win over KU. Vaughn has at least 99 rushing yards in six of nine games this season, and he is fifth in the Big 12 with 866 rushing yards this season. But when you combine his receiving ability, he's arguably the most complete back in the Big 12. Vaughn ranks 15th in the Big 12 in receiving yards, the only Big 12 running back to crack the Top 25 in that category.
4. Pay Jim Knowles
How many times do we have to say it or write it, Oklahoma State? This man is absolutely dominating the Big 12 right now. The Cowboys defensive coordinator is running clinic on how to run a defense. Take a look at these first-half stats from Oklahoma State's 24-3 win over West Virginia.
When all was said and done on Saturday, the Pokes gave up just .5 yards per carry to Leddie Brown and the rest of the WVU offense.
Jim Knowles is making about $800,000 per season, and while I don't think he's going to end up with a Power 5 head coaching job, you know that some desperate SEC team could come calling and double that number pretty easily. Would you blame Jim Knowles if he took that? I wouldn't. So while these conversations may be happening behind the scenes, and I hope that they are for Oklahoma State's sake, the athletic departments needs to be trying to make sure Knowles remains in Stillwater for the foreseeable future. It's been the different for the Cowboys this season, and when combined with the running game, makes them a legitimate threat to win the Big 12 Conference with the defense/running game, instead of just trying to be Oklahoma Light with a high-flying offense and mediocre defense.
5. Texas is Even Messier Than We Thought
It wasn't just monkey business that threw off the week in Austin, it's also on the field where Texas has now lost four games in a row for the for the first time since 2010. Saturday night's 30-7 defeat against Iowa State is also their third-straight loss to the Cyclones. The loss makes it the eight time in the last 12 seasons where Texas has lost at least five games.
To think that Iowa State beating Texas for a third-straight time isn't very noteworthy in the grand scheme of college football in 2021, gives you a good idea of where things are at in Austin.
Now, you've also got a quarterback dilemma for the Longhorns. Casey Thompson was yanked early in favor of Hudson Card, who frankly didn't look very good (14/23, 101 yards, one touchdown), which makes me wonder how the confidence level in Thompson has dropped to the point where watching Card miss Xavier Worthy wide open down the field on a slant route that would have been an easy touchdown is the way forward for Steve Sarkisian.
Texas needs to win two of its final three games (KU, WVU, K-State) to become bowl eligible, which the Longhorns could use to not only give Sark something to build on in 2021, but also get this team the extra practice time it needs.