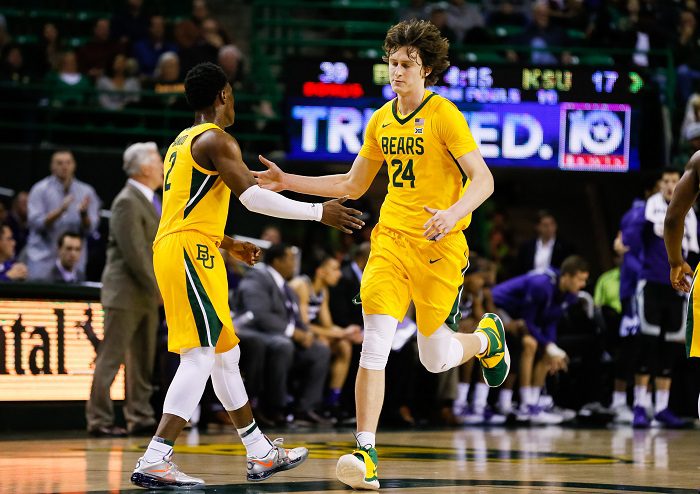 The Baylor Bears are preparing to open the 2021-22 men's basketball season against Incarnate Word on Nov. 12. Here are some key points to consider as the season begins.
Their time has come
Adam Flagler. Matthew Mayer. Flo Thamba. Jonathan Tchamwa Tchatchoua.
These are the names of the veterans that will lead the Baylor Bears in 2021-22. And Thamba is totally OK with the fact that most national basketball fans don't know them … yet.
"It took two and a half or three years to have what we had last year," Thamba said. "To me, I just see that perfect picture similar to the guys that came in a few years ago, waiting for their time."
Flagler and Mayer should average double figures as starters this season, and both have NBA aspirations. Thamba and Tchamwa Tchatchoua bring the hard-working mentality to the paint once again, but it will be interesting to see which one of them becomes more of a scorer this season.
The transitional period
The Bears lost four guards from last year's team — Jared Butler, Davion Mitchell, MaCio Teague and Mark Vital. They formed the core of the Bears' first national championship.
So, despite solid holdover talent, a top-notch recruiting class and a couple of great transfers, head coach Scott Drew is expecting some bumps in the road to start this season.
"We know it's going to be a transition this year because we had basically, for the last two years, the same team," Drew said. "There's a lot of things we've had to go over that we didn't have to go over last year."
Two Transfers, but Two Good Ones
The Bears took in two transfers over the summer. One should make an immediate impact.
Guard James Akinjo, who played at Arizona last season, came to Baylor after he averaged 15.6 points and 5.4 assists a game last season and earned All-Pac 12 First-Team honors. But, for the life of his college career, he's shot 38.2 percent from the 3-point line. In fact, before he transferred to Arizona, he was at Georgetown, where he was the 2019 Big East Freshman of the Year. His blend of scoring and passing should allow him to become an instant starter.
The other transfer is, if possible, more intriguing. Guard Dale Bonner spent the past two seasons with Division II Fairmont State. If that sounds similar to the trajectory of former Bears forward Freddie Gillespie (who came to the Bears from Division III Carleton in Minnesota), the comparison stops there. Gillespie needed two years to find a role with the Bears. Bonner could find one immediately, given that the junior led FSU with 20.2 points, 4.5 assists and two steals per game last season.
Flo pinching himself
Thamba is entering his fourth season with the Bears, but his path to college basketball was a long one. He arrived in the United States in 2014 and played his prep ball at Mountain Mission School in Grundy, Virginia. But, Thamba is originally from the Democratic Republic of the Congo, and after that he grew up in South Africa, and later lived in England and France.
What got him to college basketball was Basketball Without Borders, something he talked about at Big 12 Media Day.
"You never know the road ahead, but you always work hard and you know God always has his plans," Thamba said.
The freshman class
The Bears' freshman class took a blow in October when Baylor announced that Langston Love tore his ACL and would miss the season. But the Bears still have two quality true freshmen that could be a part of their rotation right away — guard/forward Kendall Brown and forward Jeremy Sochan.
Thamba gave his own assessment of the pair at Big 12 Media Day in October.
"Jeremy is experienced just from playing overseas, so his game is very poised," Thamba said. "Kendall is a super-freak athlete. The last person who had that kind of athleticism that I've seen is (former Texas forward) Jericho Sims. I mean he gets up and he gets it (the ball)."
Heartland College Sports Big 12 Basketball Preview
Roster Analysis: Baylor | Iowa State | Kansas | Kansas State | Oklahoma | Oklahoma State | TCU | Texas | Texas Tech | West Virginia
Team Previews: Iowa State | Kansas State | TCU | Texas Tech | Oklahoma | Oklahoma State | West Virginia | Texas
Impact Players: Freshmen | Transfers | Breakthrough Players
Top 25 Returning Players: No. 25 Jonathan Tchamwa Tchatchoua| No. 24 Christian Braun | No. 23 Rondel Walker | No. 22 Umoja Gibson | No. 21 Matthew Alexander-Moncrieffe | No. 20 Nijel Pack | No. 19: Marcus Santos-Silva | No. 18 Mike McGuirl| No. 17 Jalen Bridges | No. 16 Kalib Boone | No. 15 Kevin McCullar | No. 14 Isaac Likekele | No. 13 Adam Flagler | No. 12 Jalen Coleman-Lands | No. 11 Sean McNeil | No. 10 Taz Sherman | No. 9 Matthew Mayer | No. 8 Jalen Wilson | No. 7 Courtney Ramey | No. 6 Mike Miles | No. 5 Avery Anderson III | No. 4 David McCormack | No. 3 Terrence Shannon Jr. | No. 2 Ochai Agbaji | No. 1 Andrew Jones
Watch Lists: Bob Cousy | Jerry West | Julius Erving | Karl Malone | Kareem Abdul-Jabbar
Women's Watch Lists: Nancy Lieberman | Ann Meyers Drysdale | Cheryl Miller | Katrina McClain | Lisa Leslie
Challenge Series: Big 12-Big East Battle | Mid-Major Danger Games |
Coaching: Hiring Grades | Coaches by Category
You can find Matthew Postins on Twitter @PostinsPostcard.
2021-22 Baylor Schedule
(all times central)
Nov. 12 Incarnate Word, 7:30 p.m.
Nov. 15 Nicholls State, 11 a.m.
Nov. 17 Central Arkansas, 7 p.m.
Nov. 20 Stanford, noon
Nov. 24 vs. Arizona State, [email protected]
Nov. 25 vs. TBA, [email protected]
Nov. 26 vs. TBA, [email protected]
Dec. 4 Arkansas-Pine Bluff, 4 p.m.
Dec. 12 Villanova, 2 p.m.-#
Dec. 18 at Oregon, 9 p.m.
Dec. 20 Alcorn State, 6 p.m.
Dec. 28 Northwestern State, 7 p.m.
Jan. 1 at Iowa State*, 1 p.m.
Jan. 4 Oklahoma*, 6 p.m.
Jan. 8 at TCU*, 4 p.m.
Jan. 11 Texas Tech*, 6 p.m.
Jan. 15 Oklahoma State*, 6 or 6:30 p.m.
Jan. 18 at West Virginia*, 6 p.m.
Jan. 22 at Oklahoma*, 2 p.m.
Jan. 25 Kansas State*, 7 p.m.
Jan. 29 at Alabama, 3 p.m.-&
Jan. 31 West Virginia*, 8 p.m.
Feb. 5 at Kansas*, 3 p.m.
Feb. 9 at Kansas State*, 7 p.m.
Feb. 12 Texas*, 11 a.m.
Feb. 16 at Texas Tech*, 8 p.m.
Feb. 19 TCU*, 1 p.m.
Feb. 21 at Oklahoma State*, 8 p.m.
Feb. 26 Kansas*, 7 p.m.
Feb. 28 at Texas*, 8 p.m.
March 5 Iowa State*, 5 p.m.
March 9-12 Big 12 Tournament, Kansas City, Missouri
@-Battle 4 Atlantis, Paradise Island, Bahamas; #-Big East/Big 12 Battle; &-Big 12/SEC Challenge; *-Big 12 games.