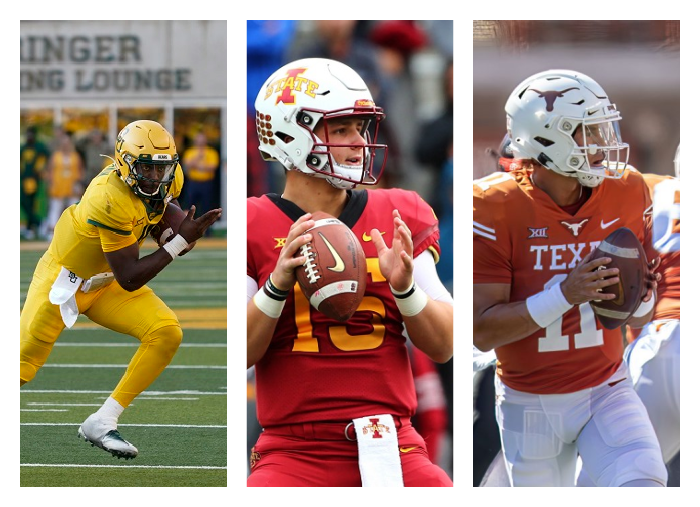 There is no position in all of sports that is more important than the quarterback. A good quarterback can help hide other areas of weakness on a team while bad ones can bring down even the best of teams. Either way, having good quarterback play is crucial for any team that hopes to make it all the way. Just like with team power rankings, I wanted to do a weekly quarterback power ranking after every weekend. Here you will find out who is trending up or down depending on their play on the field.  
1. Oklahoma QB Caleb Williams (Last Week: #1)
The Sooners had a bye week this past weekend, but in his last game against Texas Tech, Caleb had six touchdown passes. He doesn't deserve to be moved down even if he didn't play a game on Saturday.
2. TCU QB Chandler Morris (Last Week: Not Ranked)
Nobody saw this performance coming and I had no idea that he was going to start for the Horned Frogs on Saturday. Chandler made his way to the TCU record books with a 461-yard passing performance against a good Baylor defense. He also added 70 yards on the ground and a rushing score to go along with his two touchdown passes. Morris was sensational in his starting debut and despite him being a newcomer, he is deserving of this ranking.
3. Kansas State QB Skylar Thompson (Last Week: #4)
Skylar didn't need to do much against Kansas, but he did enough to earn himself a top five spot on the list. Thompson went 19/24 for 244 yards and a touchdown in Kansas State's 35-10 win in the Sunflower Showdown.
4. Oklahoma State QB Spencer Sanders (Last Week: #2)
Few people talk about Spencer Sanders, but the man has been playing some good football over the last few weeks. He hasn't turned the football over much and on Saturday he had another good performance against West Virginia going 21/31 for 182 yards and a score. Spencer has learned to manage the offense well which has helped Oklahoma State tremendously this season.
5. Iowa State QB Brock Purdy (Last Week: #5)
Even though Breece Hall will get all the credit, Brock Purdy still played a nice game against Texas. After a slow first half, Brock got going a bit and ended up finishing 27/38 for 252 yards. Purdy didn't turn the football over and was able to make some key plays when the Cyclones needed. Something that doesn't get talked about enough is that he is playing well, despite his offensive line being average at best.
6. Baylor QB Gerry Bohanon (Last Week: #9)
Baylor was supposed to handle TCU with ease, but that wasn't the case on Saturday. Although the defense struggled mightily, Gerry didn't have his best game either, but it wasn't all on him. Bohanon threw for three touchdown passes but was picked off twice against the Horned Frogs. The offense didn't play as well as they could have but I would put more blame on the Bears defense for the loss.
7. Texas QB Casey Thompson and Hudson Card (Last Week: #6)
Thompson got the start and Hudson Card took over after the first quarter. Neither quarterback could get anything going for the Texas offense as they had a total of fifteen offensive drives and only one of them ended with points. It was a bad game all around and Texas is still looking for their quarterback of the future.
8. Texas Tech QB Donovan Smith (Last Week: #8)
The Red Raiders had the week off so with Smith finishing at number eight last week, I thought I should leave him where he left off.
9. West Virginia QB Jarret Doege (Last Week: #3)
There's no way to sugar coat it because Jarret Doege was terrible against Oklahoma State. He was sacked eight times and while some would be quick to blame the line, some of those sacks fall on his shoulders. He held on to the ball too long and missed plenty of key throws in the game. Jarret finished the day with just 109 passing yards along with an interception.
10. Kansas QB Jalon Daniels (Last Week: Unranked)
Kansas had to use three quarterbacks for the Sunflower Showdown, and it ended with Jalon Daniels taking most of the snaps. But it didn't really matter because not one of the three quarterbacks could get the offensive in the right direction.