Baylor Bears
How the 'Final Four' Can Make the Big 12 Conference Championship Game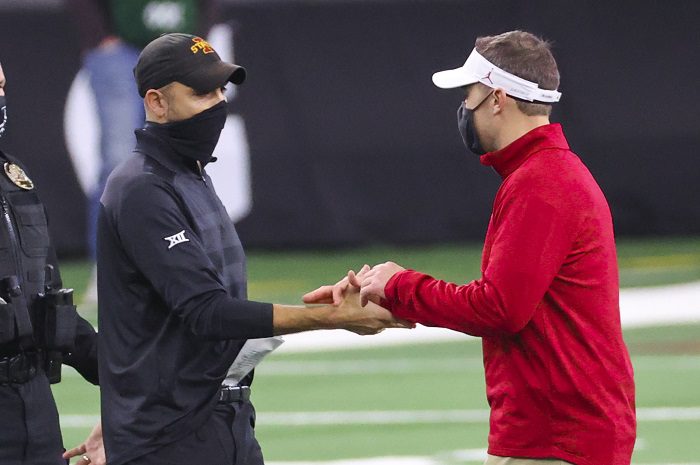 With three more weeks of action left to go in college football, we are inching closer and closer to conference championship week, and these last three weeks will play a massive role in determining who we'll see competing for conference titles here in a month.
In regards to the Big 12 race, Oklahoma, Oklahoma State, Baylor and Iowa State currently occupy the top four spots in the conference and are the only teams that have a realistic shot at making it to Dallas on December 4. Today, I'll be looking at each team's path to the championship, as well as what needs to happen around the rest of the Big 12 for each team to make the top two spots.
Oklahoma, 9-0 (6-0): Win out or 1 loss
Unless the Sooners completely fall apart the last three weeks of the season, they sit comfortably in the race for the Big 12 Championship. The only undefeated team in the conference, OU just needs to keep the Sooner Schooner rolling, and unlike the rest of the teams on this list, they have room for error. They can afford to lose one game to any of the remaining teams on their schedule, but more than one loss puts the Sooners at risk for being jumped and missing out on their first Big 12 Championship game since 2017.
With perhaps the toughest remaining slate of games among the four contenders, Oklahoma State, Baylor and Iowa State, it's very much a possibility that the Sooners drop one or two games by the time December rolls around. They have yet to play all three of said contenders, who each boast some of the best defenses the Sooners will have seen all year.
An undefeated season guarantees the Sooners a spot in the game, but they will still likely make it even with one loss.
Oklahoma State, 8-1 (5-1): Win out or 1 loss to OU
The Cowboys came in at No. 11 in the first College Football Playoff rankings and currently hold the second spot in the Big 12 standings. If they can finish the season with just the one loss to Iowa State, they're a lock for the conference championship. Though, a loss in Bedlam would also send the Pokes to Dallas, as Baylor further separates themselves with the loss to TCU Saturday. Either way, we'll be treated to a Bedlam rematch in consecutive weeks.
Mike Gundy's squad ends the season playing TCU, Texas Tech and Oklahoma. If they want to make the program's first ever Big 12 championship game, they can't afford to lose to any of those teams besides Oklahoma. 
Baylor, 7-2 (4-2): Win out and OSU lose twice
For the Bears to make their second Big 12 Championship in the last three years, Dave Aranda's team has to run the table. Their wins over Iowa State and Texas put them in prime position to contend for the title race, but their losses to Oklahoma State and TCU means they have to win all of their remaining games on their schedule, including Oklahoma, to make it to Jerry's World.
Of course, even if Baylor wins out, they would still need the Cowboys to drop two games to get rid of the tiebreaker, making Bedlam a matchup of interest for Bears' fans. If Oklahoma State loses twice in their last three games, Baylor just needs to finish off Oklahoma, Kansas State and Texas Tech and they'll be in.
Iowa State, 6-3 (4-2): Win out and OSU loss and Baylor loss
Matt Campbell's Cyclones dug themselves a deep hole to climb out of when they fell to West Virginia last Saturday. That gives them two conference losses to the Mountaineers and Baylor, but that's not to say Iowa State's Big 12 title race hopes are dead in the water. The seasoned and experienced Cyclones would need to win all of their remaining games against Texas Tech, Oklahoma and TCU, as well as Oklahoma State and Baylor to both lose a game.
It's a long shot, but it's not totally outside the realm of possibility. Both Oklahoma State and Baylor have yet to play Oklahoma, and the Bears still have to face a scrappy K-State team. If both teams lose and Iowa State takes care of business, they will own the tiebreaker over Oklahoma State, sending the 'Clones to back-to-back Big 12 Championship games.