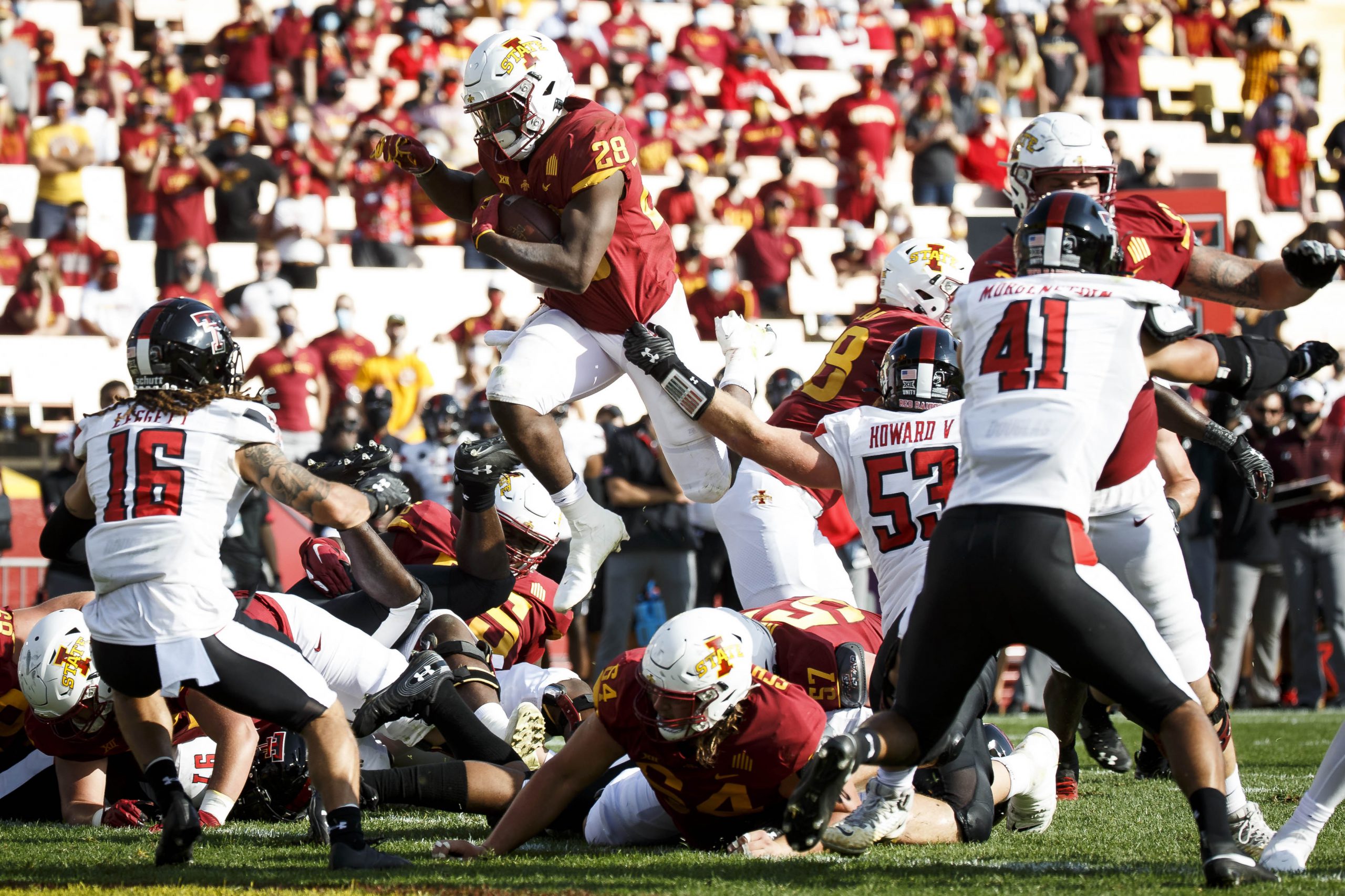 Here is everything you need to know about the upcoming Big 12 battle in Lubbock in our Iowa State vs. Texas Tech preview and prediction.
GAME INFO
2:30 PM ECT, Saturday, November 13, 2021, AT&T Jones Stadium, Lubbock, TX
TV: ESPN2
Radio: TTU broadcast: Texas Tech Sports Network; ISU broadcast: Cyclone Radio Network
Records: Texas Tech: 5-4 (2-4 Big 12); Iowa State 6-3 (4-2 Big 12)
Rankings: Texas Tech – none; Iowa State – none
Last week: Texas Tech had a bye; Iowa State defeated Texas, 30-7
Spread: Iowa State -10.5
Fun Facts: This will be the 18th meeting in this series, which dates to September 23, 1967. Iowa State has won the last five meetings, but prior to 2016, Texas Tech led the series, 10-2. The Red Raiders are 7-3 at home against the Cyclones.
KEY PLAYERS
TEXAS TECH
THE QUARTERBACK
Who will start at QB for Texas Tech? Will it be Henry Colombi, Donovan Smith, or will Tyler Shough make his long-awaited comeback from the injury he sustained in Week 4 against Texas? Assuming Shough is not able to play, the start will likely go to Smith based on his performance against Oklahoma: 17 of 22 for 192 yards, 1 TD, and 1 INT, but Colombi's experience might earn him the start.
Whoever plays quarterback for the Red Raiders, it will be necessary for him to ooze confidence and handle the pressure of facing arguably the Big 12's second-best defense, or Tech won't have a prayer against the Cyclones. Texas Tech has weapons at the skill positions for any quarterback to work with, but he's going to have to do so under duress. A good deal of moxy and leadership will be called for.
THE OFFENSIVE LINE
After what the Cyclones did to Bijan Robinson and the Texas offense, it could not be clearer that Texas Tech's offensive line needs to have its best game of the season for the Red Raiders to have an opportunity to win on Saturday. The Tech defense is going to have its hands full with Breece Hall, Brock Purdy, Xavier Hutchinson, Charlie Kolar, and the rest of the Cyclone offense, so the Red Raiders' offense must move the chains, hold the ball, and score as much as possible. While that may be stating the obvious, the Red Raiders' best defense is probably going to be keeping the ball out of the hands of Hall and Purdy.
To do so, Tech's offensive line needs to play the way West Virginia's offensive line played in WVU's upset of the Cyclones in Morgantown. Tech must keep ISU defenders, including Will McDonald IV and Mike Rose, out of the backfield in the passing game and sealed-off in the running game, or havoc will ensue.
LB COLIN SCHOOLER
The last time Tech won an upset – at West Virginia – Schooler had his best game of the season with 15 tackles, a sack, and a forced fumble. He was also instrumental in Tech's second-half comeback against Houston in the season-opener. If Tech is to shock the Big 12 and upset Iowa State, Schooler is going to have to make his presence known as Tech tries to slow the Big 12's leading rusher, Breece Hall.
IOWA STATE
RB BREECE HALL
Hall has already rushed for 1,121 yards and 14 touchdowns on 198 carries this season, good for 4th in the nation and 1st in the Big 12. Given his capacity to carry the ball repeatedly and pound on opposing defenses, it's not a stretch to suggest that Hall can put the Iowa State offense on his back in Lubbock and lead the Cyclones to victory.
Texas Tech's run defense is neither terrible nor formidable. After getting torched on the ground by Texas and TCU, the Red Raiders have improved at defending against the run. However, Hall offers a level of power and elusiveness that will be extremely difficult for Tech to contain. A heavy dose of Hall is probably just what the doctor ordered for ISU in Lubbock.
DE WILL MCDONALD IV
McDonald is coming a 2.5 sack game against Texas, and his 10 sacks on the season is second in the Big 12 behind only the national leader in sacks, K-State's Felix Anudike-Uzomah, who has 11 on the season. Some of McDonald's patented pass rush is likely to go a long way in Lubbock.
Whoever starts at QB for Tech, he's likely to be a bit fragile psychologically. Columbi was pulled against the Sooners in his last outing and has not had much success in Lubbock as his best performances have all been on the road. Smith, who replaced Columbi in Norman, has yet to start a game. Finally, should Shough play, it will be his first live action since being injured in Austin way back in Week 4. If McDonald can make Tech's quarterback uncomfortable, the Red Raider offense is likely to unravel in a hurry.
KEY STORYLINES
TEXAS TECH
The Red Raiders have been on the cusp of bowl eligibility since beating Kansas, 41-14, on October 16, which now feels like a long time ago. In the meantime, Tech has seen its head coach fired, taken a beating at the hands of Caleb Williams and the Sooners, finally had a bye week to try to work some things out, and hired Joey McGuire away from Baylor to become its new head coach. McGuire, who has already joined the program, won't coach a game for Tech until 2022, so it's on interim coach Sonny Cumbie to guide Tech through the final three weeks of the season as the Red Raiders try to become bowl eligible for the first time since 2017.
However, these final three games – vs. Iowa State, vs. Oklahoma State, and at Baylor – are extremely daunting, and no one seems to expect Tech to get that sixth win. Baylor is perfect at home this season, and Oklahoma State fields one of the best defenses in the nation. So, while Iowa State's defense is second in the league only to Oklahoma State and its offense is more than capable, this week – coming off a bye and with ISU potentially looking ahead to its game against Oklahoma in Week 12 – is probably Tech's best chance to get bowl eligible.
IOWA STATE
Iowa State righted the ship after a stunning loss at West Virginia in Week 9 by putting the hammer down on Texas in Week 10. Now, at 6-3 and 4-2 in the Big 12, Iowa State still has the potential to achieve its goal of returning to and winning the Big 12 Championship game in Arlington. The Cyclones will need a little help along the way, but winning out against Texas Tech, Oklahoma, and TCU will position them to claim a spot in the title game if Oklahoma beats both Baylor and Oklahoma State.
The biggest thing standing in Iowa State's way is the game against the Sooners in Norman next week, but Iowa State's job this week is to not even think about Oklahoma and focus on the game in front of them at Texas Tech. Such things are easier said than done, however, as this game – right after beating Texas and right before the game ISU has had circled on its calendar all season – is something of a textbook trap game.
PREDICTION: IOWA STATE 38, TEXAS TECH 24
This may well be a textbook trap game for Iowa State, but with a huge question mark at quarterback, Texas Tech likely does not have the firepower to successfully spring the trap. Iowa State's defense is exceptional, and the offense, led by Hall, Purdy, Hutchinson, and Kolar should be able to overpower an average Texas Tech defense. However, the Red Raiders won't go down easily coming off a bye week with the prize of a bowl game theirs for the taking. Texas Tech will keep the game interesting in the first half before Hall and the Cyclones impose their will in the second half.