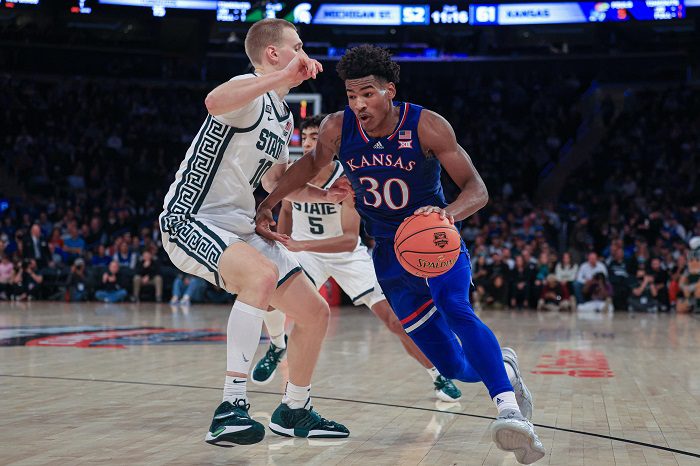 The Kansas Jayhawks opened their 2021-22 men's basketball season with a 87-74 win against Michigan State on Tuesday. Here are three takeaways from the game.
Ochai Agbaji Apparently Took Good Notes
Ochai Agbaji declared for the NBA Draft after last season but kept his eligibility open to return to Kansas. Once he went through the draft process, he decided to come back for one more season at Kansas. With that decision, he came back armed with his 'report card' from the NBA.
Agbaji took really good notes, if his performance on Tuesday night was any indication.
He had a career-high 29 points, along with two rebounds, two steals and one assist in the 13-point victory.
But, more importantly, he passed the eye test. There was a noticeable change in his game from the last time we saw him, which was in the second round of the NCAA Tournament in March. He showed better ball handling. He displayed more aggression driving to the basket, but it was under control. His defense was better, too.
Agbaji has been a quality shooter at times the past few seasons, but he could always lean back on his sheer athleticism, which has always been on display in Lawrence. But, if he took the scouting notes and turned himself into a more complete player this season, then his decision to return will end up working out as far as the NBA is concerned.
He is No. 33 on ESPN's 2022 NBA Draft board. If he keeps moving up that board, then the No. 3 Jayhawks will be a Final Four contender.
Remy's Flipped Night
After head coach Bill Self benched Remy Martin for the exhibition game, everyone had their eyes on the Arizona State transfer to see how he would play against Michigan State. And, it was a somewhat uneven game.
For starters, Martin didn't score a single point in the first half. But, by the end of the game, he had 15 points, grabbed six points and had two assists. You could see the flashes of what the Jayhawks think they're getting in Martin. But, you can also see he has a ways to go when it comes to facilitating this offense. For instance, an early second-half drive to the basket put Martin into position to feed David McCormack, but his pass was in the wrong place and it became a turnover.
Those are things that will get better as the season progresses. But, Martin shot better than 50 percent from the floor, hit all of his free throws and committed just one foul.
Meanwhile, Dajuan Harris had more assists than any other Jayhawk with four, and started in place of Jalen Wilson, who is out due to a suspension. Harris also had three steals. He gets two more games to show Self and the staff that he deserves more time once Wilson returns.
Also of note? Christian Braun led the Jayhawks with eight rebounds, and true freshman forward Zach Clemence gave KU a boost in the first half and finished with seven points and two steals.
Kansas Using Redshirts
Self alleviated some of the logjam on his roster before the game, saying on his radio show that at least two Jayhawks were headed for a redshirt season — Cam Martin and Dillon Wilhite.
Wilhite is a walk-on from Cathedral Catholic High School in San Diego, California. The 6-foot-9 forward was unlikely to play, given the amount of experience the Jayhawks have on the roster.
Martin might have been a slightly different story. The 6-foot-9 super senior transferred to Kansas from Missouri Western, where he was a two-time NCAA Division II All-America and averaged 25 points and nine rebounds last season. Self said that Martin approached him about redshirting, and it puts Martin in position to replace McCormack next season.
Self also said that guard Kyle Cuffe Jr. could redshirt as well.
You can find Matthew Postins on Twitter @PostinsPostcard.