Baylor Bears
Crossroads: What's at Stake for Baylor Against Oklahoma?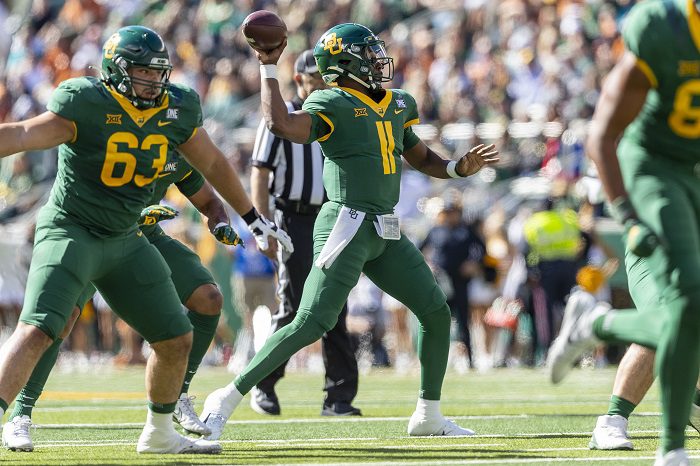 After falling to TCU last Saturday, 30-28, in Fort Worth, the Bears are looking at the most critical game of their season. A lot is on the line for Baylor against Oklahoma as the outcome of the game could potentially open the door to a heavenly or hellish end to the 2021 season.
While Milton's Satan believed it better to rule in Hell than serve in Heaven, we know that's not something a Baptist-affiliated school like Baylor wants to contemplate. Here's a closer look at what may be at stake for the Baylor Bears when they take the field against the Oklahoma Sooners on Saturday.
HEAVENLY POTENTIAL
The Bears still have a shot at the Big 12 Championship game, but they need to beat Oklahoma and get a little help. Assuming most games go according to chalk, the Bears' most direct route to Arlington is to win out and hope Oklahoma State also wins out. Such a scenario would leave Oklahoma State at 8-1 in Big 12 play and put Baylor in a tie at 7-2 with either Iowa State or Oklahoma. Baylor would hold the head-to-head tiebreaker over Iowa State and Oklahoma, giving them the second spot opposite Oklahoma State in the championship game.
A loss to Oklahoma, however, would all but eliminate the Bears from championship contention. At 7-3 in the Big 12, Baylor would need Oklahoma State to lose all their remaining games – TCU, Texas Tech, and Oklahoma – to finish 6-4 in the league. The Bears would also need Iowa State to lose at least one more to finish 7-3. If all of that happens (and Baylor beats K-State and Tech), the Bears would face the Sooners in the Big 12 Championship. However, the odds of Oklahoma State losing its next three straight are slim to none.
A win over Oklahoma won't cinch a Big 12 Championship appearance for the Bears, but it would at least give them a realistic shot. Even if a title game appearance didn't materialize, a win over Oklahoma would set the Bears up for 10 or 11 wins with the bowl game and give head coach Dave Aranda an impressive feather to put in his cap on the recruiting trail.  
HELLISH POTENTIAL
Big 12 Championship scenarios aside, the Bears have a more immediate concern: stop the slide before it starts. Baylor was the victim of an upset in Fort Worth, but if the Bears suffer their second-straight loss (and their first of the season at home), they risk creating a negative trend that could carry over into Week 12 when the Bears travel to Manhattan to take on K-State. While Baylor should be favored in Manhattan regardless of what happens this weekend, Manhattan can be a tough place to play, and Baylor has been at least somewhat vulnerable in every road game this season.
In Week 1, Baylor was underwhelming at Texas State, winning 29-20. In Week 3, Baylor got off to a sluggish start at Kansas and led just 14-7 at halftime before opening the game up in the third quarter to win 45-7. In Week 5, Baylor lost at Oklahoma State, and the Bears would not hit the road again until Week 10's loss at TCU.
If Kansas State can take care of business against West Virginia this weekend, the Cats will be riding a four-game winning streak heading into Week 12 and Senior Day in Manhattan: K-State will be brimming with confidence, and the stadium will be packed.
Thus far, Kansas State has won the games it was supposed to win and lost the games it was supposed to lose, but the Cats have had a knack in recent seasons for winning upsets. In 2019, they defeated Mississippi State and Oklahoma as heavy underdogs. Last season, they won at Oklahoma as three-touchdown underdogs and later pulled off an unlikely win at TCU with a true freshman quarterback making his first start.
Make no mistake, a confident K-State in QB Skylar Thompson's last home game in a Wildcat uniform could be a problem for Baylor, whether Baylor beats Oklahoma or not. In fact, if Baylor loses to Oklahoma on Saturday, it may be fair to say that the biggest difference between Baylor and K-State thus far is that Baylor played Iowa State in September and K-State played Iowa State in "Brocktober."
If a Baylor two-game losing streak extended to three games, much of the magic of the Bears' 2021 season would evaporate, even with a win over Texas Tech on Baylor's Senior Day.
STANDING AT THE CROSSROADS
Of course, an 8-4 finish along with a good bowl game is far better than anyone outside of Waco could have expected from Baylor this season, but 8-4 would still be a disappointment after starting the season at 7-1. On the other hand, a win over Oklahoma and the potential to slide into the Big 12 Championship game would be a resounding victory for a program that has had its share of lows since the departure of Art Briles.
Thus, it seems Baylor's season has reached a crossroads.
One path has the potential to lead to something like Heaven for Baylor fans. The other has the potential to rob them of much of their joy.