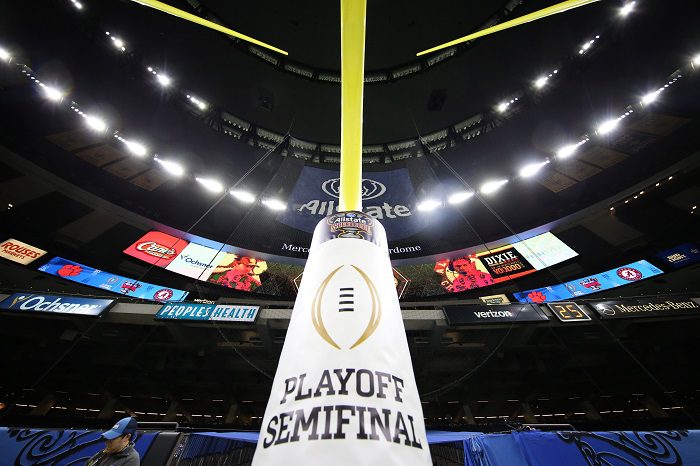 The month of November brings many things in the world of college sports. College Football is in full swing, the start of college basketball begins and then of course we get the College Football Playoff rankings every Tuesday night.
There have been plenty of head scratching moments from the playoff committee on a weekly basis so I thought it would be fun to share my five thoughts on this week's playoff rankings.
1. Why is Oklahoma ranked so low?
Oklahoma is just one of four undefeated teams in college football, yet they aren't even close to sniffing the top four. In fact, of those four undefeated teams, the Sooners are the lowest-ranked power five team. I understand Oklahoma has had their troubles, but I do find it interesting that five out of the seven teams ranked ahead of them have already lost a game. I get that if Oklahoma keeps winning things should take care of itself, but the fact that they are thought so little of by the committee is a bit shocking nine games into its season.
2. Does Iowa State Belong in the Top 25?
I know the Cyclones have lost three games, but that didn't stop the committee from putting Wisconsin and Purdue in the top 20. Even Arkansas snuck into the top 25 with a 6-3 record. The Razorbacks don't have a top ten win, yet the Cyclones do. I also find it odd that Arkansas is in the top 25 after losing three out of their last four conference games. Iowa State beat Oklahoma State and barely lost against Baylor who is in the top 15. If we are putting three loss teams into the top 25 then Iowa State should be in the rankings.
3. Oregon at Three is a Joke
What is going on here? Sure, the Ducks beat Ohio State in 'The Shoe,' but over the last few weeks what has Oregon done to earn a top four ranking? They lost against a terrible Stanford team which was manhandled by Kansas State in week one. That Stanford team is currently on a four-game losing streak and has a record of 3-6. I don't care what anyone says because that is a terrible loss, yet the committee has acted like it hasn't even happened.
4. Where is Houston?
Houston isn't a power five team just yet, but it does have an 8-1 record thought nine games. Ever since their week one loss to Texas Tech, the Cougars have been playing some good football. They haven't played down to competition and even knocked off a good SMU team a couple of weeks ago. Sure, the committee put Cincinnati in the top five, but with a Cincinnati/Houston matchup looming for the AAC title, they haven't done the Bearcats any favors with how they have treated Houston. Maybe it is their way of looking down at Cincinnati without bumping them down in the rankings.
5. One Ranking Sums up the College Football Playoff Committee
We can talk all day about what we think is right or wrong about the playoff rankings, but there should be one thing we can all agree upon. That is, of course, that games matter and if there is a tie, then a head-to-head matchup should be the tiebreaker. Unfortunately, the committee doesn't see it that way because both Michigan and Michigan State are sitting at 8-1. The problem is that Michigan State is ranked behind Michigan despite beating the Wolverines a week ago. Someone tell me how that makes sense.