Big 12 News
The Big 12 'Future Four' Basketball Recap: Opening Night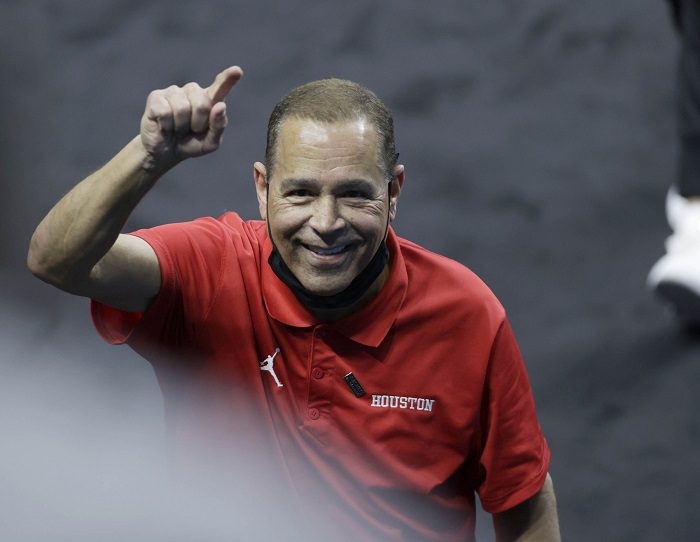 Four new teams are slated to become members of the Big 12 Conference in 2023. Those four teams are BYU, Cincinnati, Houston, and UCF. Some of the current members on the team will likely play in the Big 12 Conference soon. In fact, by the time these programs arrive, those younger players will be the faces of these programs. In the meantime, let's take a look at the Future Four and how they fared on opening night in college hoops.
Off: UCF
Season debut: vs. Robert Morris 7 p.m. EST Wednesday
No.15 Houston 83 Hofstra 75 (OT)
Hofstra has a new head coach, but that new head coach is not a typical new head coach. He's been in the program for several years and is an NBA Champion. Speedy Claxton got his players to give the Cougars all they could handle in his debut. J'Wan Roberts, a redshirt sophomore from the U.S. Virgin Islands crashed the boards in overtime to grab four of his 15 total rebounds. Marcus Sassier and Jamal Shead hit a 3-pointer each to finally put the Pride away. Sassier ended the night with 25 total points. The biggest key factor in this game was that Houston was able to get to the free throw line while Hofstra rarely did. Houston finished 15-of-25 from the charity stripe. For the Cougars, it's a good thing Hofstra didn't shoot many free throws. The Pride hit made every one of their five free throws count. Had the Pride made it to the charity stripe once in the second half, Houston would've had a problem. That problem would've been an upset on their home floor.
Next up: vs. Rice 7 p.m. CST Friday
BYU 69 Cleveland State 59
This score was closer than what it seems. The average fan might be nervous about BYU after watching this game tonight. However, Cleveland State made it to the NCAA Tournament a year ago. They are picked to win the Horizon League again this year. The Vikings gave BYU all they wanted, but the Cougars outlasted the Vikings in the end. Two Cleveland State players ended up fouling out. BYU turned the ball over 14 times compared to Cleveland State's six. However, Alex Barcello finished the night with 24 points, including hitting all 13 of his free throws. This combined with Caleb Lohner's nine rebounds helped push BYU to the victory.
Next up: vs. San Diego State 7 p.m. MST Friday
Cincinnati 65 Evansville 43
There are four glaring statistics in this box score. Evansville turned the ball over 15 times compared to Cincinnati's 9. David DeJulius had seven assists for Cincinnati, which almost matches the eight assists the entire Evansville roster accrued combined. Cincinnati won the bench points 35-14. 11 different Bearcats had at least one point while Evansville had just six players contribute. Finally, the field goal percentage was lopsided. Cincinnati outperformed Evansville 45.5 percent to 25.6 percent shooting from the field. Evansville had just one shot fewer than Cincinnati 55-54, but the Aces only made 14 of their shots. Jeremiah Davenport lead Cincinnati in points and rebounds. He was the only Bearcat to score in double figures. Three 3-point shots helped him finish with 11 points and eight rebounds on the night.
Next up: vs. Georgia 7 p.m. EST Saturday