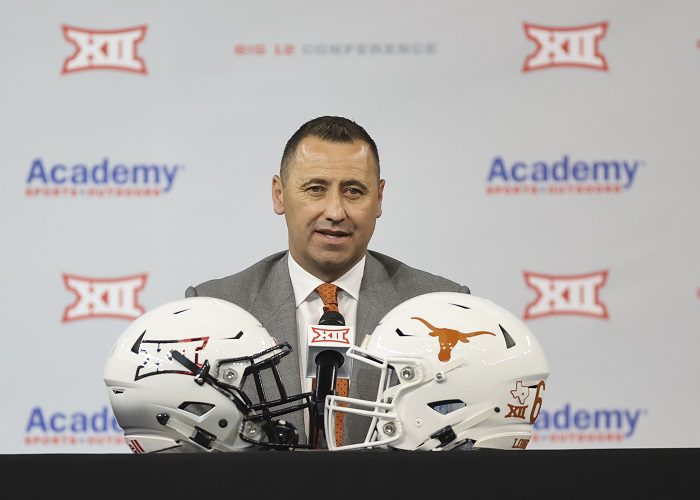 It's been an incredibly difficult stretch for the Texas Longhorns on and off the field. On the field, UT has lost four games in a row for the first time since 2010. Off the field, the Longhorns have players recording coaches on profanity-laced rants that are then going public.
The story came earlier in the week when video of assistant coach Bo Davis surfaced, which included him saying to players on Saturday night after a 30-7 loss to Iowa State, "This s— ain't a game to me. If you think it's a game, get the f— off this bus. "I got my a– kicked and you mother——- wanna laugh?"
Well on Thursday, head coach Steve Sarkisian addressed the video of Davis today. The first thing that he noted was the "passion" that his assistant clearly has for the sport and the program.
And Sarkisian is absolutely right about that. It's also important to note that most prominent college football media members, especially those who played like Kirk Herbstreit, were on Davis' side. What I find odd is that going back to Charlie Strong replacing Mack Brown, and ever since, there has been talk of each new head coach having to change the "culture" inside the Texas football program. Why is it that Charlie Strong, Tom Herman and now Steve Sarkisian all have had to attempt to make this change? What is it about who Texas recruits, no matter who the coach is, that causes this to be an issue?
Bo Davis has been with very succesful programs during his coaching career. He coached under Nick Saban at LSU, the Dolphins and Alabama, and had a previous stint at Texas under Mack Brown from 2011 to '13.
The Longhorns have an opportune chance to get back in the win column this weekend when they host the Kansas Jayhawks and enter the game as a 30-point favorite.