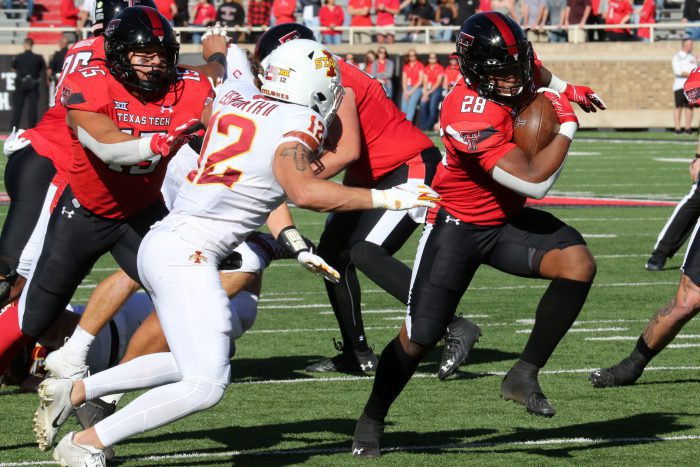 It was a full slate this weekend in the Big 12 and after Baylor's crazy win against Oklahoma, I didn't think anything could come close to that game, but I was wrong.
Iowa State came into Lubbock today fresh off their beatdown of Texas and are still in the mix for a Big 12 title. Meanwhile, Texas Tech has found their new head coach in Joey McGuire but for now, Sonny Cumbie is still the interim head coach.
Both teams were desperate for a victory and this game had plenty of action packed into four quarters. From a crazy kick to water bottles thrown on the field, I will share my five thoughts on Texas Tech's win over Iowa State.
1. Texas Tech Dominated the First Half
I didn't see Texas Tech's first half performance coming at all. In fact, nobody did because nobody in their right mind thought that Texas Tech would have a 31-14 lead going into halftime. The Red Raiders outgained Iowa State 326 to 131 in the first two quarters as freshman quarterback Donovan Smith put on a show throwing for over 200 yards and three touchdowns. Texas Tech had a total of six possessions in the first half and they were able to get points on five of them. Give Tech some credit because they absolutely took it to the Cyclones in the first half.
2. Welcome Donovan Smith
Texas Tech has had some good quarterbacks over the years. From Kliff Kingsbury, Sonny Cumbie, Graham Harrell and of course, Patrick Mahomes, the Red Raiders have had some good signal callers over the last twenty years. However, it's not often the third string quarterback comes out and has a performance like Donovan Smith did against Iowa State. Smith ended the day with over 300 passing yards and three touchdowns while adding 50 rushing yards. He was able to escape pressure throughout the game and really made Iowa State struggle with his movement. Donovan certainly did not play like a freshman against a good Iowa State defense, and I do wonder if he could be the quarterback moving forward for Texas Tech.
3. Too little too late for Iowa State
Iowa State was supposed to come to Lubbock and handle their business. Instead, they got beat up in the first half and while they did make a comeback in the final two quarters, it wasn't enough to overcome their first half deficit. The Cyclones were able to outscore the Red Raiders 24-10 in the second half but do to their poor play early on, they had to play catch up the entire game.
Brock Purdy didn't have his best game but was able to rebound in the second half. However, it was the defense of Iowa State that was more concerning. Just like in the West Virginia game, Tech was able to find success in the passing game against the Cyclones. For whatever reason, Iowa State has struggled to defend the deep ball and when you combine the mobility of Donovan Smith, it was setup for failure. Slow starts have been an issue of the program over the years and it has cost them this season.
4. Iowa State's Big 12 Dreams are Done
This was supposed to be the year Iowa State won the Big 12. They had their entire team coming back from the 2020 Fiesta Bowl squad and they haven't been able to have that same magic they had a season ago. Slow starts are still an issue offensively as well as defensively and it has caught up to them. The most disappointing part of this team has been the defense. One week they look like the best defense in the country and the next they are getting torched through the air while giving up 529 yards like they did on Saturday. Iowa State will be going bowling this year but with three conference losses, they won't be playing in Jerry World for a Big 12 championship. It now becomes a season of what could have been.
5. The Kick Heard Around the World
It's not often we get to talk about kickers but what Texas Tech's Jonathan Garibay did was something I haven't seen before in college football. In a 38-38 game, Garibay drilled a 62-yard kick as time expired to win the game. We can make fun of kickers when they miss but when they do something like this, they deserve some praise. This man should not pay for a drink in Lubbock this weekend.