Big 12 News
Mike Boynton: 'At No Point Did I Ever Threaten Anyone' at NCAA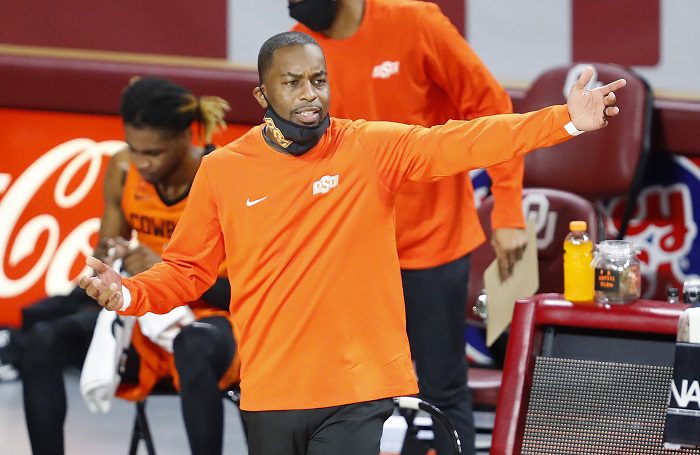 It's been a rocky couple of weeks for the Oklahoma State basketball program after the NCAA hit them with a postseason ban for the 2021-22 season.
Since then, the NCAA said some staff members have received threatening and offensive messages since Oklahoma State basketball coach Mike Boynton identified some by name last week after a one-year postseason ban and other penalties were upheld on appeal.
When asked about if he wanted to respond to these accusations on Friday night following a 56-55 loss to Oakland, Boynton said, "Not really. I'm not here to get into a tit for tat. I do want to make one thing clear: at no point did I ever threaten anyone, nor encouraged anybody to be threatened. Nor did I out anybody. I read a statement from a publicly available document. My focus is on a) coaching better, making our team better and those 17 kids in that locker room, whose names are also publicly available. I could read those names, but I'm sure that you guys all know them."
Last year, an NCAA infractions committee hit the Cowboys with the penalties for former assistant coach Lamont Evans accepting up to $22,000 so he could help steer athletes to certain financial advisers. Evans was arrested in 2017, and Oklahoma State fired him.
The Cowboys were hoping those penalties, notably the postseason ban, would not be upheld after cooperating with the NCAA, but that was not the case. After the penalties remained in place two weeks ago, Oklahoma State head coach Mike Boynton named members of the appeals committee and the committee on infractions. But as Boynton pointed out above, he was reading publicly available information.
The NCAA said its staff members have since been getting unacceptable treatment, and there should be a system to protect them against personal attacks.
On the court, the Cowboys are back in action on Sunday against Prairie View A&M.