Baylor Bears
Three Thoughts On Baylor's 27-14 Win Over Oklahoma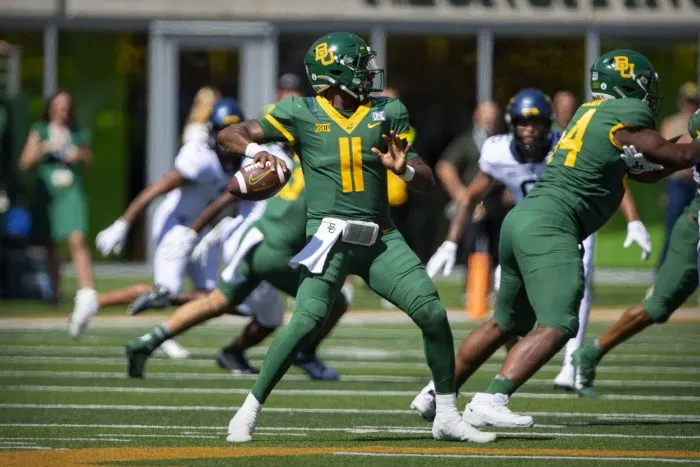 The Baylor Bears defeated the Oklahoma Sooners, 27-14, to claim their first win over the Sooners since the 2014 season.
With the win, No. 13 Baylor improved to 8-2 on the season and 5-2 in the Big 12 and kept their hopes of a berth in the Big 12 Championship Game alive. Quarterback Gerry Bohanon had a quality game, throwing for 117 yards and a touchdown, and rushing for 107 yards and two touchdowns. It was the biggest win of the Dave Aranda era and Bears fans stormed the field after beating the No. 8 Sooners. It was Baylor's third win over a ranked opponent this season.
The Sooners (9-1, 6-1) took their first loss of the season and may have critically damaged their chances of reaching the College Football Playoff. The Sooners' offense struggled the whole game. Starting quarterback Caleb Williams suffered a hand injury in the second quarter and Spencer Rattler eventually relieved him in the third quarter, but it didn't help.
With three seconds left, Baylor's fans stormed the field and they had to be removed to finish the game. Oklahoma coach Lincoln Riley sent his players into the locker room and then spent several minutes yelling at officials before bringing enough players on the field to allow Baylor to run the final play, which was a field goal. Baylor head coach Dave Aranda said they took the field goal, as opposed to a knee, to help them with Big 12 tiebreakers.
So, here are three thoughts coming out of the game.
Dave Aranda is the new Gary Patterson
If there was any question about which Big 12 head coach would assume Gary Patterson's mantle as the Big 12's defensive head-coaching whiz, Baylor head coach Dave Aranda left no doubt he's the guy.
Aranda's background as an assistant coach has always been on defense, and when he arrived at Baylor he made sure to bring along someone who understood his vision of defense — Ron Roberts. That's partly because Roberts taught Aranda how to do it. Roberts was Aranda's boss at Delta State more than a decade ago, and between the pair they've turned the Bears' defense into a dominant unit.
Consider this. Entering Saturday's game, the Sooners had won their last seven matchups with the Bears. The Sooners were 9-0 and were averaging, on offense, 476.2 yards per game and 42.9 points per game.
So, what happened? The Bears held the Sooners to 260 yards and 10 points on Saturday. The Bears held the Sooners to fewer than 200 yards in total offense through the first three quarters. Even a quarterback change from Caleb Williams to Spencer Rattler didn't help the Sooners.
The Bears made a dominant statement on defense with their victory. Aranda staked a claim to Patterson's mantle. And, the Bears greatly helped themselves in trying to craft a two-loss path to the Big 12 Championship Game next month.
OU's College Football Playoff Hopes are (Probably) Toast
Yes, a one-loss conference champion can make the College Football Playoff. But that one-loss champion is unlikely to be the Sooners.
Why? well, College Football Playoff committee chairman Gary Barta sort of intimated that might be the case on Tuesday when asked directly about the Sooners remaining No. 8 in the rankings on Tuesday. He cited the Sooners' lack of a 'signature win.'
"But there just hasn't been a signature win yet," Barta said. "If you compare them to Michigan State, for example, Michigan State beat Michigan. If you look at Notre Dame, they've beaten Wisconsin, they've beaten Purdue, so they're sandwiched in between there. But there's a lot of football to be played. Oklahoma is 9-0, and we'll see starting this weekend."
You can be sure the committee watched this game and saw Baylor, which was ranked No. 13 in the CFP rankings, basically hold the Sooners down and suffocate them defensively. The Sooners have been uneven all season and had gotten away with it.
Until Saturday.
The Sooners are sure to drop in the CFP this week. The only question is how far. We've seen the committee, to this point, basically respect head-to-head results (with the now-notable exception of Michigan-Michigan State). Let's call that recency bias. And if we add some recency bias to this, I could see Baylor flipping into the Top 10 and Oklahoma flipping out of it, perhaps to No. 11 or No. 12.
OU has a significant gauntlet ahead with Iowa State and Oklahoma State. This isn't to say that their path to Arlington is blocked. Not at all. If the Sooners win out, they'll be where they've been for every Big 12 title games since it was reinstated. But, in the current state of the CFP rankings, it just seems like to steep a hill to climb for the Sooners on their own. They're going to need help, and with just a few weeks left, there isn't enough help to find.
The Rise of Gerry Bohanon
For this moment in time, Gerry Bohanon is the right quarterback to lead the Baylor Bears.
It took him plenty of time to arrive at this moment, too. Three years backing up Charlie Brewer, including a redshirt season his true freshman year. Bohanon appeared sporadically, sometimes in mop-up duty, sometimes in special packages to take advantage of his size and athletic ability.
His stats are not gaudy. But he had completed 65 percent of his passes so far this season. He led the Bears to a big win over Iowa State on the road.
But that was nothing compared to Saturday against Oklahoma.
As noted above, Bohanon threw for more than 100 yards, rushed for more than 100 yards and accounted for all three of the Bears' touchdowns in the game. Baylor tends to lean on its run game anyway, and Abram Smith had a huge game for the Bears, rushing for 148 yards, including a 75-yarder. In fact, Baylor had nearly 300 rushing yards on the game and dominated time of possession, holding the ball for more than 35 minutes.
Abram did the heavy lifting, but Bohanon got the Bears over the top. That's something his predecessor was unable to do against Oklahoma.
You can find Matthew Postins on Twitter @PostinsPostcard.
**Want to win a $20 gift card? Go sign up here and join our conversation! The best poster each week wins a gift card to your favorite establishment!**