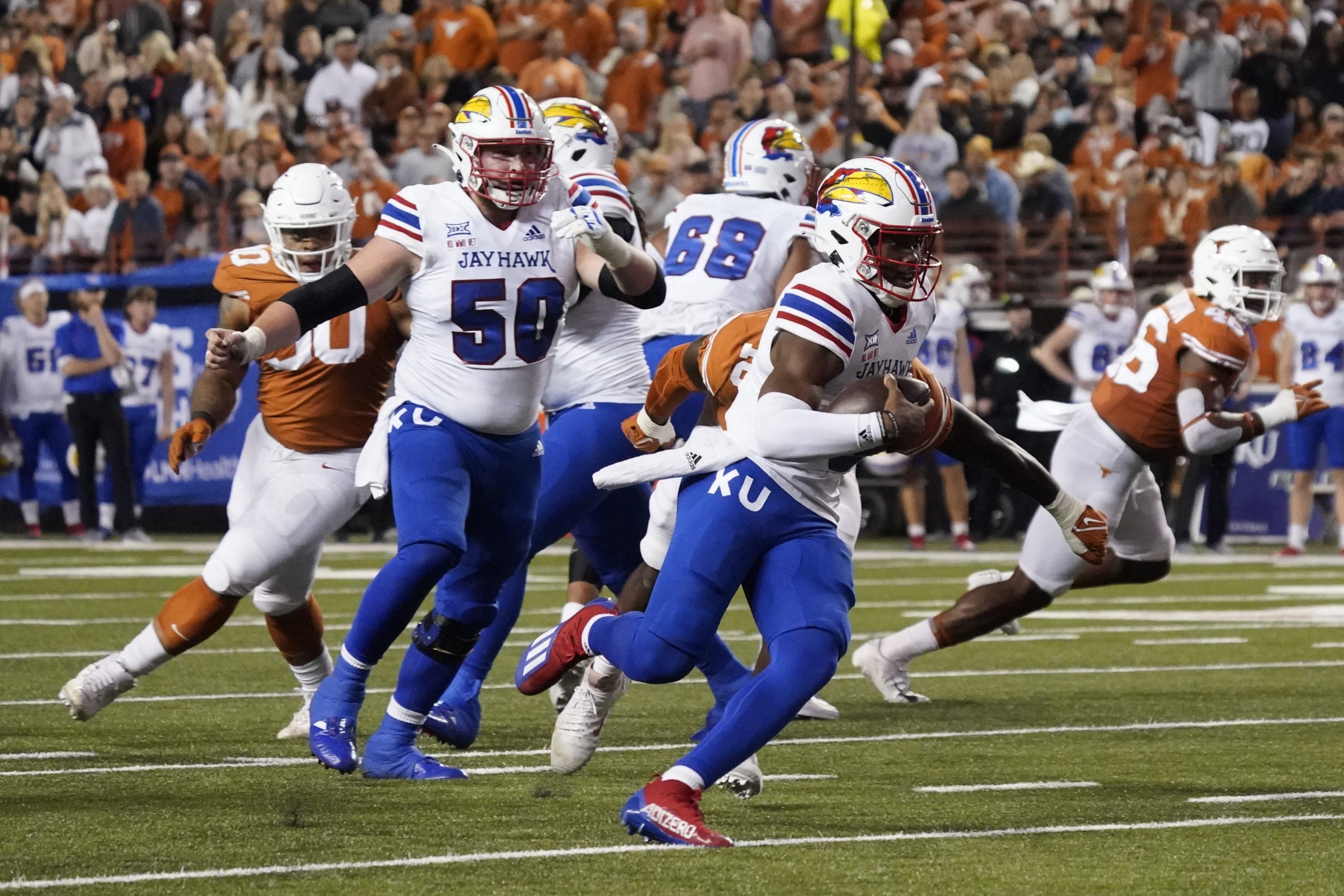 What a weekend it was for Big XII football! The day started off with Baylor looking like the superior team for 60 minutes against Oklahoma in Waco. Then, Texas Tech got to bowl eligibility as Jonathan Garibay nailed a 62-yard field goal to defeat Iowa State. If you thought that was the end of the drama, then you were sorely mistaken. Texas hosted Kansas on Saturday night in a seemingly perfect "get-right" situation for Steve Sarkisian and the reeling Longhorns. Texas was in the midst of a four-game skid and carried a 4-5 record into the contest, whereas the Kansas Jayhawks were 1-9 and hadn't won a Big XII contest since 2019. What should've been a one-sided affair turned into a shootout and needed overtime to decide the winner. Ultimately, Kansas was able to hang on for a 57-56 win over the Texas Longhorns. It was the first road win in Big XII play for Kansas since 2008 when they beat Iowa State in Ames. Here are three things that stood out after the dust settled in Austin.
1. Devin Neal and Jaylon Daniels Look Like the Future at KU
Kansas was efficient offensively most of the evening, and it was due to a couple of underclassmen for the Jayhawks. Freshman Devin Neal was spectacular, turning 26 touches into 169 all-purpose yards and four touchdowns. Jaylon Daniels, a sophomore, was 21 of 30 for 202 yards and three touchdowns and added a score on the ground. Daniels has now played in four games this year and will not be able to redshirt if he appears again in 2021, which was the plan coming into the season. Neal and Daniels were a deadly combo on Saturday night, with one of them having a hand in every offensive score for the Jayhawks. Together, they powered a Kansas offense that looked potent and scored a season-high 57 points. If Lance Leipold can find a way to build around those two weapons, Kansas could be much better offensively going into 2022.
2. Xavier Worthy is Special
Throughout the second-half Xavier Worthy was spotted on the stationary bike and moving around with a noticeable limp. It didn't matter. Even though he was less than 100%, Worthy was a catalyst for the Texas Longhorns yet again, with 14 receptions for 152 yards and three touchdowns. He has been the most reliable weapon through the air for Texas all season long and one could argue that he's been among the best wideouts in the entire conference. Tonight, against Kansas, he was a bright spot for the Longhorns and looks to be that for the foreseeable future. He now has 11 receiving touchdowns on the season and set a new school record for receiving touchdowns by a freshman, passing Roy Williams who had eight during the 2000 season.
3. Steve Sarkisian Sits a Throne of Molten Lava
The Longhorns closed as 31-point favorites against Kansas before their game on Saturday night. That seemed like a lot of points, given the distractions that Texas has had in the past couple of weeks. However, Kansas has been in the basement of the Big XII for years now and this seemed like a perfect opportunity for Texas to build some confidence heading into the last stretch of the season. Lance Leipold and the Jayhawks had other ideas as Kansas forced three first-half turnovers and led 35-14 at halftime. That 35 points scored by Kansas in the first half was, at the time, its highest point total in a game all season! This has gone past the point of personnel issues and injuries for the Longhorns. There were stretches of this game when Texas showed little to no discipline, and it cost them the game. The coaching staff has all but lost this team just 10 games into its tenure and things aren't looking good moving forward. Texas must now beat West Virginia (in Morgantown) and Kansas State in back-to-back weeks just to get to bowl eligibility. What will Texas brass do now that the Longhorns are 4-6 and fresh off a loss to Kansas? The program is now in the middle of a five-game losing streak, something that hasn't happened since 1956. Whatever happens, it's hard to imagine Sarkisian's time in Austin will end in a fairytale.