Kansas Jayhawks
Watch: Kansas Football Parents Celebrate After Son's Catch Beats Texas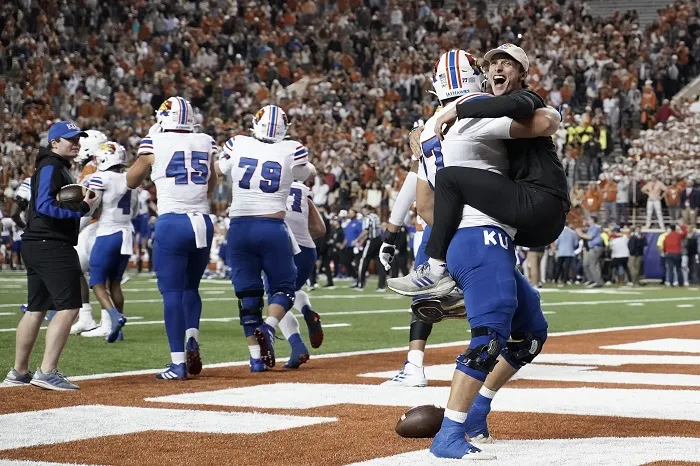 Kansas pulled off one of the biggest upsets in recent college football history by beating Texas 57-56 in overtime on Saturday night in Austin. Kansas fullback Jared Casey caught the two-point conversion pass on the final play to seal the win.
After celebrating with teammates, he ran 100 yards across the field over toward his parents Karen and Jerry, who according to recent reports, made the 11-hour drive from Plainville, Kansas to watch him play.
Here's a look at the video.
But, as their video shows, it wasn't immediately clear to them that their son was the hero of the game.
"That was Jared, wasn't it?… It was Jared!" Jerry Casey yelled after the play ended.
"Was it?" Karen Casey replied.
"It was Jared!"
"Was it really?"
It's one of those videos and moments that is a great reminder on how special college athletics can be not just teams and fans, but also parents and their children.
What the Jayhawks did on Saturday was unprecedented. In fact, look at this tweet from former Big 12 reporter Jake Trotter.
Put that into perspective and realize just how special this moment was for Lance Leipold as he continues to build the KU football program. It's the kind of win that changes the trajectory of a program, and it could do the same on the other end for the Longhorns.