Baylor Bears
Dave Aranda the 'Hot Name' in USC Coaching Search: Report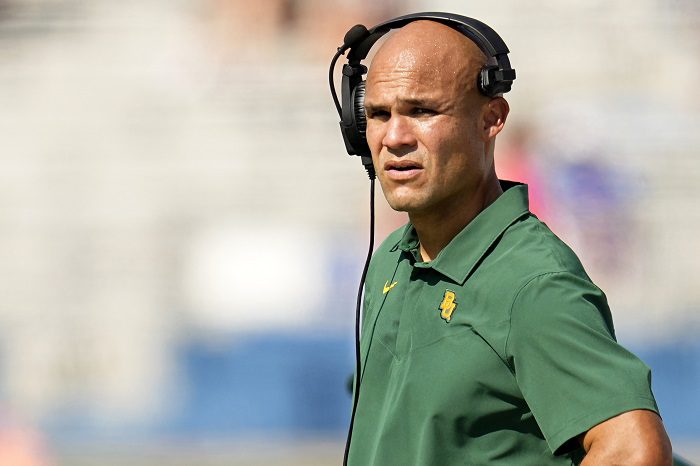 As the Baylor Bears continue to roll through the Big 12 and continue to be one of the biggest surprises in college football, Dave Aranda's name is now coming up on USC's coaching search.
The Bears are fresh off a win over the Oklahoma Sooners on Saturday, and according to Bruce Feldman at The Athletic, the USC Trojans could be taking a much closer look at Baylor's head coach than they were when they initially fired Clay Helton back in September.
Here's part of Feldman's report, stating, "The hot name we now keep hearing related to the USC search: Baylor's Dave Aranda. The long-time defensive guru, who grew up in Southern California as a big Dodgers fan (his brother is a local high school basketball coach in the LA area), has led the Bears to become one of the most pleasant surprises in the 2021 season. 
Sources tell The Athletic that Aranda's stock is very hot, not only at USC but with other potential vacancies. Washington is another one that might try and woo him from Waco. Yes, he's a defensive guy, same as former Huskies head coach Jimmy Lake but Aranda's low-key, soft-spoken persona would appear to come across as the complete opposite of how Lake did as a head coach."
But what would Aranda do? The good news for Baylor is that Feldman goes on to note that Aranda is very self aware and that he realizes he may not be an ideal fit for certain jobs, adding, "It will probably take a great opportunity to get him to even consider leaving his situation with the Bears."
After going 2-7 last season, his first as a head coach, the Bears are now 8-2 heading into their final two games of the season this weekend against Kansas State and then next week against the Texas Tech Red Raiders.