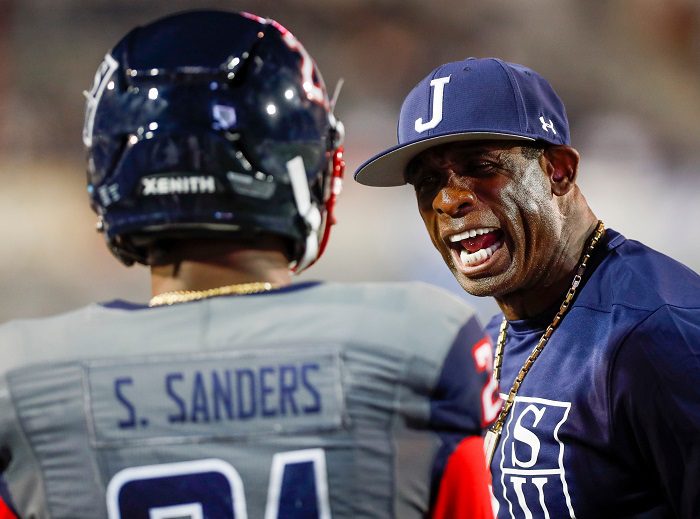 Gary Patterson is like a flat tire on the side of the road in the middle of the night. He's not easily replaced. The wake that he left at TCU is staggering; a .706 winning percentage (178-74) over 21 seasons, 22 national coach of the year honors, and 11 10-win seasons, of which TCU had four prior to his arrival on campus in 1998. You don't just get a statue on campus for being a good ball coach, Patterson is a legend in Fort Worth.
Unfortunately, today's game and Patterson seemingly grew apart and it led to his resignation, effective immediately, on October 31, 2021.
As the search for his successor goes on, and it sounds like "Primetime" is falling back into the pack. According to a report from Drew Davison of the Fort Worth Star-Telegram, TCU has "shifted to candidates other than Deion Sanders."
As of right now it doesn't sound like TCU star running-back Zach Evans will get his wish, as he made known who he thinks should be the next head ball coach at TCU. While it sounds like Sanders isn't completely out of the race, it does appear that the Horned Frogs are looking for someone with a little more experience at the helm.
Sanders had an extensive career in the NFL that spanned 14 years and five franchises. Sanders was selected to eight Pro Bowls, boasts six All-Pro selections, and is a two-time super bowl champion. However, his college coaching career is much less decorated, as he is in just his second year of coaching with Jackson State University.
It is worth nothing that he holds a 13-4 record as a head coach and currently has the Tigers at 9-1 and 7-0 in SWAC play. He may not be the next guy in Fort Worth, but if he keeps producing at that level it will be hard to ignore him as a candidate for other Power Five jobs.
As for the direction that TCU will take, it sounds like Louisiana's Billy Napier and SMU's Sonny Dykes are the top candidates for the position. Napier has the Ragin' Cajuns at 9-1 this season and has a 19-2 record since the beginning of last year. Dykes, meanwhile, is 8-2 at SMU and boasts the sixth-best offense in the country at 498.7 yards per games. Whoever lands the job will be in the middle of some of the best recruiting grounds in the country and will be working with an administration looking to be the top football program in the Big 12 when Oklahoma and Texas leave for the SEC.